Aiseesoft AnyCoord Review: The Newest Yet Outstanding Phone Location Changer Software
You can use this software if you are a private person who does not want to share everything on social media, especially your location. It is an outstanding iPhone location changer that can change your GPS location and disable sharing location in simple clicks! We are presenting to you Aiseesoft AnyCoord. This review will familiarize us with Aiseesoft AnyCoord's pros, cons, and primary features. You can start reading now, and after reading this article, you can try it for free!

Our Verdict
Pros

It has an excellent and manageable user interface.
It is safe and secure to use.
It has a 30-day money-back guarantee.
It also offers free upgrades and free technical support.
It provides three Movement Modes.
It lets you use the free trial.
It can be downloadable for free.
It is affordable.
Cons

It is not compatible with Android devices.
Overall Ratings
Interface:9.0
Features:9.5
Easy to use:9.0
What is Aiseesoft AnyCoord
Price: 1-Month License costs $9.56; 1 Quater License costs $17.56; 1 Year License costs $35.96.
Platform: Windows, Mac
Main Features
Aiseesoft AnyCoord is a new software for iPhone and iPad users. It works on Mac as well as on Windows. However, it does not apply to Android devices. But we hope that soon they will enable that feature too.
It is an excellent location changer. When you say location changer, you can change your current location into a different location on your phone using Aiseesoft AnyCoord. With simple clicks, you can change your GPS location and stop sharing your location on your social media accounts.
Here are more details to know more about Aiseesoft AnyCoord. These are the main features you can use, especially if you purchase the product. Please see them below:
◆ It can change your GPS location to a different location instantly.
◆ It can stop the sharing location on various social media platforms.
◆ It can be used when playing an AR video game.
◆ It lets you create a virtual location on your phone.
◆ It provides three movement modes; One-stop Mode, Multi-stop Mode, and Joystick Mode.
◆ It also enables you to customize the speeds on your phone.
Aiseesoft AnyCoor Review
Interface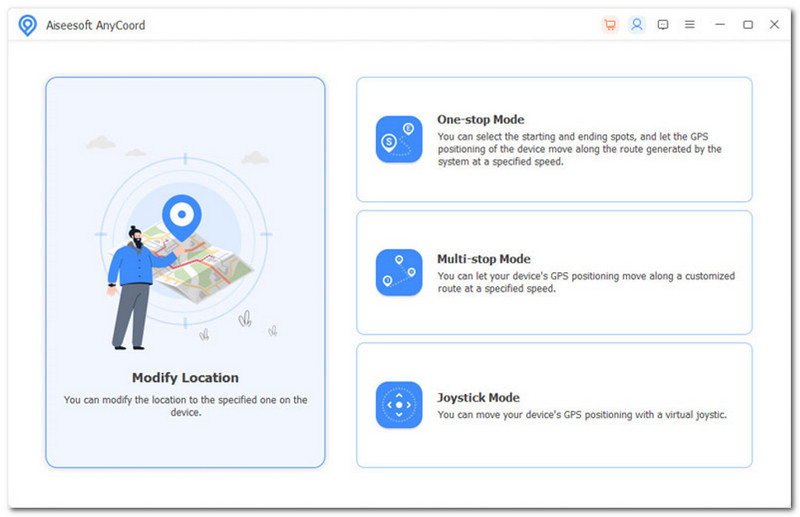 Again, Aiseesoft AnyCoord has an excellent and manageable user interface. Even if you are a beginner user and do not know how to use a phone location changer software, using Aiseesoft Phone Mirror will be much easier.
On its main interface, on the upper right, you will see the Purchase this product online, Register this product, Feedback, Menu, Minimize, Maximize, and Close. Then, in the middle part of the panel, you will see four different features: Modify Location, One-stop Mode, Multi-stop Mode, and Joystick Mode.
Upon seeing the features, you can start choosing what you need to use. Overall, Aiseesoft AnyCoord is indeed manageable to use.
Change iOS Location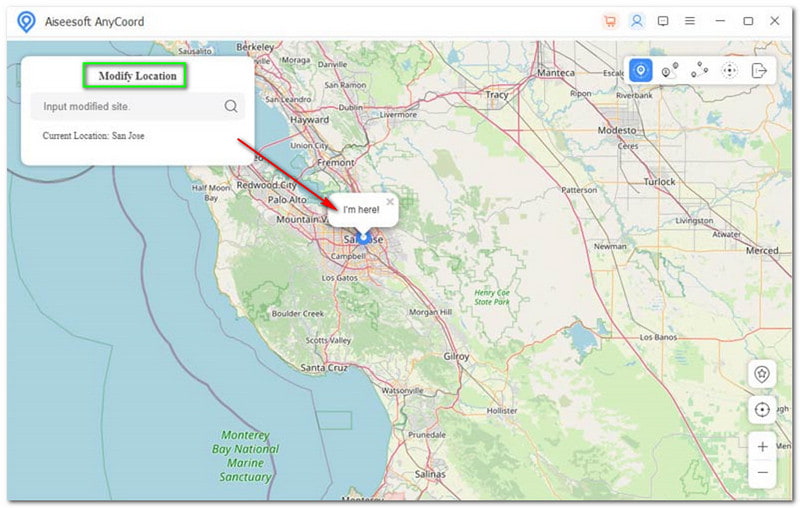 Supposing that you are in another location and have no idea where you are, Aiseesoft AnyCoord will help you modify your location. Most of the time, this feature is mainly used by a person who loves to travel around the world.
On the main interface, you only need to click the Modify Location, and you will proceed to the loading map Aiseesoft AnyCoord provides. You will automatically see where you are by showing you the I'm Here signal.
With that, you can Zoom In and Zoom Out where you currently are. You can see that function on the lower right of the panel.
One-stop Mode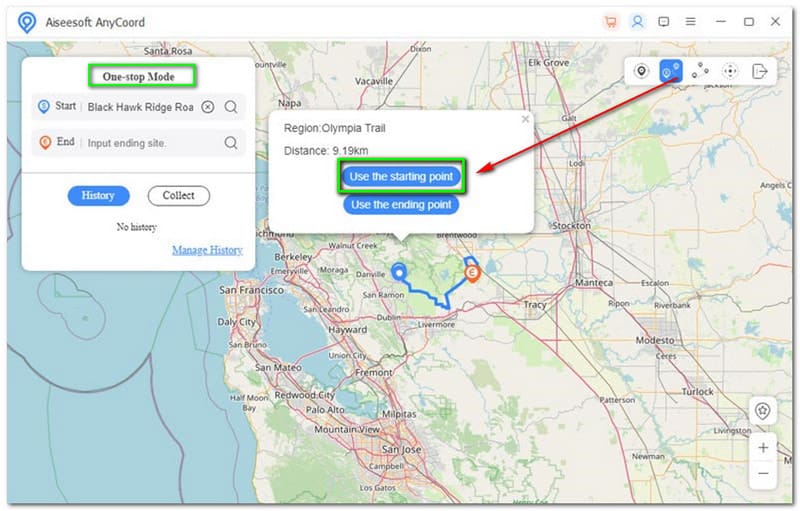 One-stop Mode is one of the three Movements Modes. Using One-stop Mode, you can choose your starting spot and ending spot. For example, you are in the Church, and after that, you can want to go precisely to your Home; you can point to the Church's and your Home's locations.
With that, Aiseesoft AnyCoord will automatically set the route for you. Then, the GPS on your iPhone will move to the location you selected. You can also use the Zoom In and Zoom Out functions to correctly see the areas.
Multi-stop Mode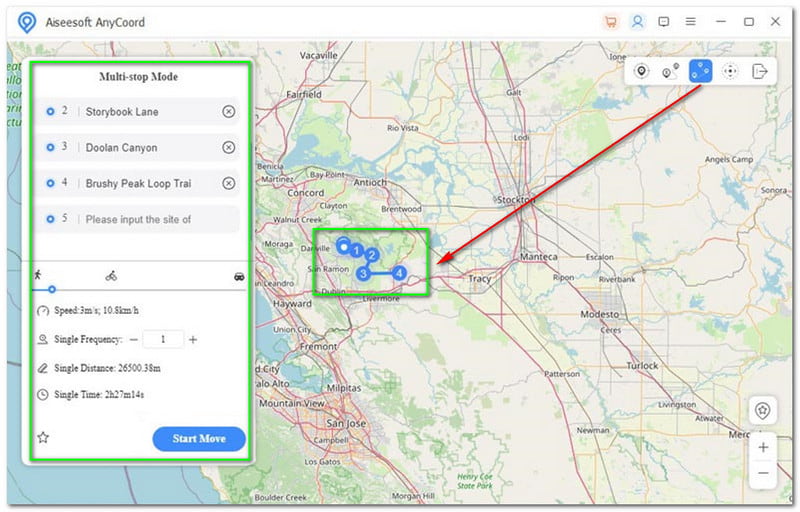 Multi-stop Mode is also one of the three Movements Modes. It is dissimilar to One-stop Mode. You can choose numerous spots in this mode, connect each location, and create a customized route.
One example of this is you are in your Home. Then, you will go to Church, Groceries Store and the next Restaurant. With that, the location on your iPhone will move as you created. You will see the Blue Line and Numbers on the Map of Aiseesoft AnyCoord.
In other words, those are the locations you created and want to go with. In addition, on the box of the panel, you will see the approximate Speed, Single Frequency, single Distance, and Single Time. Again, Zoom In and Zoom Out can be used to see the locations correctly.
Joystick Mode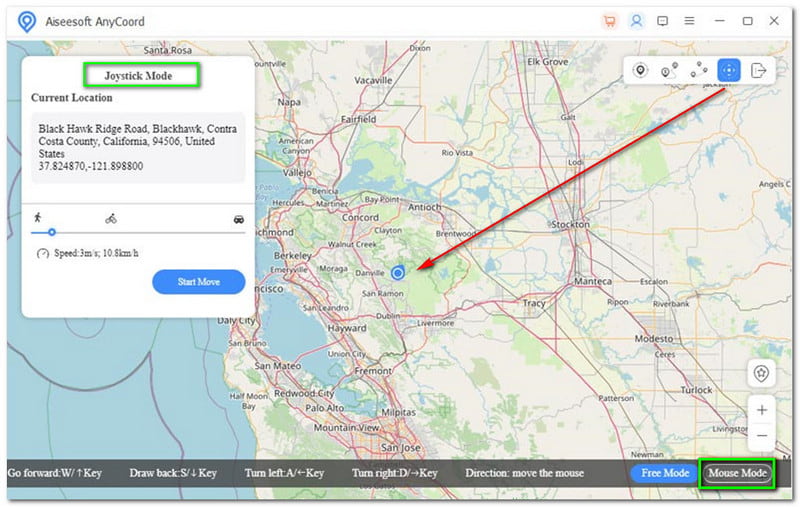 Joystick Mode is the last of one of the three Movements Mode and is also very dissimilar to the two modes. With this use of this feature, there is no need to select a spot from another or many spots. Aiseesoft AnyCoord lets you use your computer mouse to control the Joystick on your computer screen, which is the Mouse Mode.
The next thing that will happen is your iPhone location will start moving freely. Moreover, you can also use Free Mode, which will use the keyboard on your computer to control the route. In addition, on the left panel, you will see your Current Location and Speed.
FAQs of Aiseesoft AnyCoord
I want to use Aiseesoft AnyCoord. How can I connect my iPhone to the computer?
First, download and install Aiseesoft AnyCoord. After that, launch it using your computer. Then, if you want to use all the features of Aiseesoft AnyCoord, enter your email address and registration code and activate the software by registering it. Next to that, the interface will appear, and click the Start button. Now, start connecting your iPhone using a USB cable. On your iPhone, click the Trust button. That is it. You can be procced on using it.
Is Aiseesofy AnyCoord safe to use?
Every product of Aiseesoft AnyCoord is safe to use. Therefore, Aiseesoft AnyCoord is included with that. Aiseesoft AnyCoord 100% respects your privacy and highly protects your information. Aiseesoft AnyCoord collects data to give every user a great experience while using the product. Aside from that, they have no intention to sell or use your information illegally. You can visit their Privacy Policy to learn more about your safety.
I cannot connect my iPhone to my computer. What should I do?
If there's something wrong with connecting your iPhone to your computer, you can follow these tips. First, unplug the USB cable, and yuo need to reconnect your iPhone. Second, you can use or try another USB cable. Make sure it is original and perfectly working fine. Third, ensure that iTunes is installed, updated, and usually runs. And lastly, the iOS version must be higher than iOS 5.0.
Conclusion
We are now aware of how outstanding Aiseesoft AnyCoord is. With its features, you can fully control and change your location using your iPhone and computer. Moreover, we guarantee that this review article will be helpful to you mainly because we discuss the software comprehensively. We will see you again at our following article review!
Did you find this helpful?
456 Votes
YES

Thanks for letting us know!
No

Thanks for letting us know!
Aiseesoft AnyCoord
Change iPhone Location to Spoof and secure yourself.