MapQuest Review: Plan your Rounter Intelligently
You probably used a lot of software on your desktop that has Map, track traffics, saves locations, etc. Nonetheless, you desire a better want but do not know what software you can use to fulfill your desires. What a coincidence! This review article is all about MapQuest. The software you can use for directions, tracking traffics, and more. In addition, it is easy to navigate, and anyone can use this. Start familiarizing yourself now by reading this review article until the end.

Our Verdict
Pros

It offers a free trial.
It is easy to navigate, and it is manageable.
It has an excellent user interface.
It has built-in traffic information and multi-segment routing.
Cons

It has a limited database.
It is expensive.
There is an occasional quirk for walking directions.
It does not support indoor maps.
It has no public transit directions.
It does not provide an alternative route option.
The updated version of MapQuest is not user-friendly anymore.
It contains many Ads.
It has no offline mode and has a low level of customization.
Overall Ratings
Interface8.5
Features:8.5
Performance:8.5
What is MapQuest
Price: Basic Plan costs $99.00, Plus Plan costs $199.00, Business Plan costs $399, and Business Plus Plan costs $799.00
Platform: Online, Android, Windows, iOS, Mac
Main Features
MapQuest is an easy-to-navigate software, and it is perfect for all users. It is meant for people who are not yet familiar with the place and want to search for directions. In addition, you can also use MapQuest to avoid traffic and see how many minutes your travel is.
Furthermore, MapQuest is an equipped and excellent software with tons of incredible features. If you want to know them one by one, you can see them below in a bulleted form:
◆ It provides a printed map on your computer.
◆ It has a real-time traffic update and transit planning.
◆ It has a feature of routing, which is optimized.
◆ It is updated with up-to-date satellite imagery.
◆ It can access and see the future traffic.
◆ It has a speedometer to compare recent speed with the destination route.
◆ It offers a multipoint route.
◆ It lets you import various addresses in the form of spreadsheets.
◆ It also lets you re-order stops on your route.
◆ It can share routes on social media platforms.
MapQuest Review
Interface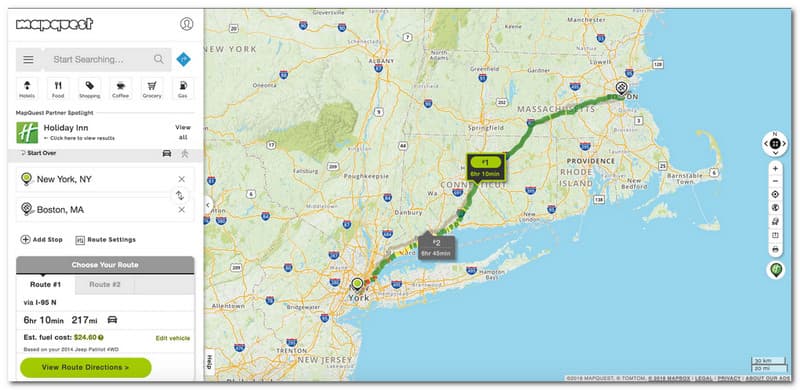 One advantage of MapQuest is that it is manageable and easy to navigate. It also has an excellent user interface. Once you open MapQuest, you will quickly notice the vast Map where you can search all the places! On the left corner, you will see MapQuest and a Text Box under it where you can search destinations you desire to go.
In addition, if you do not want to type the Text Box, you can choose the Categories such as Hotels, Food, Shopping, Coffee, Grocery, and Gas. When you officially select your destination, MapQuest provides you a driving distance, Route 1 and Route 2 with Time and Meters.
Moreover, MapQuest lets you Add Stop Destination and Customize the Settings. It also provides the Estimated Fuel Cost. To continue with the location, click the View Route Directions. Indeed, MapQuest is manageable, and it is a perfect companion, especially for long drives.
Adding More Stops to your Route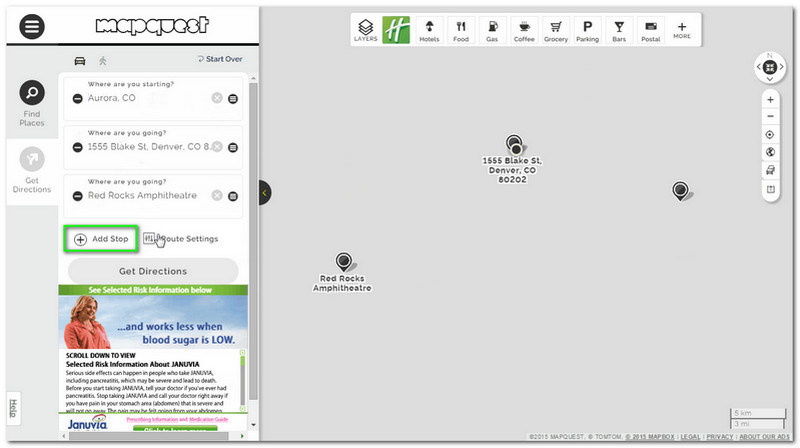 If you must stop three times before going to your final destination, MapQuest allows you to Add Stop on your entire route. It can also organize and optimize your route. To do that, you need to ensure and specify all the stops' locations from start to end. When you are decided on all the stops' locations, you will see the Add Stop feature and click it.
Another thing, MapQuest lets you search for the destination you need to stop and add the search location immediately by tapping the Add Stop. Moreover, if you can Add Stop in your entire route, you can also remove them.
If you change your mind about the stops' locations, you can remove them by tapping the specific stop destination and clicking Remove Stop which looks like a Minus sign. In addition, you can now re-arrange the remaining stops' locations.
Finding Addresses, Businesses, Restaurants, and More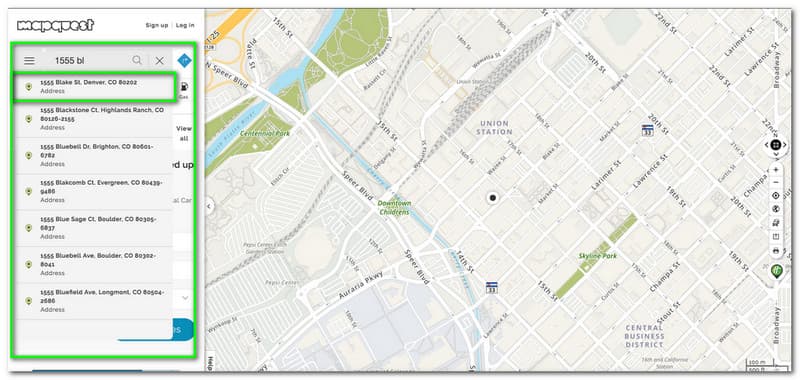 MapQuest has a technology that can empower you to seek what you are looking for with just easy and simple clicks. It allows you to find the exact addresses, businesses, restaurants, airports, and many more by searching it on the Search Box.
When you start typing on the Search Box, MapQuest will show you the predicted locations. The best thing you can do to come up with the exact result is to use the word Where and What. Let us give you an example; you can type Where Pizza Restaurant is. In addition, you can also start with the Street Number, Street Name, City, etc.
After that, the MapQuest Map will start re-routing, showing you the complete route you need. Then, you can start following the directions MapQuest has given you.
Tips on Setting your Route
As mentioned, MapQuest has a route optimizer. What does it mean? It provides all the users with many options to customize the route they like. For example, as a user, you want to drag the Circle button left or right and enable or disable the option. We will mention all the available route options.
First, MapQuest allows you to choose Shortest Time or Switch to Shortest Distance. It is an option that you can choose based on your strategy. Second, MapQuest allows you to Re-order Stops on your Route. It is what we talked about a while ago. MapQuest lets you change the orders of your stops' locations in your entire route.
Third, MapQuest allows you to choose the Route is a Round Trip. It is super easy to understand; you can choose this option when you have a round-trip and set your route. Of course, you must stop where you start since it is a round-trip.
Safety and Accuracy of MapQuest
When you use MapQuest, it will not save the place you have been to unless you save or add them to your Favorites and share them with others. You can also remove them by deleting the places you added. We can say that MapQuest provides secure software for everyone.
Regarding its accuracy, MapQuest provides real-time traffic updates, which are helpful to every traveler. It will also give you a route option to go with your desired location. Furthermore, you can also track the progress of traffic flow using the Traffic Bar. All in all, MapQuest gives you accurate information.
FAQs
How to share my location on MapQuest using Social Media?
MapQuest route planner has a feature that lets you share your location on your social media accounts. For example, if you have favorite places you have been to and want to share them with your friends, you can create a Map or route using MapQuest. After that, on the right corner, you will see the Map Tools area and the Share icon. To share your location, click the Share icon. Next, it is up to you where social media platforms you want to share the places.
Where can I find the information on my plan from MapQuest?
You can find and see your information about your plan on the Manage Plan, which you can see in the user profile section. It will show you all the selected plans, renewal date, number of transactions included, etc.
How to add directions from one location to another location on MapQuest?
You can add directions or addresses with the use of three options. These are; Line by Line, Copy Paste, and Import.
Alternative - Aiseesoft AnyCoord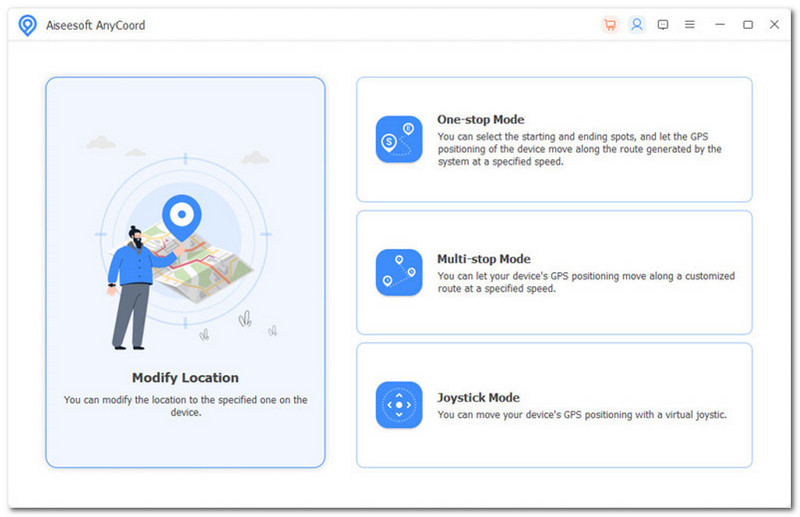 The disadvantage that MaqQuest has are user does not like advertisements, Ads, and the price. You can remove the advertisements Ads by purchasing MapQuest. However, some users do not afford this since it is too costly.
That is why users seek the best alternative software that offers a trial version without advertisement Ads. Luckily, you are reading this article review because we offer the best alternative for MapQuest; it is Aiseesoft AnyCoord.
Aiseesoft AnyCoord provides a free trial with no advertisements Ads. In addition, if you want to purchase this software, you may do so because it is affordable. Not just that, you will know more when you will read the main features of Aiseesoft AnyCoord below; see them now:
◆ It lets you share your location using your social media platforms.
◆ It also customizes your speed on your device.
◆ It can change your GPS and location to different locations you desire worldwide.
◆ Aiseesoft AnyCoord can also be used for AR video games.
◆ It allows you to make a virtual location on your device.
◆ It offers three movements mode; One-stop Mode, Multi-stop Mode, and Joystick Mode.
◆ It has an aesthetic user interface.
◆ It is 100% safe to use.
◆ It is manageable to use.
Conclusion:
To end this review article, we know that MapQuest has many advertisement Ads while using the trial version. However, it offers numerous unique features that other software doe not have. Moreover, you can review this review just in case you start using MapQuest. See you again on our next upload!
Did you find this helpful?
369 Votes
YES

Thanks for letting us know!
No

Thanks for letting us know!
Aiseesoft AnyCoord
Change iPhone Location to Spoof and secure yourself.