PGSharp Review: The Perfect Software To Play Pokemon Go With Multiple Features
One of the popular games on the Internet is Pokemon Go; upon using it, you will relieve your stress because you will enjoy playing since it is unique gameplay, unlike others. Nevertheless, it is frustrating when you are not into going to different and far places. That is why you desire a software that will help you. Luckily, it is a review, and we will introduce software in which you can play Pokemon Go effectively. It is PGSharp, a software designed for Pokemon Go, and it can fake your locations and catch Pokemons without going from one place to another. We would appreciate it if you would read this review article until the end. Start reading now!

Our Verdict
Pros

It is affordable.
It offers a free download.
It also provides a free trial.
It works fine with Pokemon Go.
It can save the last location on the settings.
It does not require you to jailbreak your device.
It does not need you also to install other apps such as VPN.
Cons

It has a few numbers of registration codes.
It requires you to register using a PTC account before using it.
It is not working on iOS devices.
It has no capturing speed that is needed while playing Pokemon Go.
Overall Ratings
Safety8.0
Features:8.5
Easy to use:8.5
What is PGSharp
Price: Standard Version for 1-Month costs $5.00, and the Standard Version for Quarterly costs $15.00.
Platform: Windows, Android, and Mac.
Main Features
PGSharp is a location changer software. It is suitable for Android iOS only, and PGsharp iOS is not compatible. If Pokemon Go is still the game app that you like to play, PGSharp is perfect for it! You can play Pokemon Go without going anywhere.
Moreover, PGsharp is a spoofing application. What does it mean by a spoofing application? Again, you can play Pokemon Go on your sofa, living room, comfort room, or inside your house. With that, it lets you travel on the whole Map without going anywhere.
Furthermore, according to PGSharp, it is much faster and easier to use because of its intelligent code completion, syntax highlighting, and more. It also adds new features that every user can enjoy.
Below are the features of PGSharp. Please take a look at them one by one.
◆ It has a built-in fake GPS Joystick.
◆ It also has a built-in auto walk to catch a Pokemon egg quickly.
◆ It can set the scroll speed and lets you move the PGSharp with the set path.
◆ It can set locations with the coordinates in order to change the GPS location.
◆ It can set many PokeStops, and PGSharp immediately catches the PokeStops.
◆ It lets you customize the walking speed of your charter in a game.
◆ It also lets you teleport or choose a location using the Map.
PGSharp Review
The Use and Purpose of PGSharp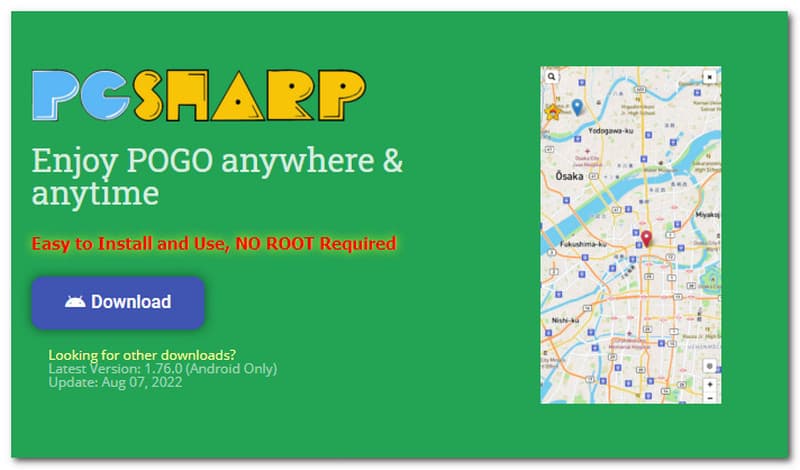 PGSharp was released four years ago, and this software's purpose is to be used for Pokemon Go. It is a popular game created, and it plays over a million users. Moreover, playing Pokemon Go will bring back memories of the '90s. That is why you can use PGSharp to play Pokemon Go effectively.
While in the game, PGSharp lets you capture, find, catch, and train Pokemons. Pokemon will appear on your device's screen and catch them easily using PGSharp. You can also use PGsharp to catch more Pokemons by spoofing locations.
Nevertheless, there are still limitations to using PGSharp while playing Pokemon Go. It is impossible to catch a rare creature of Pokemons when you are playing at home. For that reason, PGSharp creates a feature that can fake or spoof locations in order to catch different kinds of Pokemon.
The good thing about this, is that you can fake locations not just in one area but worldwide! Moreover, there are many features that PGSharp can offer. After this part, we will talk about changing your locations using PGSharp.
Change Location while Playing Pokemon Go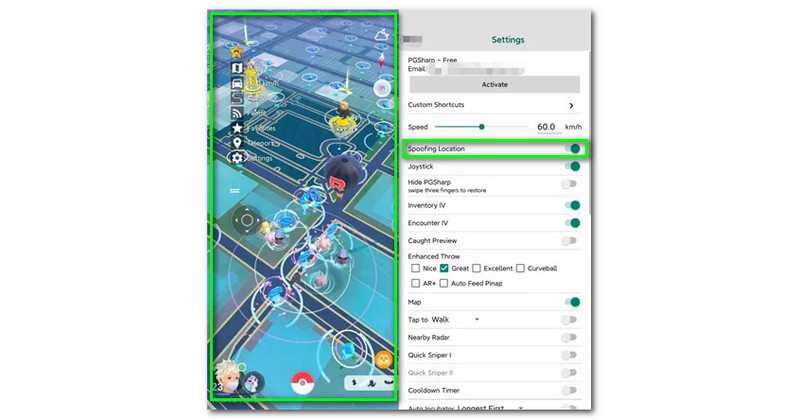 With the use of PGSharp, you can easily play Pokemon Go and change your location even if you are only at home! For that reason, you can control the movement of your Character in your gameplay without moving from one place to another.
How does it happen? That is, with the help of its features; Changing or faking your Location or GPS. Moreover, you can also apply its advanced features while playing, like Customizing Walking Speed, Automatic Walk, and using the Joystick Support.
While applying all the features mentioned a while ago, you can easily catch Pokemons at home. But the question is, is it legal to fake your location on Pokemon Go? Honestly speaking, it is not illegal, yet it could be unfair to other players who go from place to place to catch a Pokemon Go.
FAQs of PGSharp
Is PGShrap legit and safe for your phone?
First, PGSharp is legit because you can effectively use it for Pokemon Go. Second, this software is safe for your phone, and you can also download and use it safely. Nonetheless, there are some issues that you might encounter. Like using PGSharp to spoof places or locations, the story behind this is Niantic, who discovered and the developer of Pokemon Go is concerned about other players about providing every player a fair game experience for the player around the world.
How to get a free key from the official website of PGSharp?
To get a key from PGSharp, go to its official website. After that, you must sign up for a free trial, install the application, and get the free beta key from PGSharp. Now, you can enjoy the accessible version of PGSharp.
What is PGSharp Mod APK?
As an Android user, PGSharp Mod APK will leave a curiosity and make users wonder how it will work. So, it is time to know the answer. It can be known as a library that uses PostgreSQL from the .NET app more quickly than the previous one!
Alternative - Aiseesoft AnyCoord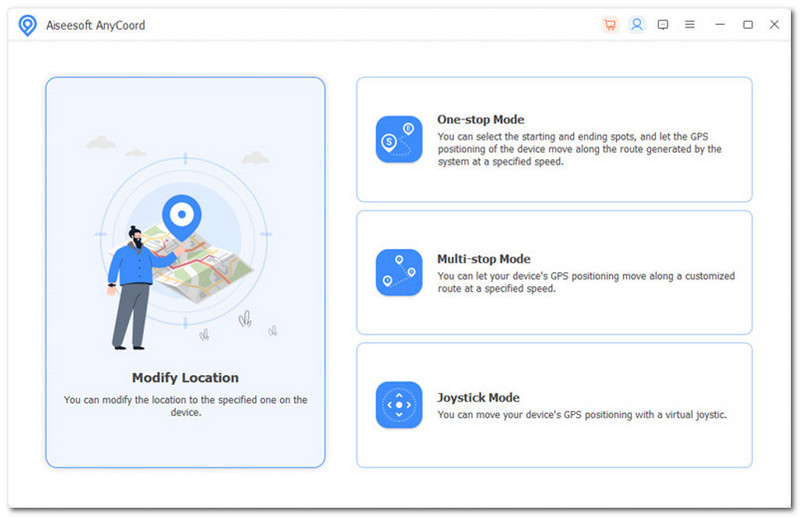 Sadly, PGSharp is not 100% safe to use while playing Pokemon Go because of its spoofing feature. One more thing, its features focus only on Pokemon Go and cannot help users comprehensively.
Every user desires safe and fully featured software. In this part, the PGSharp iOS alternative is Aiseesoft AnyCoord. It is a comprehensive location changer, and it can be used not only in your gameplay but also in some areas.
In addition, it is 100% free, and it works on Windows and Mac. It has three movement modes; a One-stop Mode that can choose a starting and ending area, a Multi-stop Mode that lets you select multiple areas and connect each one, and Joystick Mode that enables you to use your computer's mouse to control the Joystick on your computer thoroughly.
Furthermore, here are the main features of Aiseesoft AnyCoord, and you will surely love them all:
◆ It lets you quickly change your device's GPS location to a different location.
◆ It allows users to start sharing their location via social media platforms.
◆ It can be used while playing an AR video game like Pokemon Go.
◆ It can create a virtual location on your device.
◆ It offers a three movements mode; One-stop Mode, Multi-stop Mode, and Joystick Mode.
◆ It lets you customize the speeds on your device.
It is not the end, and we would like to share a comparison table between PGSharp and Aiseesoft anyCoord to prove to you that Aiseesoft AnyCoord is the best alternative for PGSharp. Please see the comparison table below.
| | | |
| --- | --- | --- |
| PGSharp | VS | Aiseesoft AnyCoord |
| Starts at $5.00 | Price | Starts at $9.56 |
| Windows, Mac | Platform | Windows, Mac |
| 8.5 | Interface | 9.6 |
| 8.0 | Features | 9.5 |
| 8.5 | Easy to use | 9.5 |
| 8.0 | Safety | 9.8 |
| | Movements Mode | |
| | Change Location | |
| | Set many Pokestop | |
Did you see the difference? There is no doubt that Aiseesoft AnyCoord excels in many ways. Even though Aiseesoft AnyCoord is a bit costly, it is worth purchasing. Moreover, we hope you will consider using Aiseesoft AnyCoord, which will never disappoint you with its features!
Conclusion:
Upon reviewing PGSharp and doing deep research about it, we have an idea that PGSharp is mainly used for Pokemon Go and focuses on games. We also know that it is not entirely safe. However, it is good to use. Furthermore, we are confident that you thoroughly learned about PGSharp features and functions. The price and systems requirements are also mentioned, plus a comparison table. See you again at our following review!
Did you find this helpful?
247 Votes
YES

Thanks for letting us know!
No

Thanks for letting us know!
Aiseesoft AnyCoord
Change iPhone Location to Spoof and secure yourself.