Tenorshare iAnyGo Review: Quick and Easy Location Changer Tool
You are reading this review because we believe you need location changer software. Well, this review article will not disappoint you and will leave a smile on your face after reading it thoroughly. It is all about Tenorshare iAnyGo, and it can change, spoof, or fake the location of your iOS device and more. You can read now to understand the tool entirely.

1. Our Verdict
Pros

It offers many flexible route simulation options, which helps every user to play games like Pokemon Go.
It also provides a 30−day money-back guarantee.
It is safe to play Pokemon Go without moving from one place to another.
It offers instant delivery to your Email.
The VAT is excluded from all the prices that are shown.
It is safe to use.
It provides free technical support for every user.
Cons

It is not compatible with Android devices.
It does not support the older macOS version that is earlier than 10.13.
Mac users must pay more than Windows users even if they buy the same license.
Mac users do not also have a lifetime license.
There are some issues whenever you need the trial version; you must leave positive feedback to Tenorshare iAnyGo.
It does not offer a feature to check the users' history.
Overall Ratings
Safety:8.5
Easy to use:9.0
Features:8.5
2. What is Tenorshare iAnyGo
Price: 1-Month License costs $9.95, 1-Quarter License costs $19.95, 1-Year License costs $39.95, and Lifetime License costs $69.95.
Platform: Windows, Mac, iOS devices.
Main Features
Tenorshare iAnyGo is a desktop location spoofer; what does it mean? It has a one-touch location spoofing, and it works with your iOS devices, and sadly, it is not compatible with Android devices.
Moreover, Tenorshare iAnyGo has a new GPS location and works on iOS devices. Aside from what is mentioned, this software lets you simulate fake routes. Therefore, you can change your GPS even if you are not moving to another place.
Using its Modes features, you can only use Tenorshare iAnyGo to play games like Pokemon Go and collect Pokemons in just one place. Now, let us see all the main features of Tenorshare iAnyGo below:
◆ It is only one click to change your iOS device's location.
◆ It can change up to 15 iOS devices' locations using one Mac or PC.
◆ It offers a GPS Joystick control.
◆ It lets you import a GPX file in order to start the designed route.
◆ It works with all-location-based apps such as WhatsApp, Fitness app, Pokemon Go, etc.
◆ It allows you to customize your way freely.
3. Tenorshare iAnyGo Review
Selecting Location using the Map of Tenorshare iAnyGo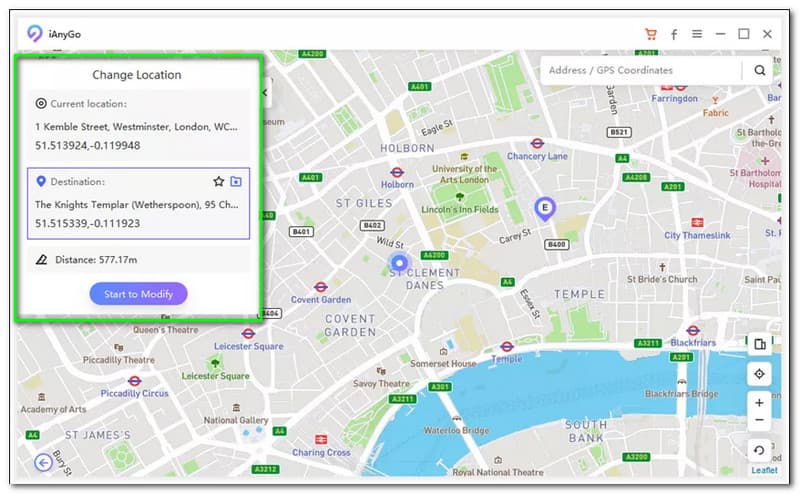 It is easy to search and select a location on the map using Tenorshare iAnyGo. It provides a Search Box on the right side of the corner where you can enter the address or GPS you like to select. Then, you will also see the Sidebar on the left corner. That is more like iMyFone AnyTo.
Once you search the GPS, you will see the exact address on the Sidebar, and you can start clicking the Start to Modify. Moreover, Tenorshare iAnyGo lets you Zoom In and Zoom Out the map to see the location further.
In addition, let us leave you with some reminder notes. You can make your account safe by turning off the cooldown timer feature in the Settings. You can also see the address you have searched or used in the Historical Records that Tenorshare iAnyGo provides. It is an additional software where you can add your Favorite locations.
Simulating GPS Movement - Single-Spot Movement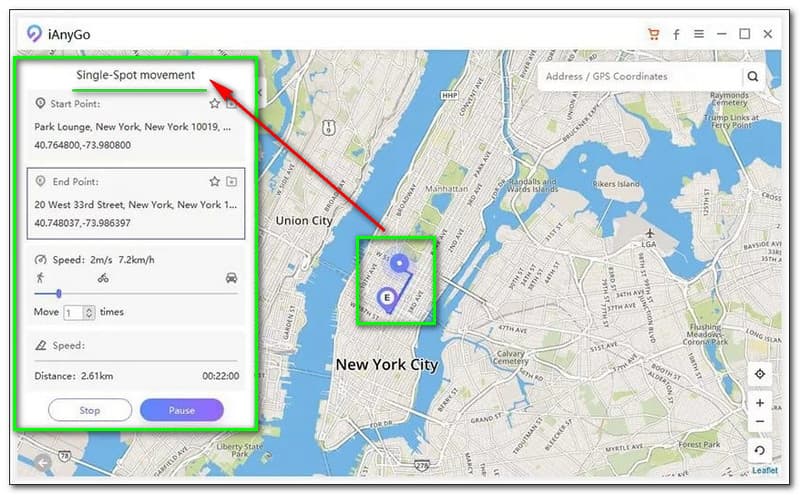 Since Tenorshare iAnyGo is an advanced and overall location spoofing tool, it can even simulate GPS movement, and in this part, we will simulate GPS movements with Single-Spot Movements. To give you an idea, when you start simulating movements, it will show you that you are moving while holding your device.
Choose your Starting Point to your End Point to simulate a GPS movement. You can use the Search Box to search for the destination you would like to simulate. After that, Tenorshare iAnyGo will show you the exact addresses of the two locations with the help of Sidebar.
In addition, Tenorshare iAnyGo will also show you the Speed, Move per time, and Distance. You can adjust them depending on what you like and click the Start to Move. Moreover, it is associated with the feature that lets you play, pause, and resume. With that, the process will look more natural.
Importing GPX File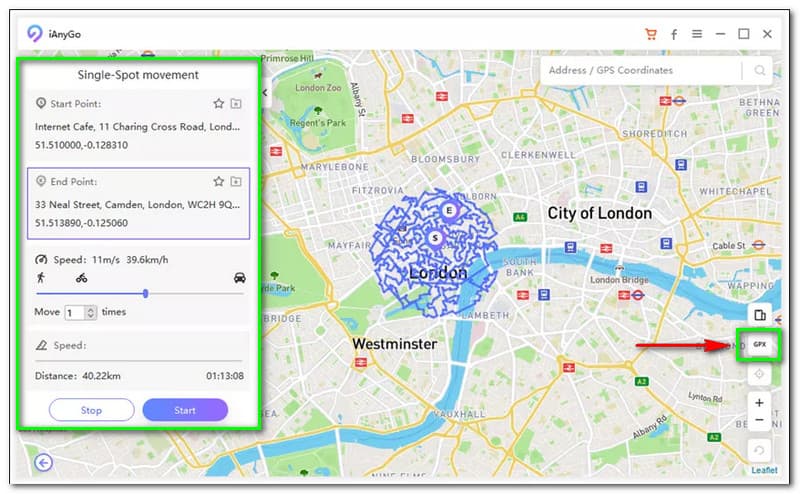 Importing the GPX file is essential to start arranging the route between the two spots. For that reason, Tenorshare iAnyGo can detect all the various routes using the imported GPX file. In order to do that, you need to select the GPX button on the right side corner of the main interface.
Then, import a GPX file from your computer to Tenorshare iAnyGo. When you are done successfully, the imported GPX file route will be shown on the map. You can pause the movement halfway through, and just in case you want to import a new or another GPX file, you must stop the movement and enter the new imported GPX file.
The functionality of Tenorshare iAnyGo
Tenorshare iAnyGo is considered one of the most impressive locations for spoofer tools. One of the reasons is its feature called One-Click operation. This means Tenorshare iAnyGo lets you change your actual location into a different location in just a simple click!
Furthermore, Tenorshare iAnyGo does not require you to be a professional user or a techy person to use the tool and change the GPD coordinates of the device. That is more easier than Dr.Fone - Virtual Location. In fact, you can be a simple person as you are, and you can do all its functions through its user-friendly and manageable interface.
Moreover, after you finish changing your location using your device through Tenorshare iAnyGo, another location-based app will recognize it as your original location. For that reason, when you want to play a game like Pokemon Go that needs your GPS, it will recognize the spoofed location as your original location.
The good thing about this is that you no longer need to walk or go to another place since this software fakes your location and catches as many Pokemons as you like. Imagine you could catch Pokemons even if you are still in bed. Notable, isn't it?
4. FAQs of Ternorshare iAnyGo
What are the apps that Tenorshare iAnyGo supports?
Tenorshare iAnyGo has witnessed an increase in the demand and popularity of location apps in the last decade. For that reason, this software became one of the must-have tools for smartphones, and here are the apps that support this software; Facebook, Instagram, Twitter, WhatsApp, Snapchat, Fitness App, and location-based games such as Ingress, Pokemon Go, etc.
Can I download Tenorshare iAnyGo safely and quickly?
Of course, you can. Unlike other location changer software, Tenorshare iAnyGo is quick and safe to download on your iOS device, Mac, and Windows. On the main website of Tenorshare iAnyGo, you will see the Free Trial and Buy Now button.
Next, click the Free Trial if you want to try the tool first. However, select the Buy Now button if you want to buy the product. Please wait until it is downloaded on your device or computer; start installing, launching, and using it.
How to change iPhone location without Jailbreak?
In the upper part of this article, you now know how to download and install Tenorshare iAnyGo. Using Tenorshare iAnyGo, you will change your location without jailbreaking it. To do that, launch the software, connect your device to the computer and start changing the location of your iPhone.
5. Alternative - Aiseesoft AnyCoord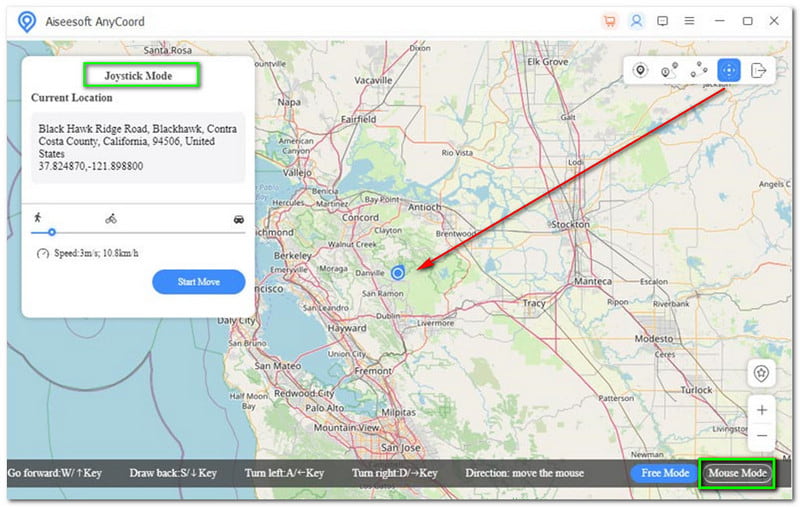 We understand that not all users will be satisfied with using Tenorshare iAnyGo. We also know this software has disadvantages, especially for Mac users. Moreover, we have a better suggestion for you. Why don't you use alternative software that can meet your needs?
If you agree to our suggestion, you can try Aiseesoft AnyCoord, the number one location changer. It perfectly works on your iOS devices, Windows, and Mac. In addition, its price starts at $9.56 only! It is more affordable than Tenorshare iAnyGo.
Do you want to hear more about this excellent location changer software? Here are some of its main features you will love and enjoy using! Please see them under this part:
◆ It has an excellent user interface.
◆ It can change your iOS location quickly.
◆ It provides three movement modes: One-stop Mode, Multi-stop Mode, and Joystick Mode.
◆ It is safe and secure.
◆ It can create a virtual location on your iOS device.
◆ It can customize the speed on your device.
Conclusion
As you read in this review, we appreciate the functionality of Tenorshare iAnyGo, and we hope you do too! Again, it is a fantastic tool for your iOS device, Windows, and Mac. We are also aware that it is perfect even for beginner users. Moreover, we suggest an alternative software and do not hesitate to try it. Til our next review article, see you!
Aiseesoft AnyCoord
Change iPhone Location to Spoof and secure yourself.