Reviewing PhpiPAM's Features & Ability: Is it Worth it as a Management Tool?
Having a connection network requires the most maintenance, especially in managing every device connected to your Network. That is because if we have poor maintenance within our Network, it can cause poor services in return. That is why tracking the devices connected to your Network is crucial if you are the admin. You can do it by using their IP Addresses.
In line with that, IP Address management can bring us to help with the process. An IP address management software is a tool for monitoring what is on your Network, how it is configured, and when it changes. If you are an administrator in a group or organization you should use open-source IP address management software tools if you want to keep track of, and allocate, a pool of IP addresses. This article reviews one of the great tools we can use to manage IP addresses. We will review phpiPAM and see its features and how it performs.

Our Verdict
Pros

Tracking of static IP addresses
DHCP Pool leases
Separate networks into subnets and VLANs.
Documentation for the device
Cons

Visual aid is scarce.
The interface is outdated and could benefit from an update.
It is difficult to update the software.
Overall Rating
PhpIPAM is ideal for team and complex network environments where all members must be kept up to date. It is not very user-friendly for administrators to maintain. However, a Linux OS expert is required.
Extensive:8.5
User-friendly:8.6
Complexity:8.4
1. What is phpiPAM
PhpiPAM
Price: Free
Platforms: Online, Windows, macOS, and Linux
PhpIPAM is used to document the VLAN and subnet structure of our network. This tool can document our Internet Service Provider or ISP, detailed circuit information, and all contacts. In addition, it allows us to have well-documented Firewall Zones and routings. All of the information in phpIPAM is easily searchable and accessible. Our IT department uses phpIPAM, which requires user names and passwords to access information. Because it is a web-based application, there is no need to install a desktop client. Indeed, this tool is a great app that can easily manage our tasks.
Main Features
◆ IP address management (IPv4/IPv6)
◆ Management of sections and subnets.
◆ Subnets' free space is automatically displayed
◆ Display of visual subnets.
◆ IP status checks and automatic subnet scanning.
◆ Integration of PowerDNS, NAT assistance, and RACK administration.
◆ Domain identification (AD, LDAP, Radius).
◆ Section/subnet permissions per group.
◆ Device/device type administration and Import of RIPE subnets.
◆ Import XLS / CVS subnets and Modules for IP Requests, RESTful API.
◆ Module for Locations, VLAN administration, and VRF administration.
◆ Calculator for IPv4 and IPv6.
◆ IP database lookup and Notifications via email.
◆ Custom fields are supported translations and changelogs.
2. phpiPAM Review
PhpiPAM Statistics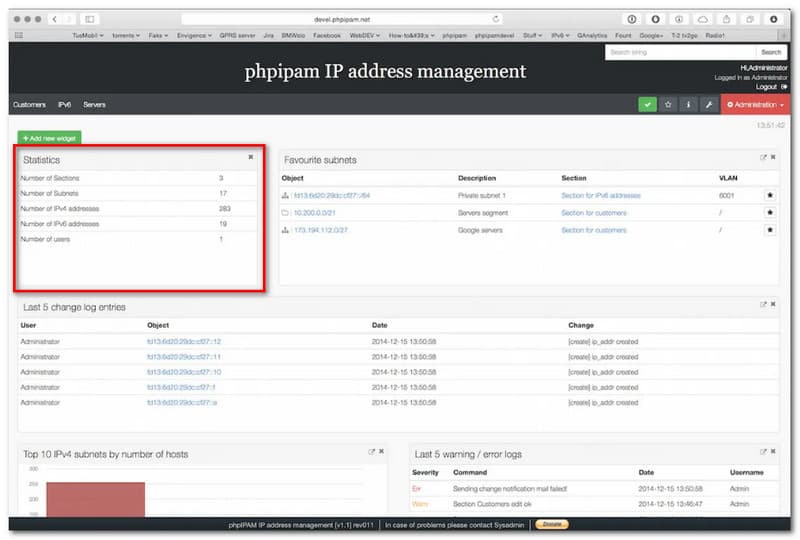 PhpiPAM is a great tool that offers a feature where we can see the statistics of the IP Address connected to your network. It is mainly on the main page of the device.
This feature can find every number or total of each element on the web. It includes the number of sections, subnets, IPv4 Address Es, IPv6 addresses, and several users. That means this tool helps us by giving us insight if we have already met the quota and the limit within our internet connection.
PhpiPAM Favorite Subnets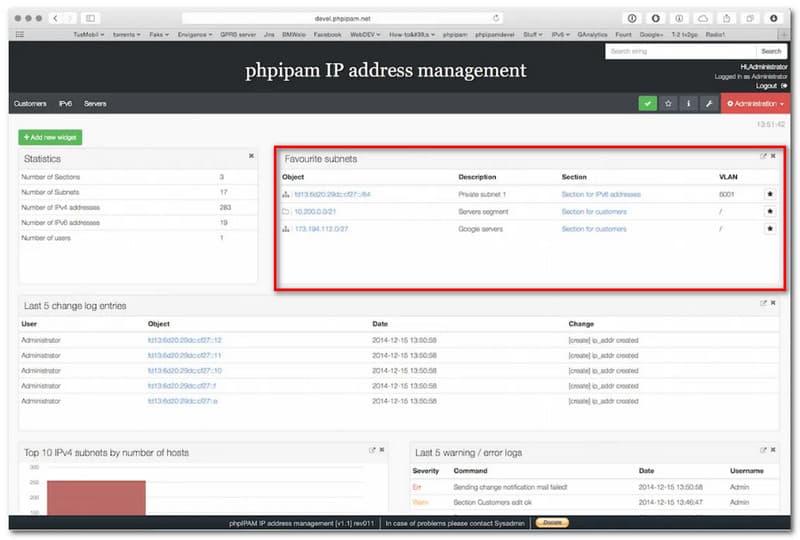 Subnets are a tiny part of the network that ensures traffic routing efficiently in your network. Fortunately, PhpiPAM offers the ability to select the favorite subnet of our network. That means users can filter the subnets that bring help within the network. This feature also shows each subnet or object's description, section, and VLAN. Indeed, a great feature with detailed information.
PhpiPAM Change Log Entries and Warning/Error Log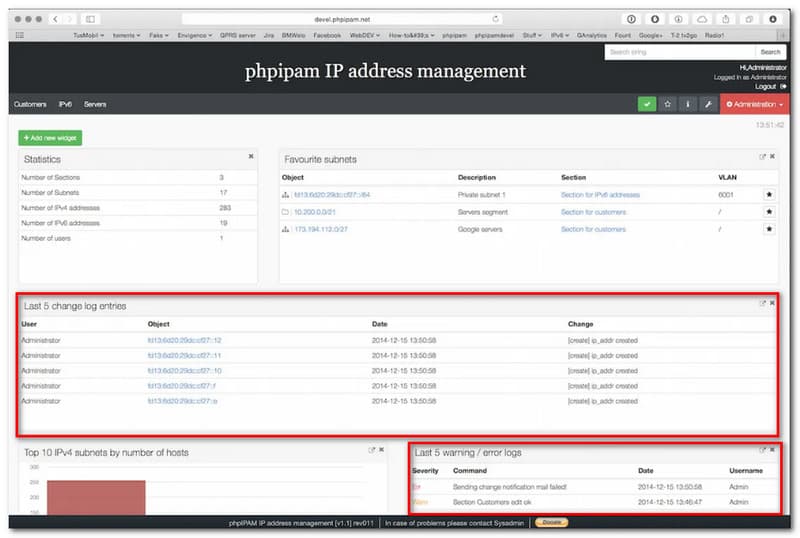 The tab that shows every change, error, and warning log entry is one of the superb features that manages our Network, especially with IP addresses. Through this feature, we can now see if there are changes in terms of login. In addition, this will also determine if there is a new IP Address that connects to your Network. On the others, we can also see those IP addresses that have warnings and errors when connecting to the Network. Above all these, it also presents the Objects, dates, and changes on the Network. In addition, security and command are also present within the Network.
PhpiPAM List of IPv4 and IPv6 subnets by Numbers of Hosts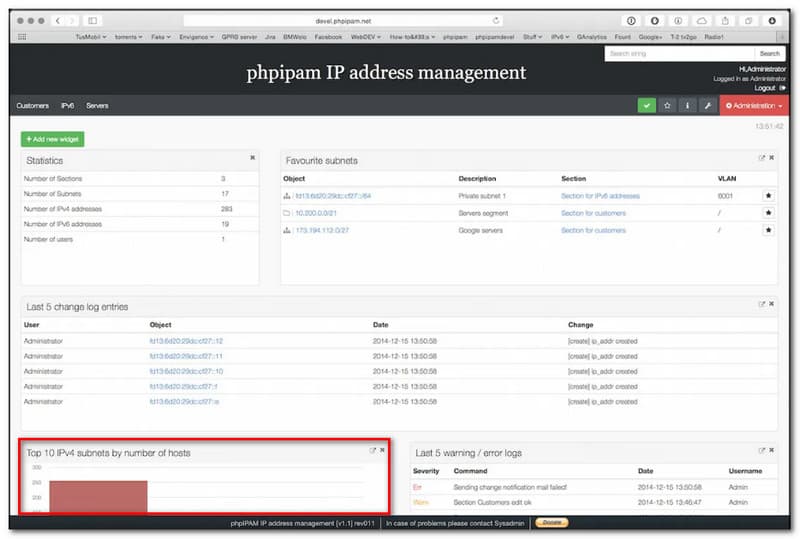 Another essential feature of the PhpiPAM is the portion where we can see the top IPv4 subnets through their host. It gives us the idea of a full IPv4 address to know the total numbers of their hosts. For that, this feature fulfills the purposes of IPv4 subnetting. As we all know, IPv4 Subnets are a method for efficiently assigning IP addresses, avoiding address waste, and providing better management capabilities for network operators. Subnets, in other words, fragment the IPv4 addressing space to precisely meet specific address demands.
PhpiPAM Customizable Widget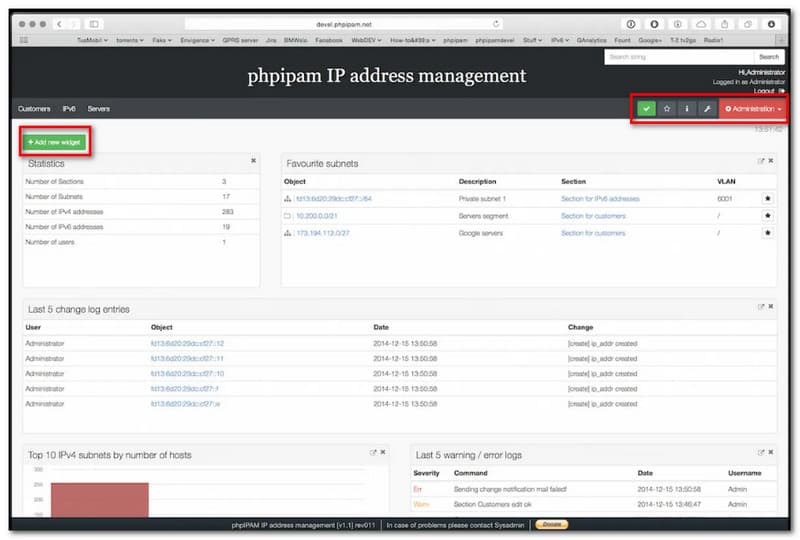 Another good thing about PhpiPAM is that it is user-friendly and easy to use. We will notice a simple button that will enable you to add a widget and customize the places of each tab. From there, we can now set up a device to easily manage each IP address within the network. In addition, the icon for settings and other customization icons is available in the upper right corner of the screen. These feature icons are straightforward to use and only require simple steps to manage. Indeed, we can use a tool to manage our IPs and network.
3. FAQ about phpiPAM Review
What are the best phpiPAM substitutes for 2022?
Here are the alternatives to phpiPAM. The first is NetBox, free and open source and one of the user favorites. Another tool is TeemIP which is Free and Open Source. Next, Microsoft IP Address Management Server is another great tool to manage your network but with paid subscriptions.
Can we use phpiPAM on Nginx?
You can use phpIPAM on the Nginx webserver with php-fpm; a code snippet for the Nginx setup is provided below. Url rewriting was simplified in version 1.3.2. For that, please check your phpiPAM version and use the correct code snippet for the Nginx configuration as we prevent any issues within the process.
How do I put phpiPAM on Windows?
Using the web browser, we can complete the installation of phpIPAM. By navigating to the URL: http://serverIP>/phpIPAM, the following phpIPAM installation page will be displayed. We can now begin the automatic database installation process. phpIPAM should now be operational.
Conclusion:
Managing our network is crucial. Good thing, we gave tools like phpiPAM helping us to manage and do the task efficiently. That is why. Above this article, we can see all the details we need to know if it is excellent for us to manage. At this moment, we hope you are now decided and understand if this tool is worth trying. For more information, you can visit our website and discover more details.
Did you find this helpful?
369 Votes
YES

Thanks for letting us know!
No

Thanks for letting us know!
Aiseesoft AnyCoord
Change iPhone Location to Spoof and secure yourself.