ThinkSky iTools Review: A Better Software to Spoof, Fake, and Change GPS Location
Nowadays, it is hard to find software that can change, spoof, and fake your GPS location, and it can backup and restore your data simultaneously. Luckily, there is software that we will present in this review that can simulate and backup your data. It is ThinkSky iTools . To complete become aware of this software, you can start reading now!

Our Verdict
Pros

You no longer need to jailbreak your iOS device.
It has numerous spoofing features, especially for Premium consumers.
It also has a lot of tools and extra tools that can help you complete your everyday tasks on your iOS device.
It lets you back and restores the date of your iOS device.
It has an easy-to-use user interface.
It lets you connect your iOS device to your Windows PC.
Cons

When it comes to the map, it is a little bit complicated.
Its free version lets you change your location three times only.
It only runs on iOS 12 and the past versions. Therefore, it does not run iOS 13 and higher.
It requires you to purchase the full software. If not, you will not use any single features they offer.
It contains too much storage that can cause lag on your device.
Overall Ratings
Features:8.5
Easy to use:8.5
Interface:8.5
What is ThinkSky iTools
Price: The Premium License costs $34.95, Platinum License costs $69.95, and Bundled Package costs $59.95
Platform: iOS Devices, Windows, and Mac
Main Features
iTool ThinkSky is one of the professional software that can manage the content of your iOS device. In addition, it is not just about changing your location instantly. It can also help you transfer contacts, photos, apps, videos, music, files, and back up with a simple click.
Furthermore, in this part, we will discuss its main features, and you will discover how ThinkSky iTools is flexible in changing your location. Please see the main features below now:
◆ It can perfectly fake your GPS location on your iOS devices.
◆ It can export your photos instantly on your iOS device.
◆ It can restore and back up data on your iPhone.
◆ It can simulate any location you desire.
◆ It lets you customize your Ringtones.
◆ It can be used while playing games.
ThinkSky iTools Review
Interface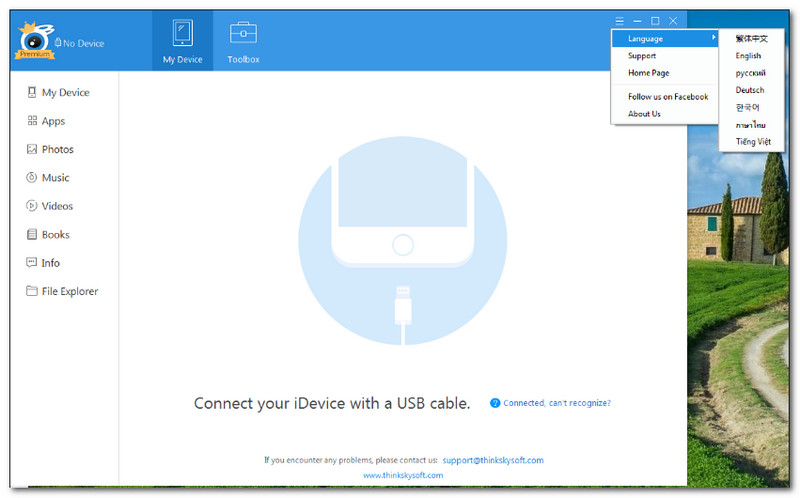 One of the pros of ThinkSky iTools is it has a manageable user interface, which is true. Upon looking at the photo provided, you will see a color sky blue and white on its interface. In addition, you will also see its logo in the upper left corner.
Moreover, in the upper part, you will see the options: My Device and Toolbox. Then, on the left corner of the interface, it includes these options; My Device, Apps, Photos, Music, Videos, Books, Info, and File Explorer.
What else? In the upper right, you will also notice the additions options where you can select the Language you prefer. Plus, Minimize, Full Screen, and Close. Overall, ThinkSky iTools is indeed an easy-to-use user interface and does not require you to acquire many steps.
Virtual Location - Toolbox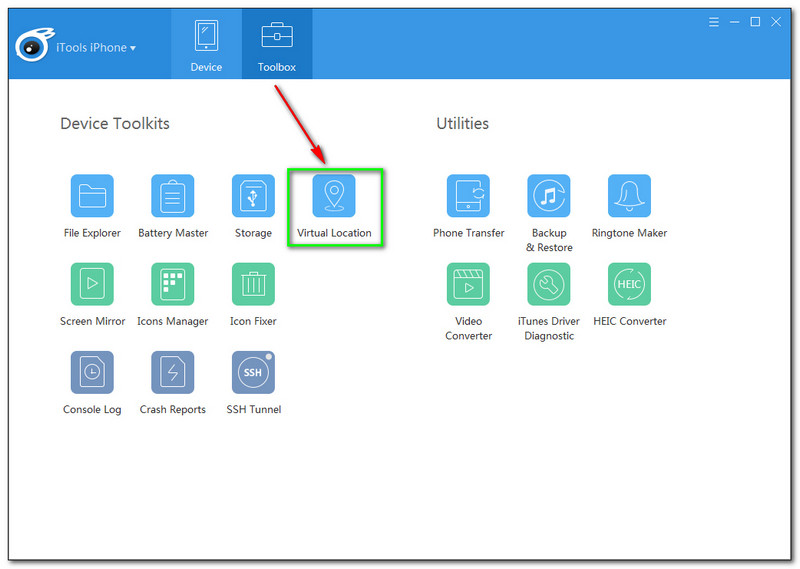 ThinkSky iTools provides a toolbox that contains a lot of extra features. One of them is the Virtual Location, and as a user, it is an essential feature, especially using it on your device. This part allows us to list all the Device Toolkits and Utilities of ThinkSky iTools in a bulleted form.
◆ File Explorer.
◆ Battery Master.
◆ Storage.
◆ Virtual Location.
◆ Icons Manager.
◆ Icon Fixer.
◆ Console Log.
◆ Crash Reports.
◆ SSH Tunnel.
◆ Phone Transfer.
◆ Backup and Restore.
◆ Ringtone Maker.
◆ Video Converter.
◆ iTunes Driver Diagnostic.
◆ HEIC Converter.
There are a lot of extra features. It would be a good idea if you could use all of them. However, if you want to focus on the Virtual Location, it is also possible.
Play Pokemon Go using ThinkSky iTools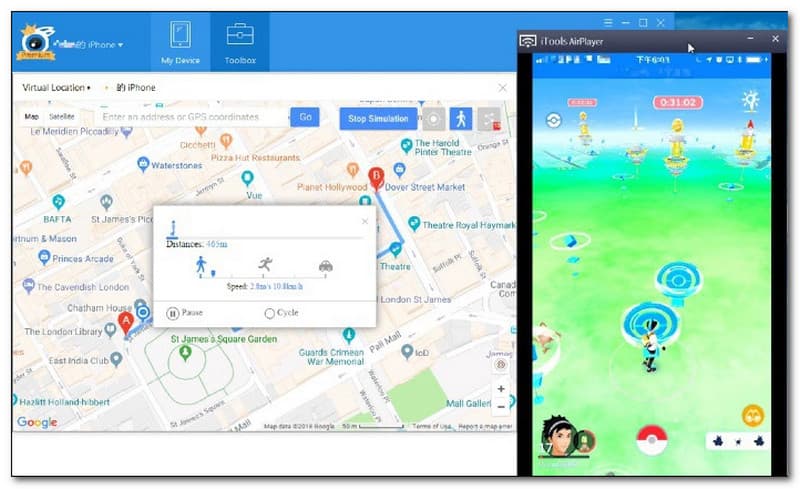 Since there are many inquiries about the safety of using ThinkSky iTools while playing Pokemon Go, we will use this part to enlighten you about it. To be honest, ThinkSky iTools is useful software while playing Pokemon Go. It is also used to spoof your location to play Pokemon Go without a hassle.
Again, many are concerned about the safety of using ThinkSky iTools while playing Pokemon Go. We guarantee you that ThinkSky iTools is safe to use while playing. However, since the developer of Pokemon Go is against using spoofing software due to unfair game, many users are banned. You need to pay more attention when using ThinkSky iTools on Pokemon Go.
To play Pokemon Go effectively, you can use the Virtual Location from the Toolbox of ThinkSky iTools . It will provide you with the Map and numerous options to play Pokemon Go as easy as possible.
FAQs of ThinkSky iTools
Is ThinkSky iTools safe and secure to use?
We have searched the Privacy Policy of ThinkSky iTools to ensure the safety of using it. While reading and reviewing its Privacy Policy, it is confirmed that ThinkSky iTools is committed to protecting your information and data. In addition, they ensure all the users do not distribute and share their information since it is prohibited since their obligation is to protect your information. Moreover, you no longer need to worry about your safety while using ThinkSky iTools.
How to fake and change my location using ThinkSky iTools?
After downloading ThinkSky iTools, you can start opening it on your computer and start connecting it to your iOS device using an original and working USB cable. After that, select the Virtual Location from the Toolbox, and see the Map. Then, type or select the location you want to change or fake. Once it is done, click the Enter button to confirm, and ThinkSky iTools will start changing or faking your location
Why is ThinkSky iTools not compatible with Android devices?
One of the cons of ThinkSky iTools is its compatibility with Android devices since it is impossible. There are still some questions about it, but the good news is it works on Windows, Mac, and iOS devices.
Alternative - Aiseesoft AnyCoord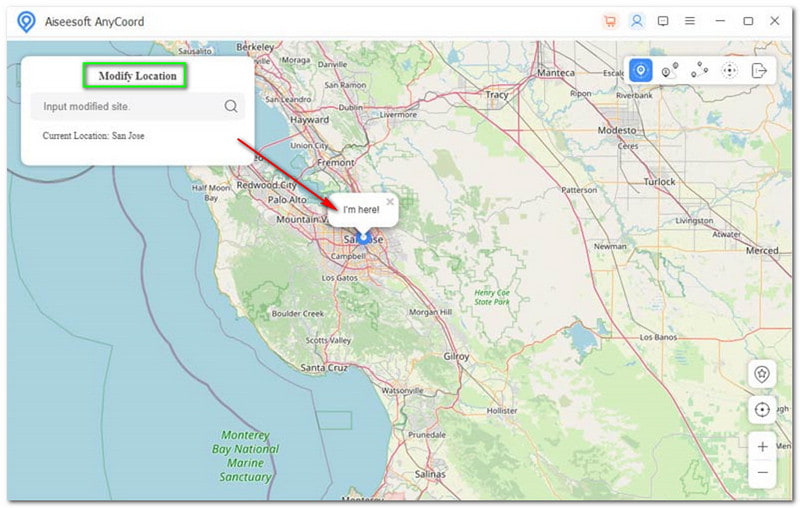 The reason why ThinkSky iTools lags on your iOS device is that it contains more extensive storage. It is not lightweight, and we think it is because the Toolbox includes additional features not needed for changing and faking your location.
For that reason, many users desire lightweight software that only focuses on changing, spoofing, and faking location. We are introducing to you Aiseesoft AnyCoord. It will satisfy you on changing your location because its main purpose is to help you change your location, especially while playing Pokemon Go. To obtain more ideas about Aiseesoft AnyCoord, here are its main features. Please see them below:
◆ It has three available movement modes; One-stop Mode, Multi-stop Mode, and Joystick Mode.
◆ It can customize routes and customize speeds easily.
◆ It can create a virtual location on your iOS device.
◆ It can be used while playing games like Pokemon Go.
◆ It can stop the sharing of your location on your social media accounts.
◆ It can change and spoof location in just one click.
Conclusion:
Finally, we have known all the strengths and weaknesses of ThinkSky iTools. We are also aware of its Toolbox, which contains additional features you can use when they are needed. To end this review, you can share this article with those who need it. See you again in our next review article!
Aiseesoft AnyCoord
Change iPhone Location to Spoof and secure yourself.