iPogo Review: A Perfect Location Changer Tool to Play Pokemon Go
I wonder if Pokemon Go is still famous at this moment. Nevertheless, if you are entitled as one of the players of Pokemon Go, it is a great way to use software that will help you with your gameplay. So, you wonder what software you can use to play Pokemon Go effectively. We are now introducing to you iPogo. It is a tool that helps you teleport from one location to another. Did you know that iPogo is perfectly made for Pokemon Go? Upon reading this review, you will become more aware of iPogo and what more it can do while playing Pokemon Go. Read now!
Our Verdict
Pros

It is perfect software if you have a Pokemon Go App.
It is compatible with Android and iOS devices.
It offers a free trial.
Cons

iPogo requires you to uninstall the main Pokemon Go from your iOS device.
It breaks some of the regulations that Niantic makes for Pokemon Go.
It is only suitable for playing games like Pokemon Go.
It also requires you to jailbreak your iOS device.
Overall Ratings
Features:8.5
Interface:8.5
Easy to use:8.5
What is iPogo
Price: VIP License costs $4.99.
Platform: iPogo Android and iOS devices. Plus, Windows and Mac
Main Features
Before we discuss the main features of iPogo, it is relevant to talk about first what iPogo is. iPogo is an app that can assist you, especially in playing games that need a GPS like Pokemon Go. Yup, it is a top-rated game on the internet that you can download on your device.
For that reason, it is perfect to have an iPogo app. It works on iOS and Android devices, and you can download the iPogo software on your Windows and Mac. Furthermore, since it is a location changer software, you can use it anywhere, and it is specifically designed for the gameplay called Pokemon Go.
So much with that, here are the features of iPogo. Please read them one by one because they might help you use iPogo effectively. See them below:
◆ It has a Shiny Scanner.
◆ It can freeze Pokemon.
◆ It has an Incognito Mode.
◆ It has Location Spoofing.
◆ It lets you teleport anywhere.
◆ It lets you activate the Fast Catch.
◆ It lets you tap on your screen to walk in your desired area.
◆ It allows you to be updated with the news feed where these four appear; Raids, Quests, Nests, and Pokemon.
◆ It also allows you to use the Joystick; you can move within the Map and control your movements.
◆ It can add routes and gives you stats and inventory information.
◆ It also lets you display and hide the elements on your screen.
iPogo Review
Interface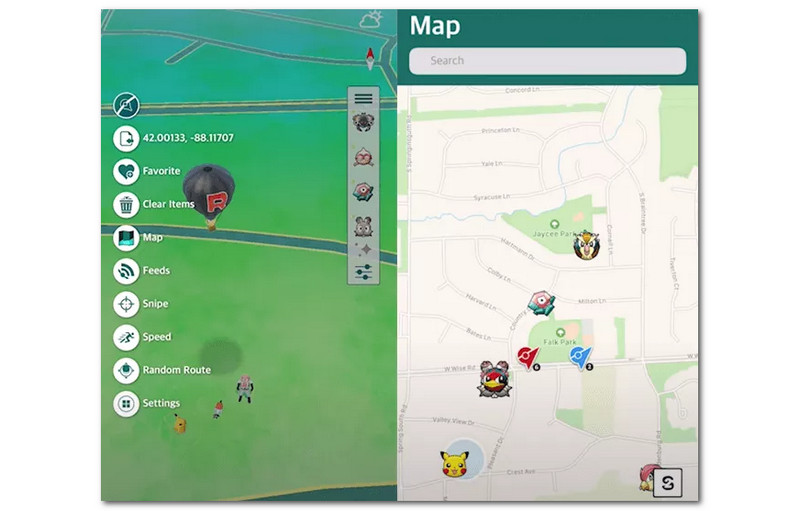 Again, iPogo is explicitly designed with the Pokemon Go game. That is why when you launch iPogo software when playing, you will see a different interface. For example, the interface of iPogo when playing Pokemon Go is straightforward also.
On the left side, you will see all the options such as Favorites, Clear Items, Map, Feeds, Snipe, Speed, Random Route, and Settings. With that, you can pursue what you would like to do using iPogo. Then, on the right side, you will see the Map.
It provides a Search Bar; with that, you can type and find it using the Map. It shows your location and offers you the exact place on the Map. You will see different areas and can go to every place using iPogo.
Spoof Location while Playing Pokemon Go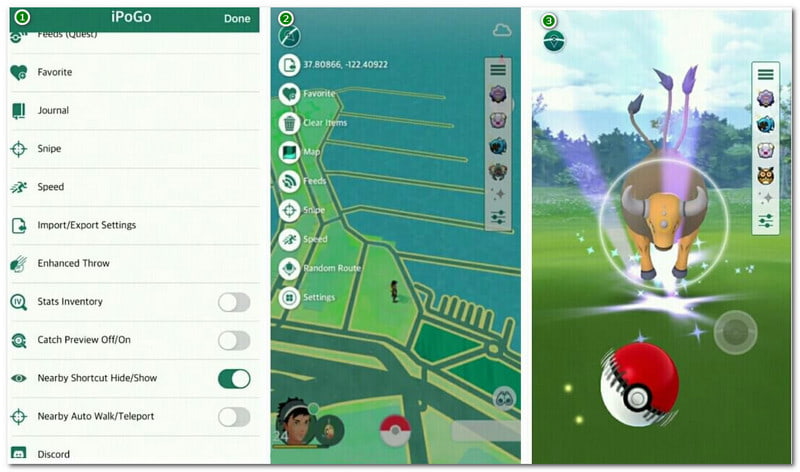 Spoof means to imitate something. Therefore, in this part, we will show you one of the features of iPogo, which iPogo Spoofer can change your location while playing Pokemon Go. Why do you need to spoof your location while playing Pokemon Go?
Pokemon Go uses locations to locate your device to hunt a Pokemon. Therefore, to hunt or find a Pokemon, you can spoof or change the location of your device to hunt more Pokemon. To do that, you will see the Map icon on the iPogo screen on the top.
Then, the Map will appear, and you can now start searching for the place that you desire to go to. You can input the Address or the Coordinates. In addition, you can also use a filter feature from iPogo and find Pokemons on your Map.
FAQs of iPogo
Why is iPogo not working?
There are times that iPogo is not working, and there are reasons why it is not working. Sometimes it is because the Pokemon Go app needs to go through the systems update. For that reason, iPogo will not work for a while.
However, you do need to be frightened by that scenario. You have to wait a few days and then try it again, and it will start working. If you have more concerns, you can ask for customer service.
How to use iPogo to play Pokemon Go?
You cannot use iPogo if you do not download or install it. Therefore, the first thing you need to do is download and install iPogo. But to download and install iPogo software, you need to Jailbreak your device.
After the Jailbreaking, Downloading, and Installing process, you can now proceed with logging in to your Pokemon Go account by tapping the Activate. After that, you will now be able to view all the options you might need while playing Pokemon Go.
Is iPogo safe to use?
Somehow, iPogo is safe to use, and somehow it is not. It is safe to use because Pokemon Go modifies it. It is a favorite app, and iPogo is designed for Pokemon go. However, the reason why it is not safe to use is because of its one feature. Some users conclude it is a cheating feature which is not fair for other players of Pokemon Go.
Alternative - Aiseesoft AnyCoord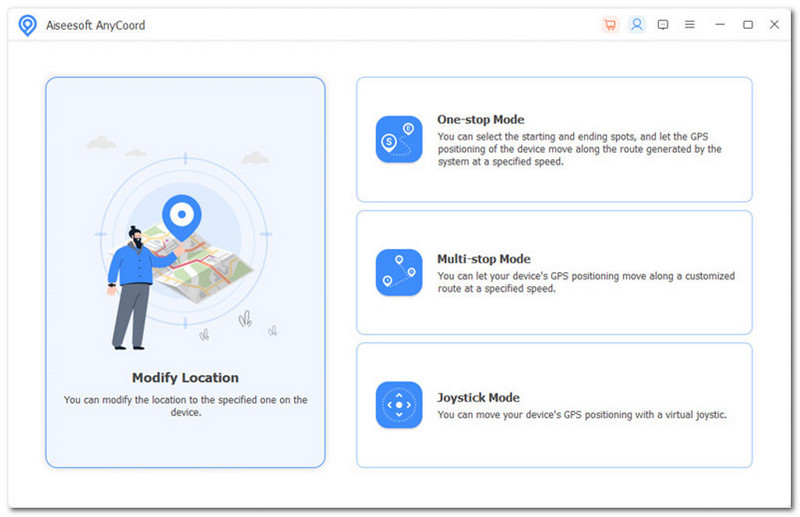 Upon reviewing iPogo location changer software, one of its most significant weaknesses is focusing only on Pokemon Go. Therefore, you cannot use it for some reasons. The reason why some users seek an alternative is that they desire comprehensive location changer software.
For that reason, Aiseesoft AnyCoord is perfect for your desire. It is ideal for your iOS devices and Mac. It is an excellent location chamfer software and a hundred percent safe use. Below, we will provide a comparison table, proving that Aiseesoft AnyCoord is the best alternative for iPogo.
| | | |
| --- | --- | --- |
| iPogo | VS | Aiseesoft AnyCoord |
| $4.99 | Price | Starts at $9.56 |
| Android, iOS, Mac, Windows | Platform | iOS, Mac |
| 8.5 | Easy to use | 9.2 |
| 8.5 | Interface | 9.7 |
| 8.2 | Features | 9.5 |
| 8.0 | Safe to use | 9.6 |
| | It creates a virtual location on devices. | |
| | It has three movement modes. | |
| | It has location spoofing. | |
ndeed, iPogo is more affordable than Aiseesoft AnyCoord. Nevertheless, if we will take a look, Aiseesoft AnyCoord is more comprehensive than iPogo. We can conclude that Aiseesoft AnyCoord is the best alternative to iPogo.
Conclusion
In this review, we know that iPogo focuses on Pokemon Go, which helps every player to teleport, change location, and more. Moreover, as a player of Pokemon Go, it is a great software you must try! This will be the end of our review. We will expect you again at our next one.
Did you find this helpful?
254 Votes
YES

Thanks for letting us know!
No

Thanks for letting us know!
Aiseesoft AnyCoord
Change iPhone Location to Spoof and secure yourself.