IP2Location Review: Identifies IP Addresses Using Geolocation Information
Maybe you are not satisfied with the software you are using right now to find IP geolocation. Having difficulties with the current software provides so much hassle. If that is your problem, you do not need to worry anymore because we got you! IP2Location is the best tool that can help you find not just IP geolocation but also many more. In this review, we will ensure you will learn a lot, detail by detail. You can start reading now!

Our Verdict
Pros

It offers a free demo or trial
It offers customer service.
It provides accurate detail.
It is easy to use.
It has unique and outstanding features.
It provides a Map.
Cons

It has minimal information about the IP address.
Its pricing plan is too confusing. Therefore, you do not know what plans you will buy.
It has many file formats in order to accept many IP uploading.
Its IP entry will be counted as your daily quota of queries.
The installation process is not quick and depends on your operating system.
It does not provide you with time ranges or IP ranges.
Overall Ratings
Easy to use8.5
Interface:8.5
Safety:8.0
What is IP2Location
Price: The IP2Location price starts at $49.00, and the IP2Proxy price starts at $399.00
Platform: Web-based, Windows, Android, iOS, Mac
Main Features
IP2Location is known as a geolocation IP solution. If you are unfamiliar with geolocation, it can track devices' whereabouts using GPS, Wi-Fi access points, and cell phone towers. Therefore, IP2Location can help you identify locations like region, city, country, ZIP code, etc.
To retrieve or find users' geolocation information, you only need the user's IP Address. With that, you can easily retrieve it. Moreover, you can see all the features below:
◆ It can retrieve IP geolocation.
◆ It lets you download the database.
◆ It has API access.
◆ It can redirect the native language and currency.
◆ It can create a Digital Rights Management Tool or DRMT.
◆ It can analyze web traffic and display cities worldwide.
◆ It can also filter spam traffic with the use of the location.
◆ It lets you auto-select countries.
◆ It is compliant and reliable with the sanctions and export control.
◆ It has geo-targeting to enhance lead generation.
◆ It provides Web services.
◆ It also provides Geocoding, Pageview Tracking, and Widgets.
IP2Location Review
Interface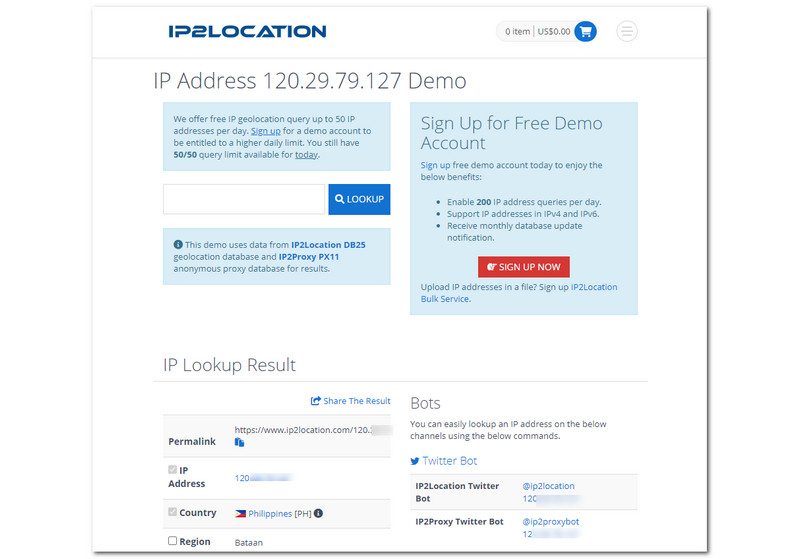 As you can see, we will describe the interface of IP2Location when you click the Try Demo button. As mentioned a while ago, IP2Location has the advantage that it will not require you to download and install the software since it offers a Web service.
You will see the IP Address from the Demo on the upper part. Then, it has a small box below it about signing up for a Demo Account, and it is up to you if you want to sign up. After that, you will notice the Search Box where you can enter or type your IP Address; after entering the IP Address, click the LOOKUP button.
Moreover, on the right side, you will read the benefits you can get when you sign up for a free Demo Account, such as Support IP Addresses in IPv4 and IPv6, Enabling 200 IP Address Queries Per Day, and Receiving a Monthly Database Update Notification.
Free Widgets from IP2Location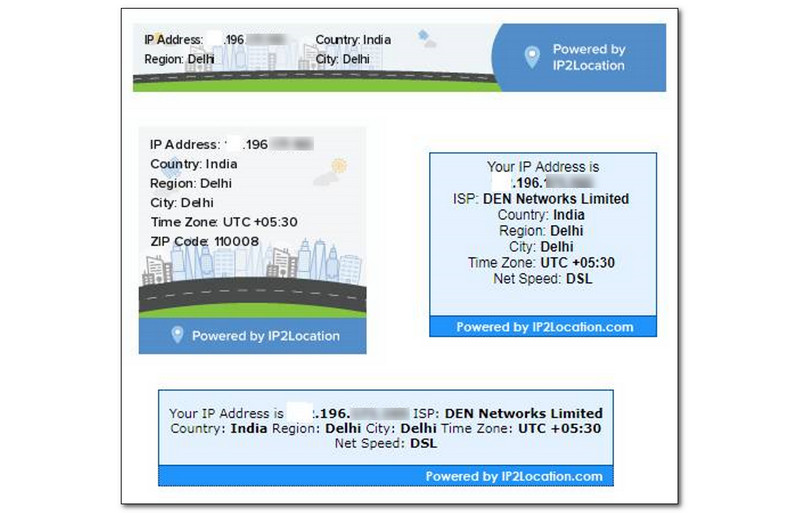 As mentioned above, IP2Location offers widgets, and take note, that it is free from this software. IP2Location has widgets with various designs, and it lets you display them on your website. Moreover, you can also copy your HTML code, and IP2Location lets you display it on your website or the website you desire.
With these widgets of iP2Location, whenever the audience visits your website, they can get the details about the IP geolocation with the widgets display. In addition, you can customize your widgets because IP2Location has many designs, and you can use them for your widgets for free.
Furthermore, IP2Location also provides a Search Box which you can also display on your website. For that reason, you allow audiences or visitors to search the IP geolocation using the IP Address.
IP2Location - Country Blocking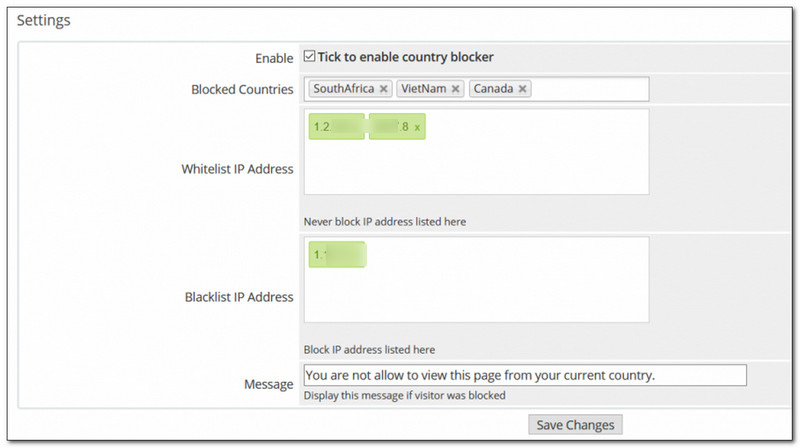 IP2Location has a feature that allows you to block visitors from different countries from accessing your WHMCS website. This feature is an add-on the IP2Location lets you use to block visitors and audiences.
When you use this add-on feature, you will get some benefits. For example, IP2Location allows you to specify countries to log in to your WHMCS administrator. It can also prevent visitors from high-risk countries from making purchases. Moreover, you no longer need to set up a relational database to block visitors.
Furthermore, this add-on feature can allow users to choose many countries to block. It also allows each user to adjust error messages for blocked users. There's more; it supports IPv4, IPv6, IP2Location Free Lite Database, Commercial Database, Monthly Database Updates, and even further!
IP2Location is Worth Trying
IP2Location was founded in 2002 and is one of the trusted geolocation provider software on the internet. It is also used by more than four thousand companies and one-hundred-five nations. For that reason, we can say the IP2Location is worth trying, and as a user, you will not be disappointed, especially with its features.
In this part, we will bullet some of the reasons why you need to try IP2Location. Please see them below:
◆ First is the Coverage that pinpoints the IP addresses up to the individual nation. The meaning of this is you can effortlessly obtain an idea of where country the IP address belongs.
◆ The second is the Algorithm that applies many algorithms in order to detect the IP addresses. Therefore, the reports are strictly based on the server's locations.
◆ The third is Data Correction, and the team manually reviews all the data corrections from the networks. For that reason, the entire entries are validated to prevent severe errors. With that, it will continue the improvements that are done in the algorithms.
◆ The fourth and last is the Data Granularity that IP2Location lists all the details in the IP address dataset. Therefore, IP2Location provides information that many software fails to provide.
FAQs of IP2Location
What is the Database of IP2Location?
IP2Location provides two types of databases: IP geolocation and Proxy database. It comes with the choices of packages and contains different granularity information for what you selected, which is mentioned above. Furthermore, IP geolocation has twenty-four packages of geolocation database, and the Proxy database has ten packages of proxy database. Both can help you to improve performance and security.
How many IP addresses can I query using IP2Location?
When you do not have a free Demo Account, IP2Location can offer queries up to 50 IP addresses daily. Moreover, this is what we talked about a while ago, when you sign up for a free Demo Account, you will benefit from IP2Location, allowing you to query up to two thousand IP addresses. There is a huge difference, right? We encourage you to sign up now!
Since the prices of iP2Location are confusing, how can I make a purchase?
On the official page IP2Location, you will see the Buy Online button, and you will proceed to the IP2Location subscription. Next, select your IP geolocation products in the Field Names. Please select your country, ZIP Code, Time Zone, etc.; Once it is done, you can add it to the cart and go to the payment method.
Alternative - Angry IP Scanner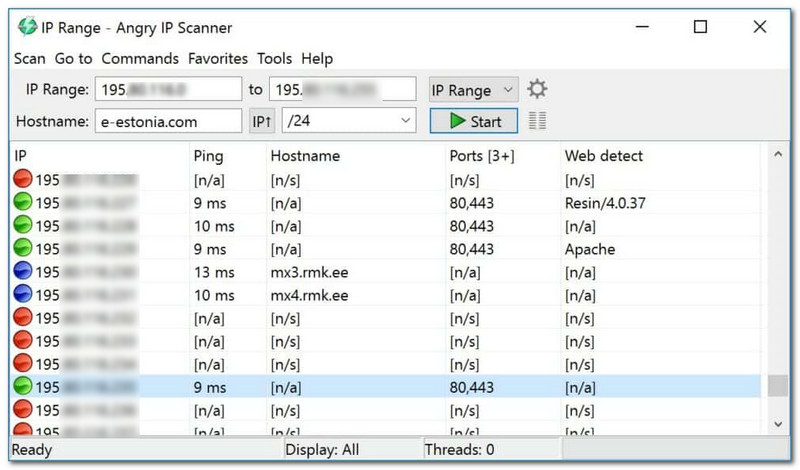 Many users claim that IP2Location is not a hundred percent safe to use. While using IP2Location, we have not yet discovered its unsafeness. However, to ensure that users are secure, you can use an alternative you found that IP2Location is confirmed as not safe.
As a review and user at the same time, we can suggest an alternative, and the IP2Location alternative is Angry IP Scanner. It is software and can also be used on your Web; installation is not required.
Moreover, using this review, we will share some of the features of Angry IP Scanner. Please note that we will mention not all the features of Angry IP Scanner. If you want a comprehensive review of Angry IP Scanner, we will have a review soon!
So much with that, here are some of the features and familiarize yourself now:
◆ It can scan the internet and local networks.
◆ It has multi-thread network scanning, which is the fastest to see results quickly.
◆ It is flexible in exporting TXT, CSV, XML formats.
◆ It can save your favorite devices and IP ranges.
◆ It does not require an account.
◆ It works on Mac, Linux, and Windows.
◆ It provides a command-line interface.
◆ It is extensible with numerous data fetchers.
Again, please wait for the review about Angry IP Scanner soon! Furthermore, IP2Location is an excellent tool. We only provide an alternative for a better user experience.
Conclusion:
Again, IP2Location is an excellent tool for user's who seek a tool with great and unique features. In this review, we list all the details, whether it is IP2Location's strengths and weaknesses because we believe that you readers deserve an honest and thorough review. Till our next article, see you!
Did you find this helpful?
158 Votes
YES

Thanks for letting us know!
No

Thanks for letting us know!
Aiseesoft AnyCoord
Change iPhone Location to Spoof and secure yourself.