3 Ways to Share Location on Android
One of our favorite weather is the summer because we love to book hotels and swim to the resorts and beaches. But the problem is you do not know how to go to the place where you booked. For that reason, you will find a way to get there. So, we can provide you with a solution by sending or sharing a location.
You can ask the receptionist to send the location or share the live location. Do not worry; it is a possible location whether you are an iPhone or Android user. Do you want to know how? Please proceed upon reading this How-To article, and you will know the solutions below. Read now!

1. 3 Ways How To Share Location on Android
Share Location on Android Using Google Maps
There are many reasons why you want to share your location; it could be inviting your friends and relatives who do not know the place. Or, you have someone to meet, but the person is not familiar with the place. So, the tendency is, you will share your location with them.
For that reason, you will need to make a way to share your location. As an Android user, you have many options, and one of them is using Google Maps. It is an application from Google, and it is your choice whether you want to download Google Maps.
Google Maps is not just about sharing your location but can also guide you to your desired destination. Again, Google Maps has many features, and as of this moment, we will focus on sharing locations. To become aware, please see the steps below:
1.
Open your Android phone and find Google Maps on your screen. After installing it on your Android phone, it could be located in the Google Folder.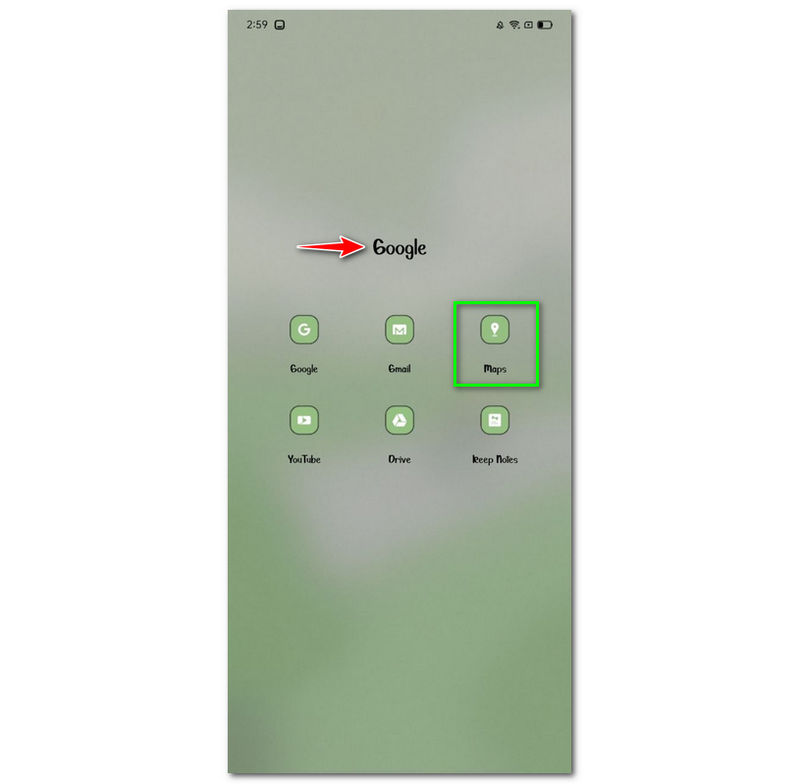 2.
Launch the Maps, and you will see the Maps. You can zoom in and zoom out of the Maps to see the places well. On the right corner of the map, place on the top, you will see your Profile and tap it.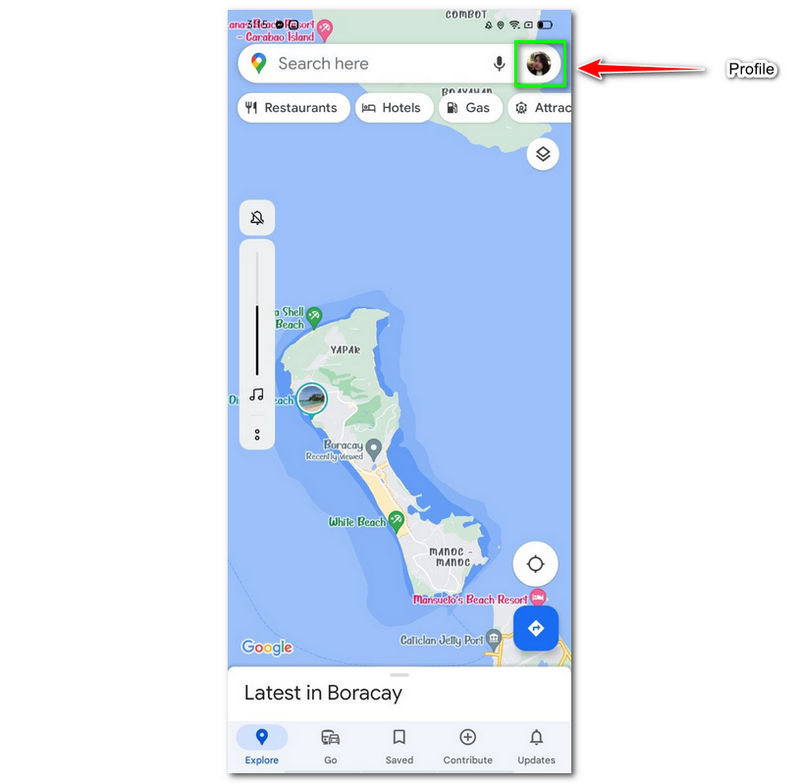 3.
Once you tap it, various options will appear, such as Turn on Incognito Mode, Your Profile, Your Timeline, Location Sharing, Offline Maps, Add Your Business, etc. Now, select Location Sharing.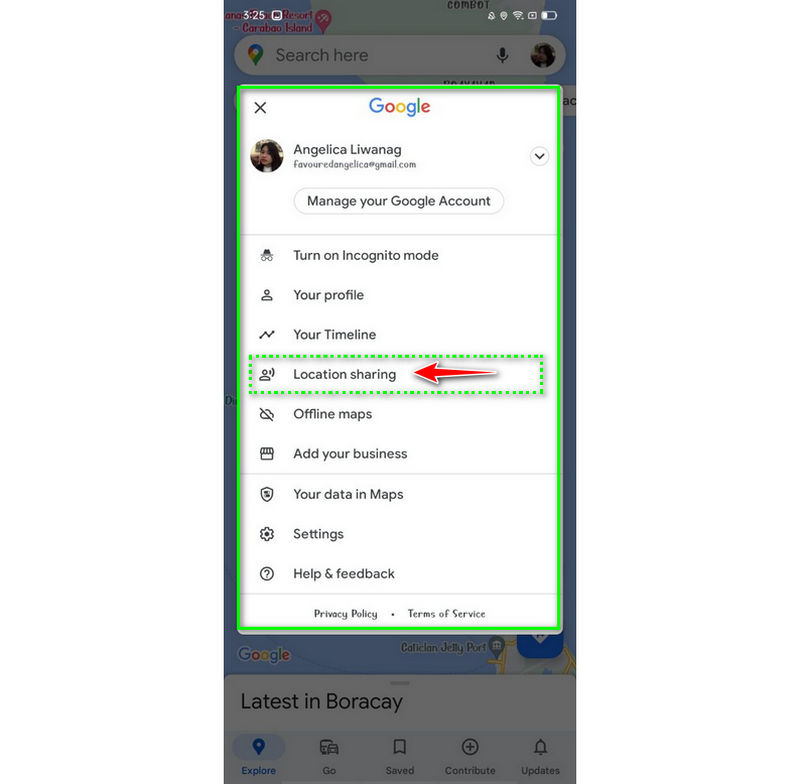 4.
You will proceed to the next screen and notice the Share Location in a blue button. After that, you will move on to the next panel, where you will choose a recipient with whom you want to share or send your location.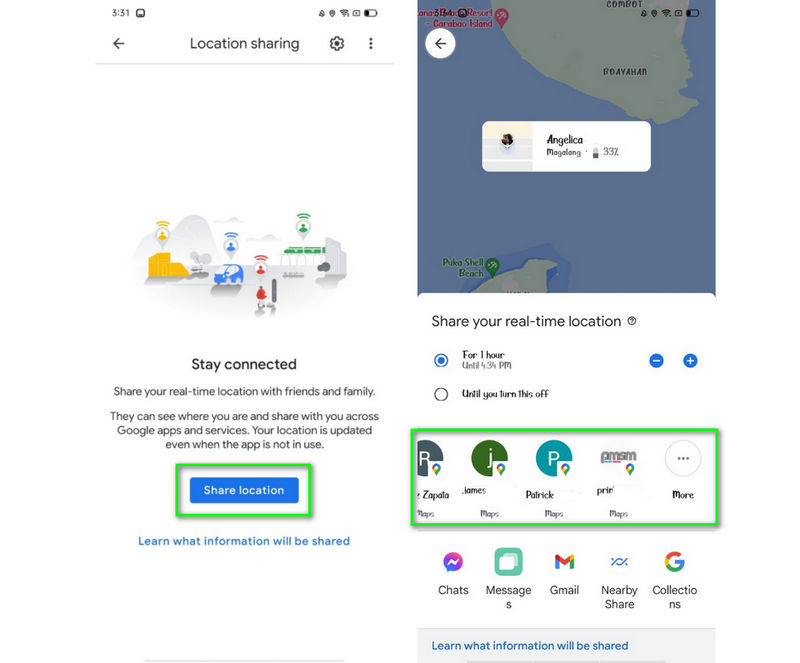 That is how you share locations using Google Maps. Moreover, you can share your real-time location for 1 hour or until you turn off location sharing. In addition, you can also share locations using Google Maps and share using Chats, Messages, Gmail, Nearby Share, and more.
Share Location on Android Using Google Messages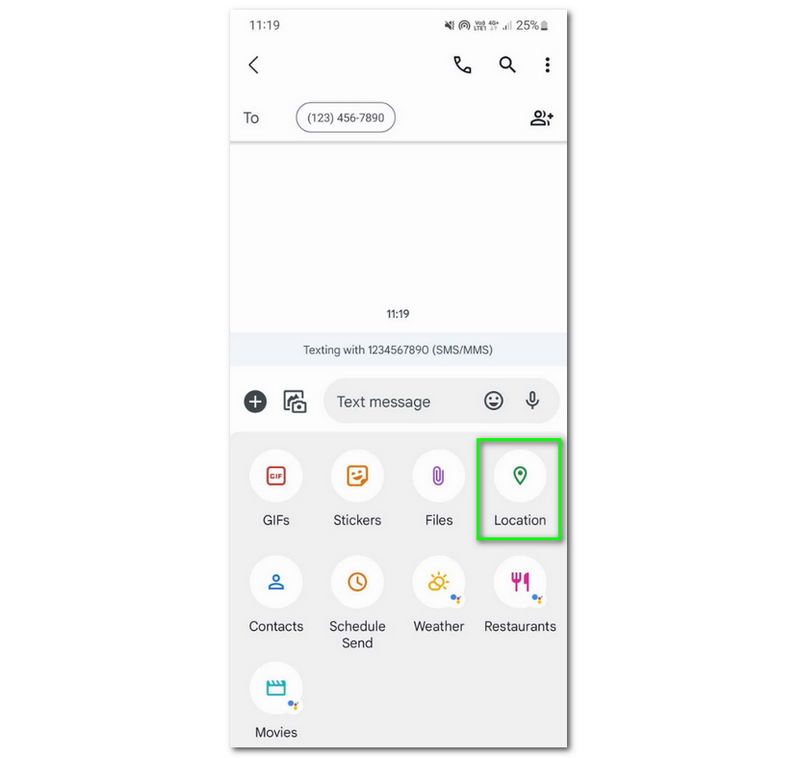 Similar to sharing iPhone location via messages, there is another way to send or share your location on Android via Google Messages. With the use of the features, you can share your location with anyone. Therefore, they do not need specific software on their phones.
In addition, the good thing about using Google Messages is it only shares your location after sending it, but it will not track your real-time location. In other words, your current location is still private unless you share it.
To do that, first, you need to launch Google Messages. In short, you need to start a conversation with the person with whom you want to share your location. Then, choose a Recipient from your contact by tapping the Contact Icon on the upper right corner of the screen.
Afterward, go to the bottom of the screen; you will see the Plus Icon, where you will see the other options, such as GIFs, Stickers, Files, Location, Contacts, Schedule, Weather, Restaurants, and Movies.
Then, select the Location button. After that, pick from a list of nearby people and send your current location. You must tap the person you want to send your location with by clicking the arrow on the right screen.
Now, the person or the recipient will receive a Google Map link. The link will refer to your current location, and the recipient must tap the link to see where you are currently at. In addition, they can easily open Google Maps, whatever device they use.
That is how you share your location using Google Messages. To end this part, allow us to share some reminders with you; you must have a prepaid load before sharing your location using Google Messages. If not, you will not be able to send your location. Also, the receiver will not receive updates if you change or move your location.
Share Location on Android Using WhatsApp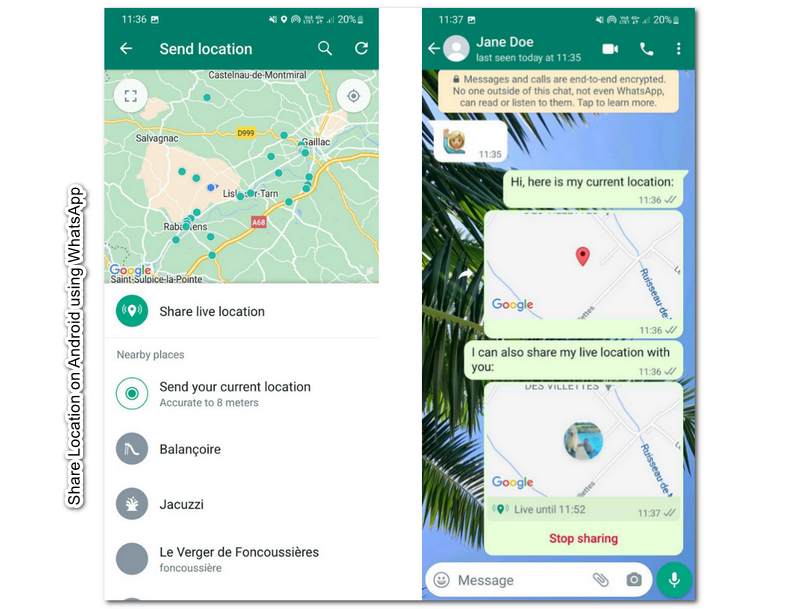 Supposing you do not want to use Google upon sending or sharing your location, you can use other applications on your device. Therefore, you must download and install an app on your Android device. If Google is not a solution for you, do not worry because there are many ways.
Another way we are talking about is sharing your location on Android using the WhatsApp app. With this, you will experience an advanced way of sharing your location with the people you trust. But before anything else, what is WhatsApp?
Basically, it is an application, and you can use it to communicate with your loved ones and friends. Again, it is more advanced because WhatsApp allows you to share pictures, videos, as well as your location. That is great, right? Without further ado, please see the steps below!
First of all, you need to open your WhatsApp application and then start a conversation with your friends, loved ones, or the people you want to meet at a specific place. Then, you will see the Paperclip Icon on the lower left side of the screen and select the Location.
Now, send or share your live location with the recipient. Or, you can pick a location from the maps and send it to the recipient. Furthermore, while sharing your live location, you can choose how many minutes or hours the recipient can track you, like 15 minutes up to 8 hours.
Suppose you want to end or stop the sharing location, select the Red Button or Stop sharing button, and the countdown will end, and that would be all. It is easy and convenient, right? Moreover, if you choose to use WhatsApp for sharing locations, you need to ensure that your recipient is also a WhatsApp user. Or else it is impossible to send your location.
2. FAQs on How to Share Location
How to share location from iPhone to Android?
Since iPhones and Android are different devices, you may think sharing locations is impossible. Well, it is actually true because you cannot share location from iPhone message to Android message. The good news is there is a solution to share locations from iPhone to Android. How? By using applications such as social media applications and other communication applications. You can use the mentioned above, WhatsApp. If the iPhone user has the WhatsApp application as well as the Android user, sharing location is quick and possible, you can try it now!
Can you share the location on Android?
If the iPhone device can, of course, Android can! You might find sharing location might be hard, but you are mistaken. Using your Android, you can possibly share location, using many ways. As you notice above, those are the steps on how to share location on Android.
How to enable the Location Settings on Android?
Turning on the location on your Android is very easy. To do that, open your Android phone and find the Setting Icon. After that, click the Setting Icon, and you will proceed to various options. Scroll the options until you see the Location. Then, enable the Location by sliding the bar until you see the color blue; it means it is now turned on, and that is it!
Conclusion
Finally, we are done sharing with you the three ways and solutions on how to share your location on Android. We discuss that you can use Google Maps, Google Messages, and WhatsApp applications. In addition, we also learn how to share locations from Android to iPhone.
Furthermore, if you have more questions, we leave questions and answers that might help your inquiries. We hope you appreciate the ways and solutions we have shared with you. This is not the end because we will upload more and expect you again. So, see you at our next one!
Did you find this helpful?
441 Votes
YES

Thanks for letting us know!
No

Thanks for letting us know!
Location Changer Solutions
Aiseesoft AnyCoord
Change iPhone Location to Spoof and secure yourself.