AirServer Review: Screen Mirroring Receiver for AirPlay, Google Cast and Miracast
If you are having trouble seeking universal screen mirroring software, it is now your chance to use a universal screen mirroring receiver. It can also allow receiving AirPlay on Windows. Isn't it amazing? This review introduces AirServer; it can receive AirPlay, Google Cast, and even Miracast! So, what are you still waiting for? Please read this article review now to familiarize yourself with its functions.

Our Verdict
Pros

It works seamlessly.
It is easy to cast content.
AirServer Xbox for the trial version is perfectly working fine.
It offers a 30-day free trial.
It does not require your apps, dongles, and USB cable.
It also does not need you to jailbreak.
Cons

It is often disconnecting.
It cannot play videos or movies on the Xbox.
It is not effectively connected with a new iOS device like iPhone X and iPhone XR.
Overall Ratings
Features:9.0
Interface:8.5
Quality:8.5
What is AirServer
Price: Educational License costs $7.99 up to $11.99, Consumer License costs $19.99, and Business License costs $39.99.
Platform: AirServer Mac, Windows, Chromebook.
Main Features
AirServer is the universal mirroring receiver. It allows you to AirPlay, Google Cast, and Mira Cast simultaneously! Its main feature is to transform a simple screen into a much bigger screen like a projector and universal screen mirroring receiver.
It is compatible with Mac and Windows Chromebook and is also an AirServer open-source. You can use AirServer everywhere, and it could be in classrooms, meeting rooms, and more. That is why it has three various kinds of licenses.
Here are more features you can obtain on AirServer, especially when you purchase one of their licenses. Please see them below:
◆ It is a mirroring device that supports 4K UHD 60 FPS.
◆ It has a native casting technology. You can receive screen mirroring on AirPlay, Google Cast, and MiraCast.
◆ AirServer lets you connect nine or more connections.
◆ It provides Remote Management and Built-in Guest hotspots.
◆ It has an Auto-hide other fullscreen application.
◆ It has a recording feature.
◆ It can stream audio from numerous devices all at once.
AirServer Review
Interface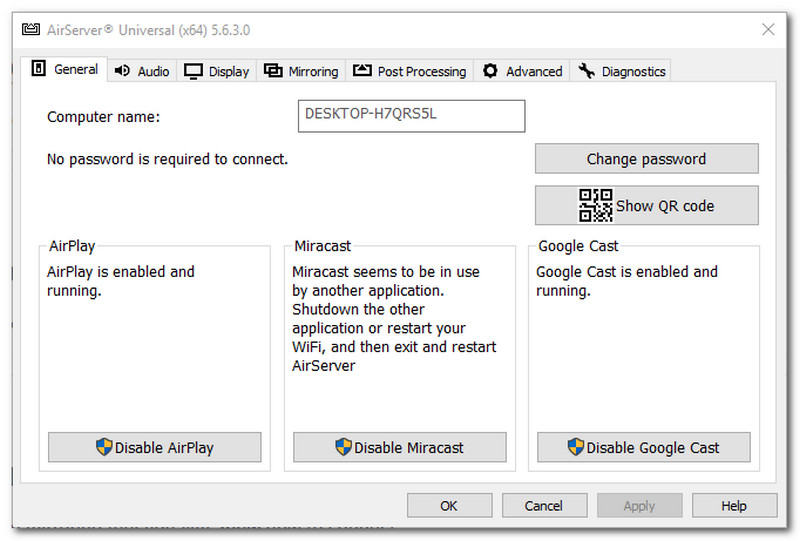 AirServer has a simple interface that you would not expect. It is easy to use, and all the options and functions are visible. The main interface will show the General, Audio, Display, Mirroring, Post Processing, Advanced, and Diagnostics.
Once you launch AirServer, you will automatically go to the General, and you will see your Computer Name and the three main features; AirPlay, MiraCast, and Google Cast. Moreover, it is also easy to find the Mirroring feature because it is located on the central upper part interface.
Mirroring to Computer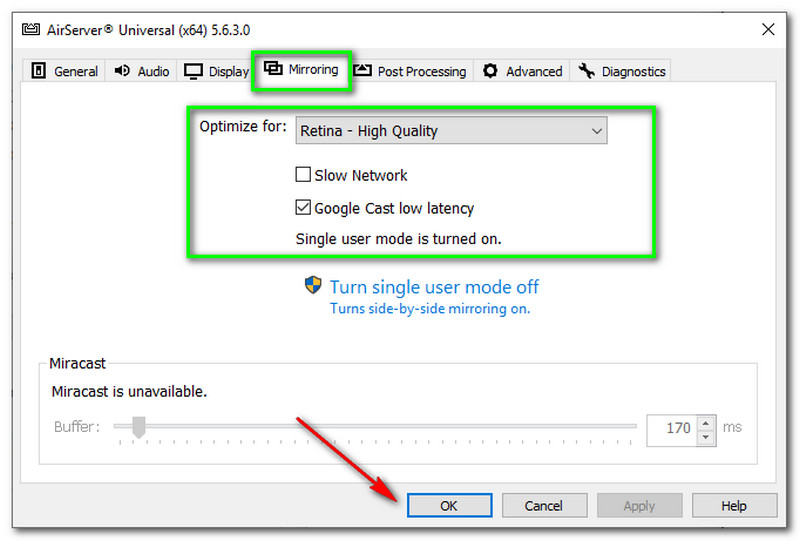 Before mirroring using AirServer, you need to configure some settings. Remember that every tab needs to be configured based on your needs. Of course, a good connection network is a must.
For example, with this mirroring, you will see the Optimize For, and it provides many choices such as Retina - High Quality, 1080p (1920x1080), 720p (1280x720), iPad Retina, and ever further. So much with that, again, before proceeding to the mirroring, you need to Optimize AirServer to Retina - High Quality because that is advisable.
Moreover, below that, you also need to tick the Google Cast low latency. Then, on the right bottom part of the tab panel, you will see the OK button.
Use AirServer Recording on iOS Screen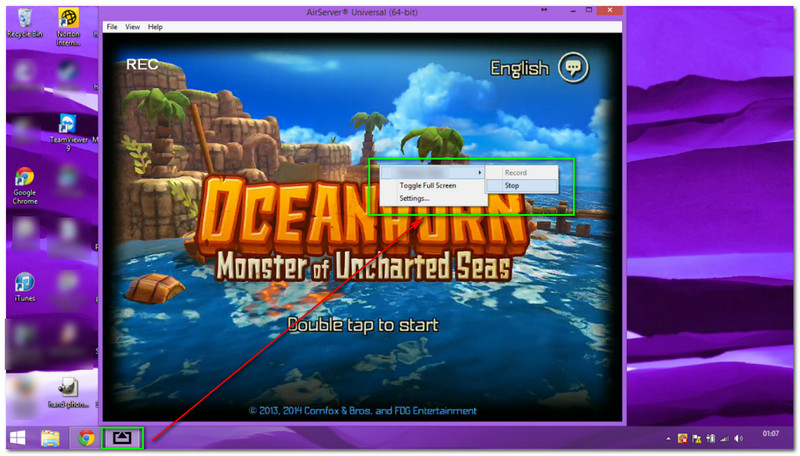 It is a feature you can use when you want to record your iOS screen to your PC, whether you are playing games, watching videos, etc. Some users of AirServer purchase AirServer because of this feature because AirServer did not disappoint them.
AirServer lets you control where your mirrored Recordings are and set up the Resolution and Type of the Audio Output. In addition, it can refresh Rates, Sharpness, Contrast, etc. While recording your iOS screen, the AirServer will show your computer's Name. Then, you will see the Record button and click it.
The great thing about AirServer is when you accidentally turn off the 1080p quality, AirServer will manage the full high definition or HD effortlessly. The result you can get from it is you will not experience glitches, lags, or lost connection upon recording your iOS screen.
FAQs of AirServer
Is AirServer free? If not, how much is AirServer?
AirServer is not free, but it offers a 30-day free trial. It has three kinds of licenses that you can purchase. The good thing about AirServer is it has for Educational, Consumer, and Business, and the price starts at $7.99.
Is AirServer legit and safe?
Yes, AirServer is legit, and many Apple users use it, which is also compatible with Windows. When it comes to AirServer security, AirServer collects your data and adopts processing practices and security measures to protect users against unauthorized access, disclosure, etc. Therefore, AirServer is safe to use, and according to them, they do not sell users' data and do not trade users' personal information with anyone. Users' personal information like email, username, password, etc., are safe.
Which is better, AirServer VS Reflector?
Both screen mirror software is great because they are helpful for every user who wants to use it for education, business, at home, or games. Both software has different features that one user will like and another will not like. Therefore, as a user, you still have the decision to conclude which is the best software for you. On our side, we can say that AirServer is suitable for Apple users, and Relefctor is also good for Apple users and Windows, especially for Android users.
Alternative - Aiseesoft Phone Mirror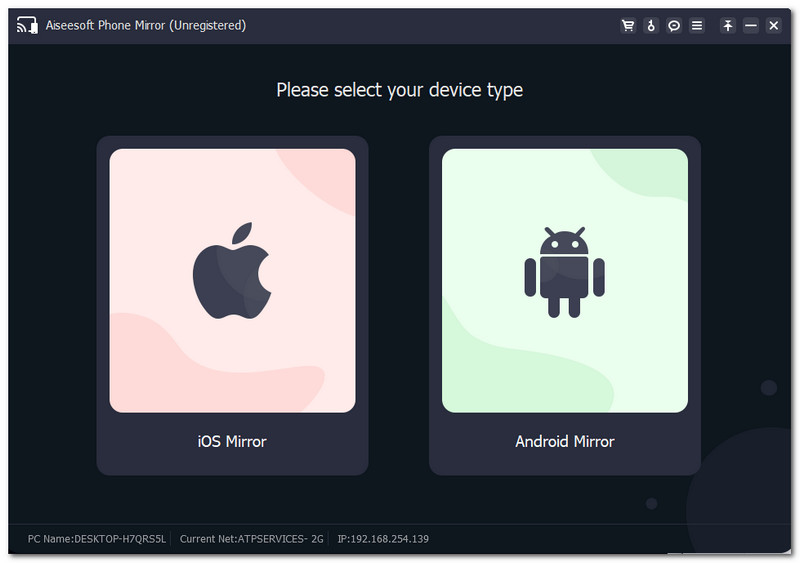 You do not need to choose between AirServer and Reflector because the best alternative between the two is the Aiseesoft Phone Mirror. It is perfect for Windows, Mac, iOS, and Android devices. In addition, you can also connect and cast it with any Smart TVs you like.
Moreover, we desire to inform you of the features of the Aiseesoft Phone Mirror that every user deserves to know.
◆ It can cast your iOS and Android screen to computers and Smart TVs.
◆ It can also cast your audio.
◆ It lets you record your screen while mirroring your devices.
◆ It has a snapshot feature that lets you use it while recording your screen.
◆ It provides a Recording History for your recorded output.
◆ It also provides a Whiteboard that allows you to draw and insert text while mirroring the screen.
◆ It can show your screen with half and full screen.
Conclusion
To conclude, AirServer is safe to use, especially for Mac and iOS users. This review serves as your guideline to completely know and obtain an idea about AirServer. With this review, we are confident that we review AirServer comprehensively. Moreover, we would like to see you again in our next review article!
Did you find this helpful?
296 Votes
YES

Thanks for letting us know!
No

Thanks for letting us know!
Aiseesoft Phone Mirror
Cast and share iPhone and Android screen to computer.