Comprehensive AirParrot Review for Windows and Mac Screen Mirroring
Different media personnel, academic faculty, speakers, and more are most likely to encounter many participants in their events. As we all know, visuals are very crucial to an event. In line with that, our products must also be extended as the crowds are getting more significant. For that instance, this personnel uses a screen mirroring tool to spread and duplicate their screen for a wide range of visual presentations. Mirror your screen wirelessly or stream media files to a range of devices.
There are many tools that we can use under this circumstance. AirParrot instantly discovers accessible media receivers on your network and connects straight to any device running Reflector 4. Mirror your screen, expand your desktop, or stream files to share films, audio, and presentations, among other things. For that, let us review this excellent screen mirroring software. May find out the features it can offer and the performance it gives for all of us.

Our Verdict
Pros

Streaming content on television smoothly.
Use your TV as a Mac monitor with ease.
No adapters for extension and desktop sharing.
Cons

Apple TV is required for the process.
Connection lags on sometimes.
This screen mirroring tool is not free.
Overall Ratings
AirParrot is an infamous screen mirroring and data streaming tool that offers a smooth process. That would not be possible without the valuable features it offers that come with superior hardware technology. With that, the device can give us the quality performance we all need.
Smooth9.3
Features:8.9
Quality:8.8
What is an AirParrot?
AirParrot
Price: $16
Platform: Windows and macOS
AirParrot, similar to AirServer, is an intriguing software that lets you see your Mac desktop on your television. If you have an Apple TV, that can function as a bridge between the two devices. If you utilize the program appropriately, you can see material on your TV from your desktop Mac computer or particular apps in that system. This feature is handy when streaming media from your computer to your television.
Furthermore, Squirrels' AirParrot is a professional video conferencing program for small to medium-sized organizations. Squirrels began in North Canton, Ohio, in 2008. Wirelessly broadcast your Mac or Windows computer screen to a bigger monitor without the use of wires or adapters. Nowadays, AirParrot 2 and 3 are available to download with specific subscriptions.
Main Features
◆ Screen mirroring for Windows and macOS.
◆ Extension of Desktop wirelessly.
◆ Streaming tools with unlimited content on your TV.
◆ Remote desktop.
◆ Connect and add multiple participants to the stream.
◆ Desktop and group sharing.
◆ File transferring tool.
◆ Annotate meetings.
◆ Collaborative Workspace.
AirParrot Review
AirParrot (Mirror. Extend, and Stream)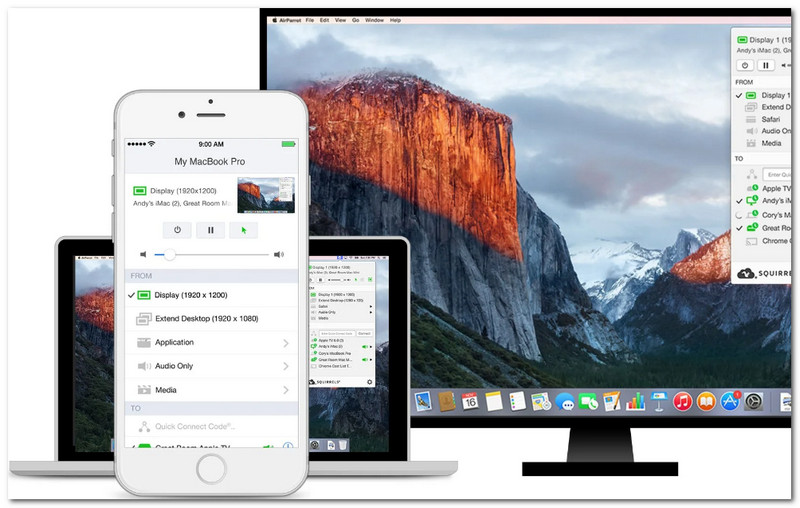 AirParrot is a valuable tool for many users, especially its main features: screen mirror, extension, and streaming. For that, mirror Windows and macOS displays using AirParrot. Everything you do on your computer without wires or adapters is wirelessly duplicated. That is possible without complications with this tool. The wireless feature it offers is innovative and gives a smoother outcome. Next, AirParrot transforms any compatible receiver into a desktop extension. Increase your workspace without purchasing a new monitor or connecting wires. It helps us to create a more comprehensive and precise vision of your presentation via extending the screen. Also, Stream media files in 5.1 surround sound without sacrificing quality becomes possible through this tool. Then, adding infinite material to any TV to create the ultimate entertainment solution is also one thing that you can enjoy.
No Requirements for Adapter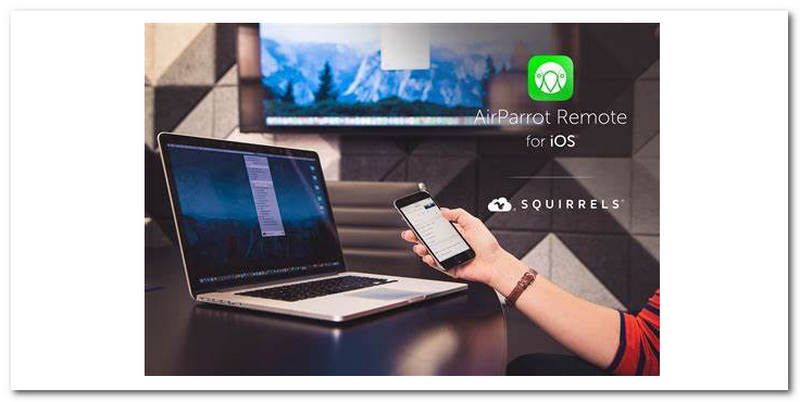 Here comes another beneficial; feature that this tool offers for its users. Using AirParrot, we can wirelessly share with everyone in the room without using cords or adapters. Also, AirParrot enables anybody to communicate and interact in the classroom, boardroom, or anywhere else. Concentrate on what is essential by sending material from any device to a receiver attached to a television or projector. Our patent-pending Quick Connect technology and Bluetooth discovery enable you to discover and connect to devices fast, even if network settings prevent it. This feature is an excellent testament to how handy the tool is in any aspect of our daily lives.
AirParrot 2 VS. AirMyPC
As we all know, AirParrot produces smooth mirroring features. Similar to it, AirMyPC is an AirPlay Windows sender that allows you to wirelessly AirPlay, Cast, and stream music, images, and video from your computer to Apple TV or Chromecast devices on the same Wi-Fi network as your computer. Here are the few details that can differentiate AirParrot from AirMyPC
AirParrot 2
VS.
AirMyPC
$16
Price
$19.95
Windows and macOS
Platforms
Windows, macOS, and Chrome
◆ Screen mirroring for Windows and macOS.
◆ Extension of Desktop wirelessly.
◆ Streaming tools with unlimited content on your TV.
Features
◆ Wirelesly cast or mirror your PC.
◆ WebCam supports.
◆ Streaming tools with unlimited content on your TV.
Moderate Users
Best For
Moderate Users
9.0
Overall Rating
98.9
AirParrot VS. AirPlay
AirPlay's outstanding performance is constantly being shown, particularly among iOS users. As a result, many people are astounded by its smoothness when playing media. Aside from that, it is pretty safe. As a result, we can conclude that it is an excellent function provided by Apple. Let us compare it to AirParrot using these details.
AirParrot 2
VS.
AirPlay
$16
Price
$99
Windows and macOS
Platforms
macOS
◆ Screen mirroring for Windows and macOS.
◆ Extension of Desktop wirelessly.
◆ Streaming tools with unlimited content on your TV.
Features
◆ Screen mirroring.
◆ AirPlay for media files like photos, videos, and music.
◆ AirPlay for Printing documents (AirPrint)
Moderate Users
Best For
Novice User
9.0
Overall Rating
9.1
AirParrot VS. Reflector
Reflector combines the capabilities of popular media streaming receivers such as Apple TV, Chromecast, and others to form a powerful, all-in-one mirroring and streaming receiver. For that, here are a few comparisons between AirParrot and Reflector.
AirParrot 2
VS.
Reflector
$16
Price
$19.99
Windows and macOS
Platforms
Windows, macOS, Android, and iOS
◆ Screen mirroring for Windows and macOS.
◆ Extension of Desktop wirelessly.
◆ Streaming tools with unlimited content on your TV.
Features
◆ Google Cast and Miracast.
◆ Wireless process.
◆ Content sharing.
◆ Screen mirror of multiple services.
◆ Screen record.
Moderate Users
Best For
Moderate Users
9.0
Overall Rating
9.1
FAQ about AirParrot Review
Why can't my Airarrot find Apple TV?
Our device frequently requires some settings to be updated to ensure Airplay compatibility. Entering the IP address of your Apple TV into the Quick Connect box is one way to test this. Knowing if you can connect in this manner will be crucial. The IP address may be found in your Apple TV Settings. Under General, then locate the About. If this works for you, your network may require enabling multicast traffic. Don't hesitate to get in touch with Airparrot for product assistance. If everything else on your Apple TV is operating well, you should contact the app makers that aren't working.
How to fix AirParrot's sound not working on TV?
Here is a straightforward guide you need to take to ease the problem. Please, select AirPlay from the Apple TV settings menu. AirPlay should be turned ON. Select Off for Onscreen Code. Now, turn on Apple TV and enable audio. After that, navigate to Apple Preferences and select Sound. The sound will then function flawlessly.
What exactly is Airparrot 3, and how excellent is it?
AirParrot 3 is a valuable tool for broadcasting AirPlay and Chromecast on Mac and Windows. We can enjoy the general concept of the app because AirParrot 3 has a lovely new style and several essential new functions. However, 0it took a step back by deleting a functionality on which it can rely.
Alternative-Aiseesoft Phone Mirror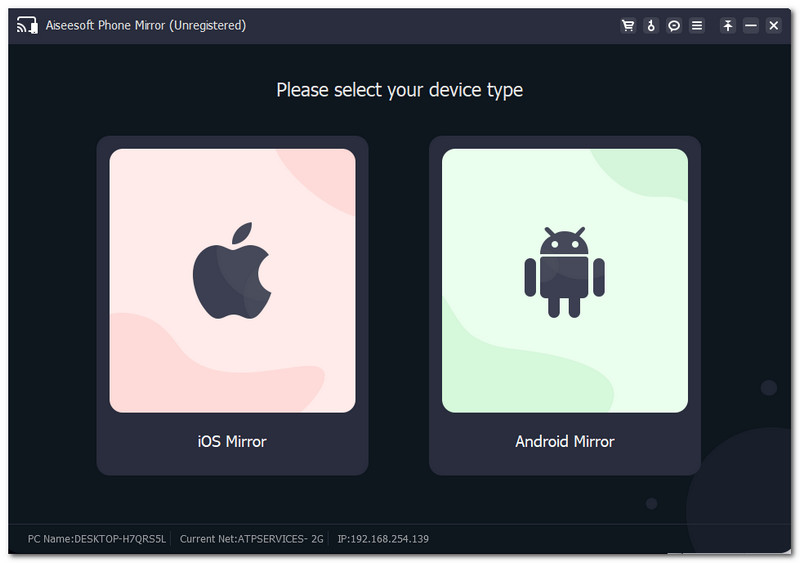 If AirParrot is too complicated for you, then you can use Aiseesoft Phone Mirror as an excellent alternative. Aiseesoft Phone Mirror allows iOS/Android users to mirror their handsets to their computers without sacrificing quality quickly. Various techniques exist for mirroring iOS/Android phones to a computer. In addition, Aiseesoft Phone Mirror provides several methods for mirroring your phone to your PC. If you have an iOS smartphone, you may mirror your phone screen to your PC by connecting both devices to the same WLAN. That is an overview of how great this tool is as an AirParrot Alternative for Windows and macOS. That is why many users are tremendously using it.
Conclusion
Finally, we can say how unique and beneficial the AirParrot is in screen mirroring and desktop sharing. Those few features above provide evidence for those statements—no wonder many people are choosing this tool. However, if the device is not yet enough, we also have a great alternative that can give us a more fantastic feature for the Screen Mirroring process- AIseesoft Phone Mirror. For that, we are hoping that this post finds you well and helps you with your strategy. Please share this post as we are about to help other personnel too.
Did you find this helpful?
256 Votes
YES

Thanks for letting us know!
No

Thanks for letting us know!
Aiseesoft Phone Mirror
Cast and share iPhone and Android screen to computer.