LetsView Review: A Perfect Phone Mirror Software for All Types of Users for Free
There is a lot of phone mirror software on the internet. Nonetheless, it is rare to find a free phone mirror software with unique and fully featured. It seems impossible, but it is not because we are presenting to you the LetsView. It is a phone mirror screen with sharing technology and is compatible with different platforms. In this review, we will know what LetsView can offer to all the users. If you are one of the users, read now!

1. Our Verdict
Pros

It is free to download and free to use.
It is safe to use.
It supports a free service.
It has a friendly user interface.
It allows you to connect to the software without downloading it on your device.
Different kinds of languages support it.
Cons

It does not have a higher quality upon mirroring the phone to a PC.
The software lags sometimes.
It disconnects automatically without disconnecting it.
Overall Ratings
Interface9.0
Features8.5
Quality8.5
2. What is LetsView
Best for: A user simple user, a teacher, businessperson, designer, entertainer, live streamer, etc., who are looking for a free phone mirror software.
Price: Free
Platform: LetsView works on Mac, Windows, iOS, Linux, and Android.
Main Features
LetsView is a free phone mirror software that offers screen-sharing technology. What does it mean? It allows you to mirror your iOS or Android device into a bigger screen, such as Laptops, computers, and TV.
Furthermore, LetsView is compatible with PC, LED TV, Samsung TVs, and others. It is also a multi-purpose software and feels free to use it even if you are s beginner user, teacher, businessperson, influence, etc. It makes life easier for every user and communication more effortless than before.
So much with that, let us tackle LetsView features on the lower part. We will make sure that you will be more enlightened with its features and functions:
◆ It can record while mirroring your device on a computer screen.
◆ It has a brush feature where you can draw while recording.
◆ It has a screenshot feature that allows you to take screenshots while recording or mirroring.
◆ It lets you rotate the interface at every angle you want.
◆ It can save your recorded and screenshot file on your computer automatically.
◆ It allows you to stream your favorite game online.
3. LetsView Review
Interface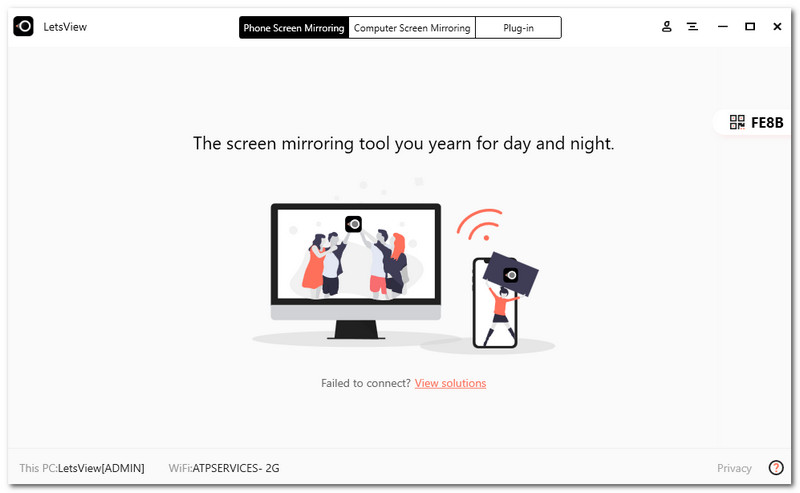 LetsView has a friendly user interface. While looking at it, you will recognize that it is manageable to use. In the upper-middle part, you will see its features like Phone Screen Mirroring, Computer Screen Mirroring, and Plug-in. After that, you will also see the Options, which include Settings, Mirror Detection, Help, Check for Updates, Feedback, About, Minimize, Maximize, and Close.
Then, the Connect to LetsView is located on the right side corner. Upon tapping it, you will see the QR Code and PIN Code. Lastly, on the left latter part of the interface, you will see This PC and Wi-Fi. Right after it is the Question Mark icon. When you tap it, you will see the Tutorials like Android Tutorials, iOS Tutorials, DLNA App Tutorial, and Computer Mirroring Tutorial.
With just a few clicks, you can mirror your phone to your computer effortlessly! Download LetsView now and use it for free!
iOS Screen Mirroring - FaceTime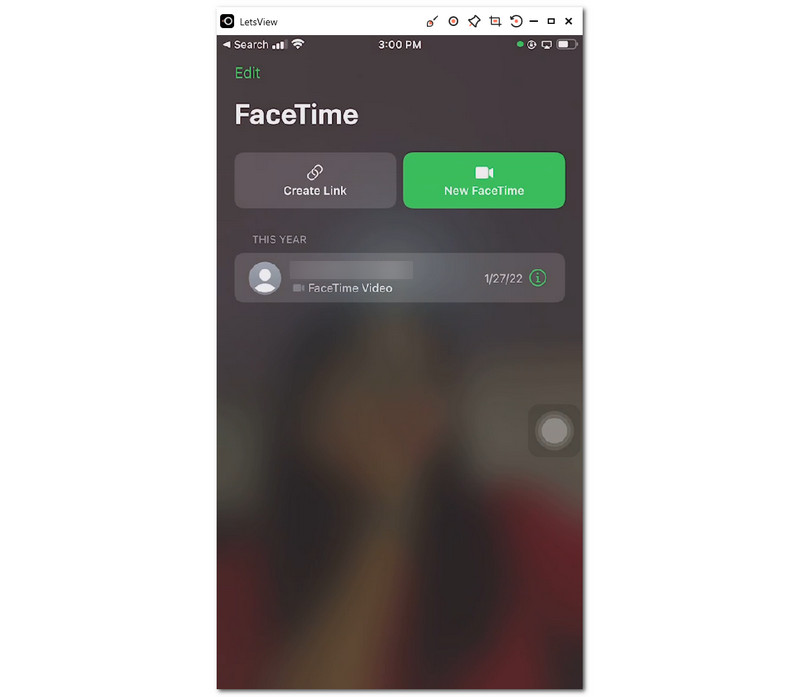 Connect with your loved ones using facetime on your PC! Is that possible? Oh yes! However, it would help if you remembered this reminder. To mirror your iOS to your PC, ensure that your device and your PC are connected on the same Wi-Fi connection.
LetsView helps you see your loved ones on a bigger screen. Therefore, you do not need to struggle on a minimal screen. With that, you will enjoy talking with your loved ones and feel they are near you.
Computer Screen Mirroring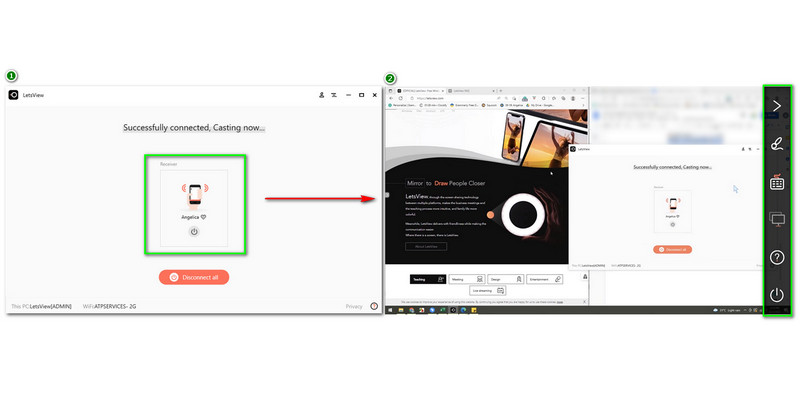 Imagine a free phone mirror software with a Computer Screen Mirroring feature, which is so cool! It is one of the best features of LetsView. You can use this feature just in case your mouse is broken. Why? You can use your device to control your PC.
Another scenario is that you want to control your friend's PC because you need to share important files to look at, but you are not in the exact location. You can use LetsView to control the PC of your friend.
But to do that, your friend needs to launch LetsView, and your need to launch LetsView app on your device. Share the PIN Code from the LetsVeiw app with your friend and let your friend input your PIN Code on your PC and allow it on your phone.
After that process, you can start viewing and controlling the PC on your friend. In addition, LetsView allows you to make changes using your device to PC by typing and making a drawing. What is more incredible about this feature is if the PC plays music, it will reflect on your device.
Record your Editing Skills While Phone Mirroring using LetsView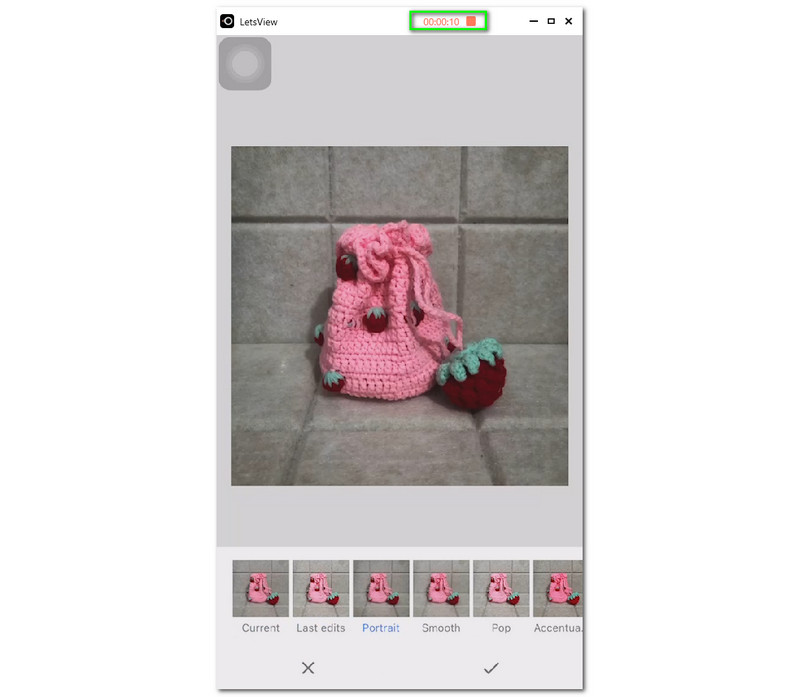 Do you want to share your editing skills on your phone with your friends? Use LetsView to make it possible. While mirroring your screen, find the Record icon and start recording while editing. The advantage of LetsView is once your stop the recording process, the recorded file will be saved on your computer automatically.
However, you cannot use the brush feature and draw while recording. Overall, it is a great feature, and you can enjoy it for free!
4. FAQS of LetsView
How to use LetsView?
LetsView is an easy-to-use phone mirror software, and to use it, you need to install it on your computer and download it on your device. To use it successfully, launch LetsView and choose the feature you like, such as Phone Screen Mirroring, Computer Screen Mirroring, and Plug-in. Then, on your device, look for the LetsView and tap it. After that, wait for your screen to appear on your PC. Now, you can start using LetsView and enjoy its features without paying anything.
Is LetsView safe to use?
LetsView has a policy that covers the processing of every user's data. In line with that, LetsView is committed to protecting every user's data or information, and LetsView provides every user with a better user experience. Moreover, LetsView's priority is assuring every user that even if they offer free service, the user's safety will not be compromised.
Is LetsView can also record the audio while recording on a video call?
Yes, LetsView can record the audio on a video call. As a result, you can share your recorded video call files with your loved ones with full details and conversations without missing anything.
5. Alternative - Aiseesoft Phone Mirror
One disadvantage of LetsView is that it does not have a high quality in mirroring your device on your computer screen. Moreover, we provide you with an alternative for this software: Aiseesoft Phone Mirror.
If you are unaware, Aiseesoft Phone Mirror costs start at $15.96. Even though you need to purchase it, it will not fail to provide you with excellent quality and a unique user interface. If you want to know more about Aiseesoft Phone Mirror, we will share some of its features you will love.
◆ It can screen mirror your iOS device and Android device.
◆ It can mirror your audio.
◆ It can record upon screen mirroring your screen.
◆ It lets you take a snapshot while screen mirroring.
◆ It allows you to move your Windows with Toolbar and move Windows without Toolbar.
◆ It provides a Recording History.
◆ It also provides Whiteboard and lets you draw and insert text on your device screen.
◆ It allows you to mirror all units of iOS and Android devices.
◆ It also allows you to show your device with full screen and half screen.
Furthermore, we do not disregard LetsView. Let us clear this with all of you: LetsView is an excellent phone mirror software, and one of the advantages of LetsView is that it is free to use. Who would not want free software, right? However, Aiseesoft Phone Mirror stands out, especially with the quality.
Conclusion:
Finally, we are done reviewing LetsView! In this review article, we guarantee that it is an in-depth article for you to familiarize yourself with. We also share with you what LetsReview can do while mirroring your phone to your computer. Overall, see you again on our next upload!
Aiseesoft Phone Mirror
Cast and share iPhone and Android screen to computer.