LonelyScreen Review: Cast Your iPhone and iPad to Mac or PC
A screencast software with a recording feature is much better than those screen mirrors that do not have it. Luckily, LonelyScreen got it for you! It is software that can screen mirror your iPhone and iPad to your computer and Mac. In this review, we will show you its advantages and disadvantage. Moreover, we will ensure that you learn from this review article. Read now!

Our Verdict
Pros

It is manageable to use.
It offers a free trial.
It has a 30-day money-back guarantee supposing that you do not like the features and service of the software.
LonelyScreen is automatically updated.
It offers customer service.
It mirrors iOS devices, but you can download LonelyScreen for Windows.
Cons

It has many flaws that make it unpopular for all users.
It is not safe and secure because it found out that it has malicious content upon using it.
Because of the harmful content, it requires you to go through additional steps that cause hassles.
It has limitations, and limited features are not enough to meet your needs in screen mirroring.
Its Premium package is expensive.
Its interface is not very pleasing.
It cannot screen mirror Android devices. Therefore, LonelyScreen Android is not applicable.
Overall Ratings
Interface:8.0
Features:8.0
Safety:7.0
What is LonelyScreen
Best for: iOS devices you desire to mirror on a bigger screen. In addition, it is also best to look for an easy-to-use screen mirror software.
Price: Personal use costs $14.95, and Business use costs $29.95.
Platform: Windows and Mac
Main Features
Lonelyscreen is software, and it is known for mirroring and controlling iOS devices. In addition, it can also cast your iPad screen on your computer and Mac without using other tools or plugins. In short, you can connect your iOS devices wirelessly.
In this part, you will see the features of LonelyScreen that it offers for all users. Please see them one by one below:
◆ It can cast your iPhone and iPad to your Mac and computer effortlessly.
◆ It has a music and movie screen mirroring.
◆ It can air-cast your gameplay.
◆ It can record your screen while casting your iPhone or iPad.
◆ It lets you share your screen on a big screen.
◆ It can take screenshots and enables you to save them on your computer.
LonelyScreen Review
Interface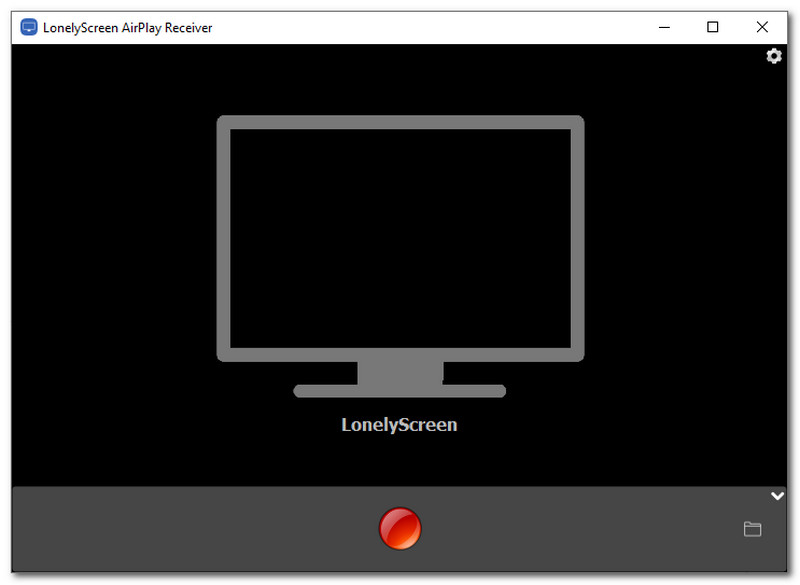 If you buy a screen mirror software, we suggest that you need to look for software that has an excellent user interface. The interface is required to consider choosing software that will create a significant impact upon using it.
Unfortunately, LonelyScreen has a basic interface, and it is not good as others. However, it is still manageable to use. The disadvantage of LonelyScreen is you must look for the options you need.
On the upper left, you will see its name LonelyScreen AirPlay Receiver and next to that are the other options, such as Minimize, Maximize, and Close. Then, on the right side, you will see the Settings icon, and when you click that, you will also see the other options, such as Register, Exit LonelyScreen, Online Help, Check Update, and About.
In the middle part, you will see a big screen icon; it symbolizes a TV or a Computer screen. Below that, in the lower middle, you will see a red button, the Recording button, and next to that, you will also see a File Folder.
Recording Videos on Snapchat using LonelyScreen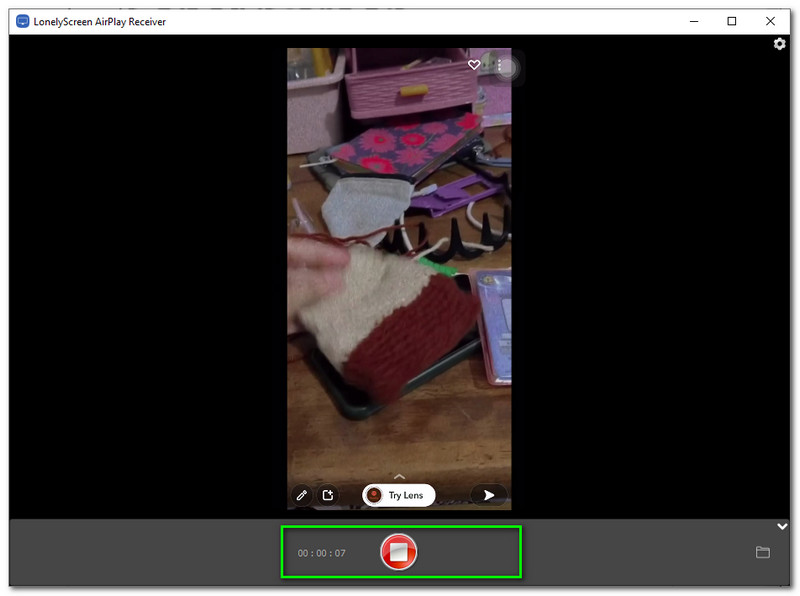 Recording your mirrored screen using LonelyScreen is very easy. One of the advantages of LonelyScreen is it is manageable to use. Therefore, you can easily record your screen. In this part, we tried to record a video on Snapchat, and it worked!
We try to open a Snapchat account and look for the videos. Then, we played one video and clicked the Recording button's red button. Upon recording it, you will see a count of seconds beside the Recording button. You need to tap the red button to stop the recording process.
Then, if you want to see your recorded file using LonelyScreen, you will automatically see the file on the right side of the Recording button. Moreover, the quality of the recorded file is excellent, and you can upload it on your social media accounts.
Share your Screen on Big Screen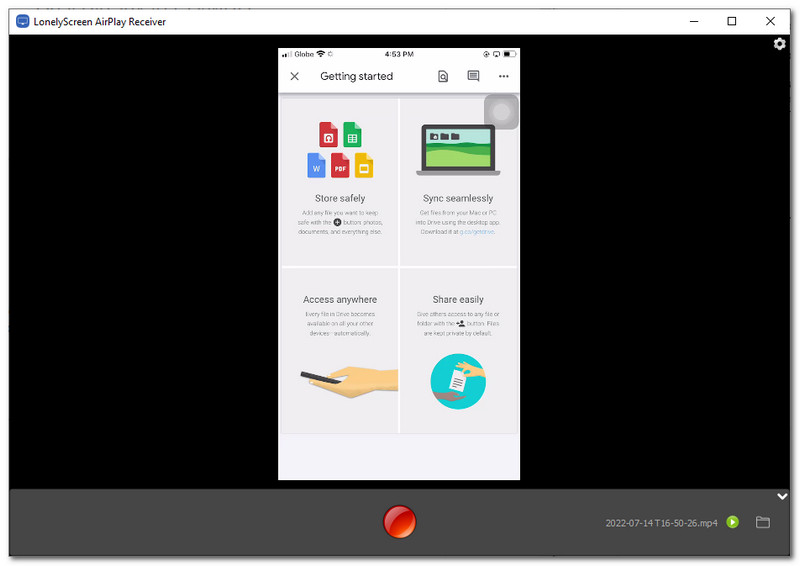 You can use LonelyScreen not only for fun activities on your iOS device but also for presenting your activities at school or if you want to show an App demo. You can connect with your colleagues in your classroom and meeting room.
Therefore, sharing your activities with your colleagues is more fun and enjoyable. Not only that, but you can also show family pictures or video presentations with your family. In that way, you will have a family bonding using LonelyScreen software. You can try LonelyScreen after reading this whole article.
FAQs of LonelyScreen
Is LonelyScreen free to use?
LonelyScreen is not free; however, it offers a free trial. The costs of LonelyScreen start at $14.95. Moreover, the disadvantage of using a free trial has limitations. You cannot take screenshots and are not entitled to use other features that you will be needing when screen mirroring your iOS device. To fully use all its features, you need to purchase the software, yet, it is costly.
Is LonelyScreen safe?
As a user, we cannot say that LonelyScreen is secure software. Based on our research about its safety, LonelyScreen does not have strong protection when it comes to the privacy of every user. Therefore, it is not entirely secured software because some users found malicious content with the software. So if you want to use it continually, you need to secure your data first on your computer before using LonelyScreen.
How can I download LonelyScreen on Windows?
Go to the official website of LonelyScreen, and you will see the four options Home, Download, Quick Start, and Support. Then, click the Download button to see the Download for Windows. Click that blue button, and it will start downloading on your computer. After that, install it on your computer and start using it.
Alternative - Aiseesoft Phone Mirror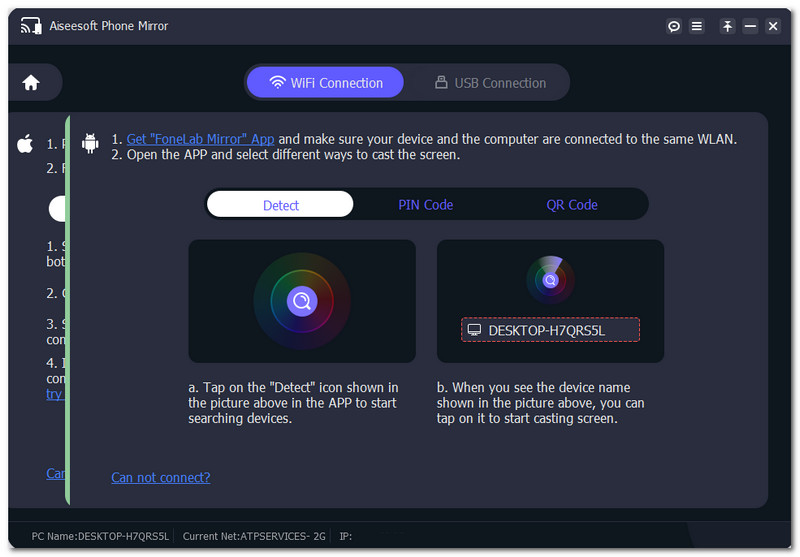 One of the disadvantages of LonelyScreen that users do not like is that LonelyScreen is not 100% secure. It is said that software is not safe for a user, especially if you are using it. However, we have good news for you!
We also know that LonelyScreen does not has an excellent user interface, and the good news is we have much better software for you! We are introducing to you the Aiseesoft Phone Mirror, and you can use it as a LonelyScreen alternative, which has advantages you cannot obtain on LonelyScreen.
Aiseesoft Phone Mirror is 100% safe, has an excellent interface, and offers free upgrades and tech support. In addition, it also provides different kinds of features, and we will tackle all of them below:
◆ It can let you see your phone on a full screen and half screen.
◆ It provides Whiteboard, which allows you to draw and insert text on your phone screen.
◆ It can mirror the screen of all types of iOS and Android devices.
◆ It provides Recording History.
◆ It can take screenshots while screen mirroring.
◆ It can also mirror your audio.
Conclusion:
It is the end of the review of LonelyScreen software. We hope that you have learned about it, especially about its safety. Overall, it is an extensive review that you can share with your friends and family. Until our next review post again!
Did you find this helpful?
166 Votes
YES

Thanks for letting us know!
No

Thanks for letting us know!
Aiseesoft Phone Mirror
Cast and share iPhone and Android screen to computer.