Reviewing Spacedesk Software for Multiple Screen Mirroring Mediums
In an event physically or virtually set up, desktop sharing using screen mirroring is one of the beneficial things we can practice. It will help us to present data and information with ease and clarity. In line with that, screen mirroring and sharing our desktop screen using the classic mediums cable like LAN is also an incredible way to practice. That is why, in this article, we will review one of the great screen mirroring tools that can support the LAN cable process. Without further discussion, this is the comprehensive and updated Spacedesk review. Let us tackle its features, pros, and cons, and check out how it performs. In addition, we will also give you an excellent Spacedesk alternative if the software does not fit your standards so that we will know if Spacedesk is download worthy.

Our Verdict
Pros

SpaceDesk is less intrusive than the majority of mirroring programs.
It does not need an account to manage the service or tool.
It is entirely free to use.
It supports the LAN cable process.
Cons

SpaceDesk's UI is a little old-fashioned and less intuitive.
Mirroring is slower and less fluid than in other apps.
Many users are complaining that it is inconvenient.
It is a bit fragile with unwanted malicious malware.
It performs laggy most of the time.
Overall Rating
Spacedeks offers simple and essential features. For that, it performs well. However, it is not that advanced that is similar to other tools. In addition, its safety is only minimal. Overall, the device is excellent for a simple mirroring process.
Features:8.6
Performance8.5
Safety:8.4
What is Spacedesk?
Spacedesk
Price: Free
Platform: Windows, macOS, and Linux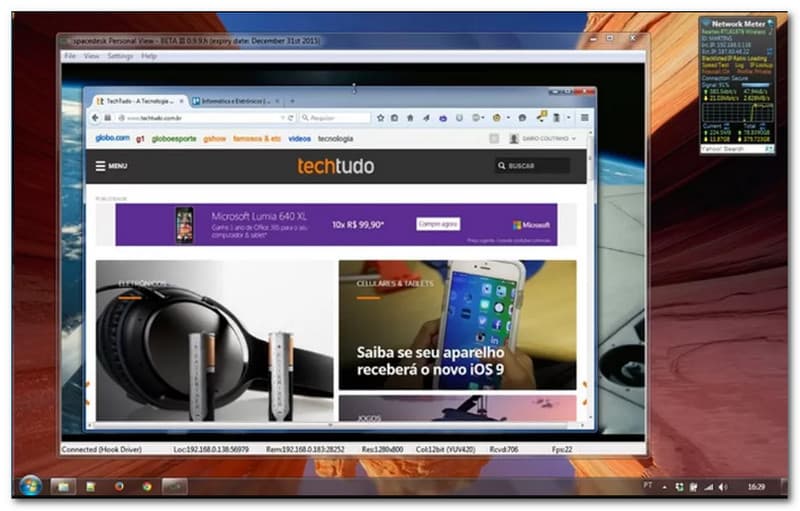 Spacedesk, a multi-monitor display extension tool, allows you to use other LAN (Local Area Network) devices and computers as displays for your Windows desktop. Spacedesk requires at least two machines to function. These workstations are linked via a network and execute two distinct software programs.
First, a Windows PC, laptop, or Surface Pro tablet serves as the primary machine. The Spacedesk Driver software powers it. It contains network display server software as well as display device drivers. This feature allows you to extend or replicate the Windows desktop to another machine's screen across the network. Then, the secondary Machine is responsible for running the Spacedesk Viewer application, which serves as the secondary display. In that way, it works like Reflector.
It might be one of the following: an Android tablet or phone Android viewer. Then, a Windows PC, laptop, or Surface Pro tablet supports the Windows Desktop application. Also, an Apple Mac, iPad, or iPhone for iOS Viewer. Then finally, a Linux PC, or a combination of the above for HTML5 viewer.
Main Features
◆ Displaying network multiple monitors.
◆ Two types of source machines (primary and secondary).
◆ It is processed using a local area network or LAN.
◆ Video walling.
◆ Digital signage.
◆ Remote and desktop sharing.
Spacedesk Review
Spacedesk Multiple Monitor: Network Display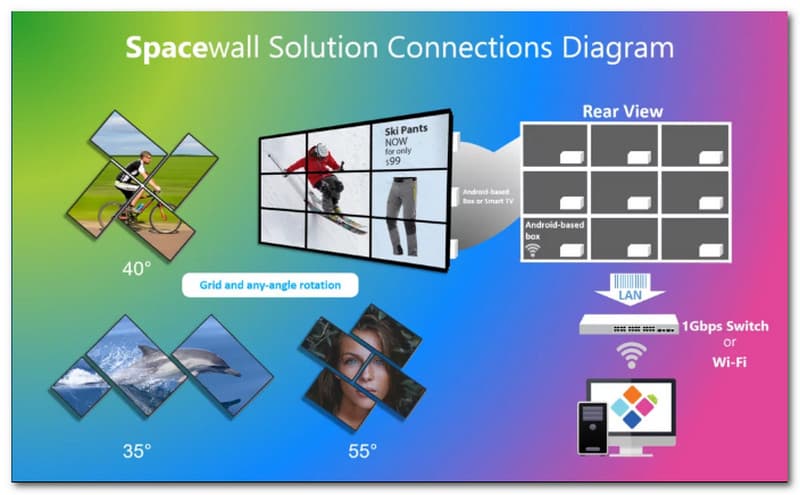 One of this software's great features is its ability to support multiple monitor displays. Under these features, it supports different kinds of monitoring devices. These devices are the Windows Desktop Extension with up to x10-sion. It can be beneficial for a sizeable crowded event to get a more prominent visual of the presentation. Next is the Windows Desktop Duplication, which serves as a cloning screen to put different mirroring monitors with other locations. In addition, it supports touchscreen devices that are effective for live presentation and control of the visuals. Indeed, it is a great tool to mirror multiple screens for networking displays.
Spacedesk: Primary and Secondary Machine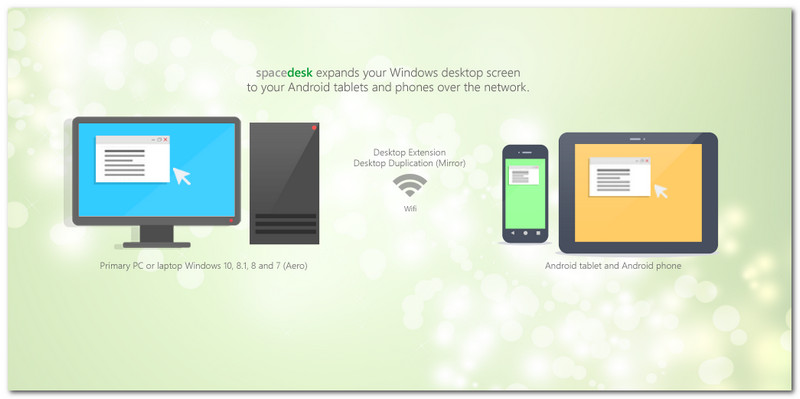 A minimum of two machines are required within the tool. All devices must connect to a Local Area Network or LAN. Then, TCP/IP network protocol must be supported. The connection can be made through USB for tethering, LAN cable, or wireless. For that, here are the purposes of these two machines. A Windows service and the WDDM driver are run on the primary system. This feature appears as an additional graphics adapter and a different monitor connection from the existing graphics adapter.
This extra virtual graphics adapter or display connection may mirror or extend any other Next, and the Secondary machine is only the medium we connect for the mirroring. These mediums include the computer, mobile devices, laptops, tablets, and HTML5 Web browsers.
Spacedesk LAN Supports
Screen mirroring with a LAN cable is very welcome in this tool. That means both wired and wireless are compatible. In line with that, here are the suitable models and information we need to possess to utilize the LAN process. These are the TCP/IP v4 and the future version of TCP/IP v6. In addition, there is no encryption used to transport data between the client and the server. As a result, any information exchanged is potentially accessible to everyone on the network.
Is Spacedesk Safe?
Spacedesk software possesses hardware that protects our devices and mediums against malicious malware or unwanted harmful elements. However, the hardware is not advanced, giving us a high-security rate. That is why some users complain about a laggy process within the software. If that is the case, we need an expert's help to maximize its safety, which can also affect the tool's speed.
FAQ about Spacedesk Review
What does it mean by Spacedesk Error 1 2 0?
Spacedesk Error 1 2 0 is a kind of error that we can experience in using the tool. Many users report that after reinstalling their Windows on their PC, their Spacedesk software stopped working without an apparent reason and can visualize Error 1 2 0. For that, an expert suggests that if an error notification exists on the primary machine, such as Error 1 2 0 during the connection attempt, it may be caused by a WiredX display on the device. Thus, we need to uninstall that virtual display from the advanced settings to alleviate the problem.
How does it make Spacedesk less laggy for the process?
We can use an ethernet connection to link two machines from point to point. Then, set up a new separate network. Also, we can try to transfer a file from PC A where SpaceDesk Server is installed into PC B for SpaceDesk Client. For that, the transfer speed is about 106 MB/s. It can still result in a bit laggy. That is why we can use ethernet to link PC A and PC B to maximize network speed and reduce latency while utilizing high-quality image streaming.
Why is Spacedesk incompatible with the display hook driver?
If your Spacedesk detects an incompatibility with the display hook driver, these are the few actions we can do to ease the problem hassle-free. The first thing we need to do is check the system tray bubble report about incompatibility. Then, after that, it is time to uninstall the products. Next, we need to ensure that the last process does not remove the OSBase driver of your machine. This OSBase driver must be installed using these commands: sc query ddkmd, sc query dlkmdldr, and sc query ddmgr.
How can we connect our Spacedesk driver to its server?
Go to the HTML5 viewer website using the updated web browser, then enter the IP address of the primary system where the Spacedesk driver is installed. Find the Need Assistance button underneath the Connect button instructs you on how to obtain the IP address of the server machine, and then click the Connect button to begin the connection.
Alternatives- Aiseesoft Phone Mirror
Throughout the review above, we can see a couple of flaws in terms of features and performance of Spacedesk. That is why we need another tool that can give us more significant features and be less complicated to use. As a result, Aiseesoft Phone Mirror is the most excellent alternative to Spacedesk capabilities for mirroring your iOS and Android screens via Wi-Fi and USB connections. The tool possesses two modes: screen mirroring and audio mirroring. However, to screen mirror your devices, you must ensure that your device and PC are linked to the same Wi-Fi or WLAN. Also, utilize an original USB cable to minimize complications while utilizing a USB connection or USB cable.
That feature also becomes an advantage because it will not use a LAN cable to make the process possible. After those reminders, we may now use the application with our mirroring moment. With its full potential, regardless of the device we use. It is a fantastic alternative to Spacedesk, mainly if your itinerary requires faster hardware and a smooth program. You may test it out right now by downloading it for free.
Conclusion
Through this review, we learn more about the ability of Spacedesk as a screen mirroring tool. We can see the features and performance it can offer for all of its users of it. The device can have a few flaws in terms of its services, but we cannot deny the truth that it is still effective. However, if it does not need the standard you are looking for, then Aiseesoft Phone Mirror is the excellent alternative that you are looking for. With its great features and performance, you can not do anything but try it now.
Did you find this helpful?
350 Votes
YES

Thanks for letting us know!
No

Thanks for letting us know!
Aiseesoft Phone Mirror
Cast and share iPhone and Android screen to computer.