Can We Know if Someone Screenshot Your Instagram Story/Post?
Instagram is the most widely used social media site for posting pictures, making videos, and making connections. It is a place where we can share our creativity and connect with other people. That is why it is normal for screenshots, a post, or DMs, whether it caught our attention or we want to share it with other people.
For that, are you curious whether Instagram notifies you when you screenshot someone's story, post, or direct message? We can connect. Therefore, we're presenting all the information you need about Instagram's screenshot notifications. Please see all the information below and answer your inquiry with ease.

Part 1. Does Instagram Notify When You Screenshot
When someone screenshotted one of a user's regular posts or stories on Instagram, the user was not notified. The platform may eventually roll out additional notification features or privacy settings, so it's vital to remember this since Instagram's features and standards could change over time.
Moreover, Instagram had previously experimented with screenshot notifications for functions like Instagram Direct's vanishing messages, but those notifications did not apply to standard posts or stories. To make sure you have the most recent information on this subject, it's advised to check Instagram's official resources or the app's settings for any updates or changes regarding screenshot notifications.
In connection with that, the next part of this portion will elaborate on how we can use these features to know someone taking screenshots of our details on Instagram.
Part 2. How to Know If Someone Screenshots Your Instagram Story
Know If Someone Screenshots Your Instagram Stories
Instagram used to alert users when a story screenshot was taken. The platform has since adjusted its position, so you can screenshot without worrying about being found out. However, if you don't want a particular person to see and possibly screenshot your Instagram Stories, we advise hiding them. This is how:
1.
Open your Instagram App and go to Settings.
2.
From there, please see Privacy.
3.
Then, we shall tap Hide Story From and enter the following account you want to be removed from seeing your Stories.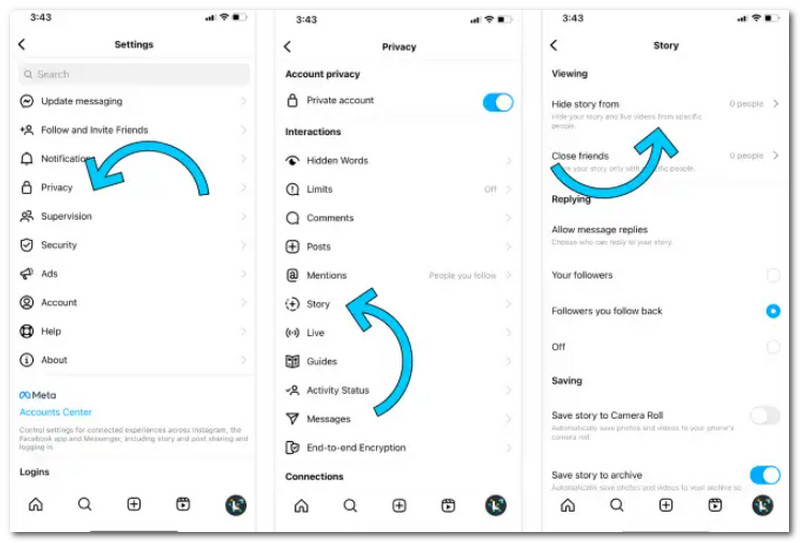 This process may not be enough to know the accounts that took screenshots on your Instagram Stories, but at least you can control whoever users will see and will only have access to your information on Instagram.
Also, you can check this post to download Instagram stories without others knowing.
Know If Someone Screenshots Your Instagram DMS
Unless you're using Vanishing Mode, Instagram generally doesn't alert you when you screenshot a DM. When you use the Vanishing Mode function, your communications vanish after the recipient has read them or after a predetermined period. It's a fantastic tool for preserving users' privacy because they will be informed if someone screenshots their communication, picture, or video. Let us see how it works and how to use it using these steps.
1.
Please launch the Instagram app or website on your devices.
2.
Then, ensure that your Instagram account is Logged In.
3.
We must go to a DM chat and Swipe Up to enter Vanishing Mode.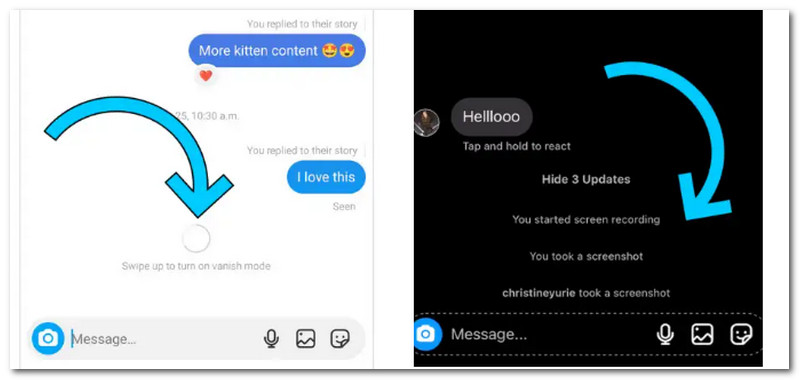 NOTE: Vanishing Mode will not delete messages sent before activating this feature.
And that is a summary of Instagram's screenshot notifications. Always be considerate of what you share online and conscious of others' privacy, especially when using features like Vanishing Mode, which alerts you when a screenshot is taken.
Part 3. How to Screenshot on Instagram without Other Knowing
Several techniques are available to screenshot Instagram's vanishing photographs and Stories. Try these solutions if Instagram's policies change or another user-revealing feature is introduced.
1.
Wait for the Story to load after opening the Instagram app. Then, please activate the Airplane Mode. If you're unfamiliar, check out what Airplane mode is and how it functions.
2.
Also, all wireless devices will be disconnected, and Wi-Fi, Bluetooth, and Cellular Data will be turned off. Using the iOS Control Center on iOS, you may accomplish this. You may do that on Android using the Settings app or your notification toggles.
3.
Return to the Instagram app, choose the desired Story, and take a screenshot. Before turning off Airplane Mode on an Android device, force the Instagram app to Close. On the other hand, before turning off Airplane Mode on iOS, you must remove and reinstall Instagram.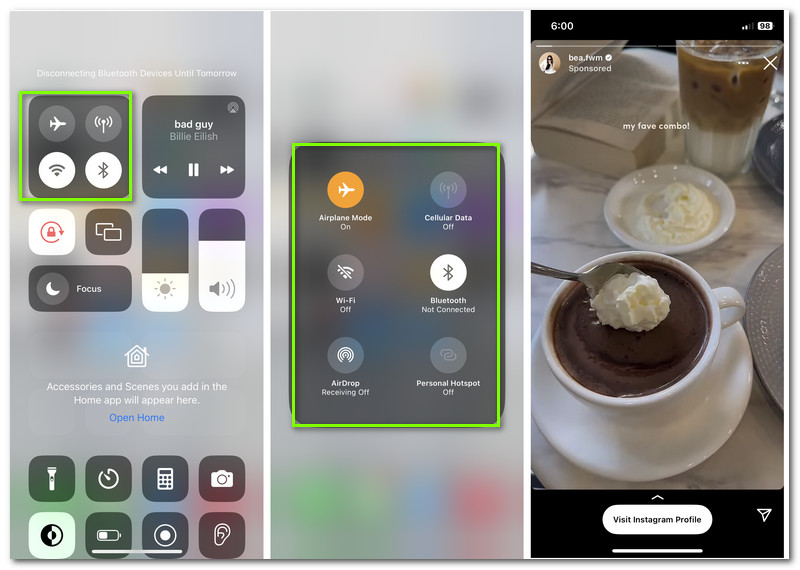 Most Snapchat users will be familiar with this tactic, the oldest in the book. Even though Snapchat has now outlawed this technique, Instagram can still use it. We only need to be mindful of the tricks so that we won't get caught.
Part 4. FAQs about Does Instagram Notify When You Screenshot
Does Instagram show when you screenshot a story?
As of my most recent update, Instagram did not alert users when a screenshot of one of their normal stories was taken. Although Instagram's Story Notifications function did not offer screenshot notifications, it did allow users to know who had seen their stories.
Can you screenshot Instagram posts?
Yes, it is possible. You can screenshot Instagram posts without alerting the user who published them. Users cannot receive notifications from Instagram when their posts are screenshotted. That is because Instagram Terms and Conditions allow us to do so.
Does Instagram notify you when you view a profile?
No, Instagram does not alert users when a profile is seen. User profile visitors are typically private; Instagram doesn't send notifications when a profile is viewed.
Can you screenshot Instagram DMs?
Currently, it is possible to screenshot Instagram DMs or Direct Messages without the recipient being notified. However, the privacy and consent of the people you speak with should always be respected. There are also new features with Instagram where the self-destructed messages will notify you when it is screenshot within the existing period.
Does Instagram notify you when you screenshot a story of close friends?
With the introduction of the Close Friends option for Stories, Instagram users may now share material with a small group of friends. As of my most recent upgrade, Instagram did not offer screenshot notifications for Close Friends' stories. This implies you might screenshot your close friends' stories without alerting them.
Conclusion
That's everything you need to know about having a screenshot on Instagram. We can see that it will not notify us most of the time, and only a certain feature can help us with that. Moreover, this article provides all the basic information and a much-needed guide.
Did you find this helpful?
488 Votes
YES

Thanks for letting us know!
No

Thanks for letting us know!
AnyMP4 Video Converter Ultimate
All-in-one video converter, editor, enhancer upscaled with AI.