Put Music on Instagram Stories and Posts For Entertainment
Instagram has revolutionized the way we share our lives, experiences, and creativity with the world through the dynamic world of visual storytelling. But what good is a fascinating Instagram story or post without the ideal ambiance-creating music? Your material will be more engaging and memorable when music is added since it gives it an extra layer of emotion, flair, and depth.
In line with that, we will get further into the technique of incorporating music into your Instagram posts and stories in this in-depth post. Knowing how to use music effectively can significantly alter your ability to influence others, connect with your audience as a business, or simply share the moments of your life. Whatever your purpose for using the app, this article will surely benefit you. Join us by reading this article and exploring the easy ways to add music to Instagram Stories and Posts. With additional tips for fixing it once it is not working. You can now proceed to read to learn more about these details.

Part 1. How to Add Music to Instagram Story
1.
Open the Instagram app in step one. Now, click or tap on the Your Story symbol in the top left corner of the page, or pick a post you'd like to share and select the Airplane Widget icon before choosing Add post to your story.
2.
Next, select a Photo or Video from your camera roll if you have selected to Add a Story from the Your Story symbol by hitting the camera icon in the top left corner.
3.
Now, select stickers from the widget's top bar. In the fifth step, tap the Music Sticker.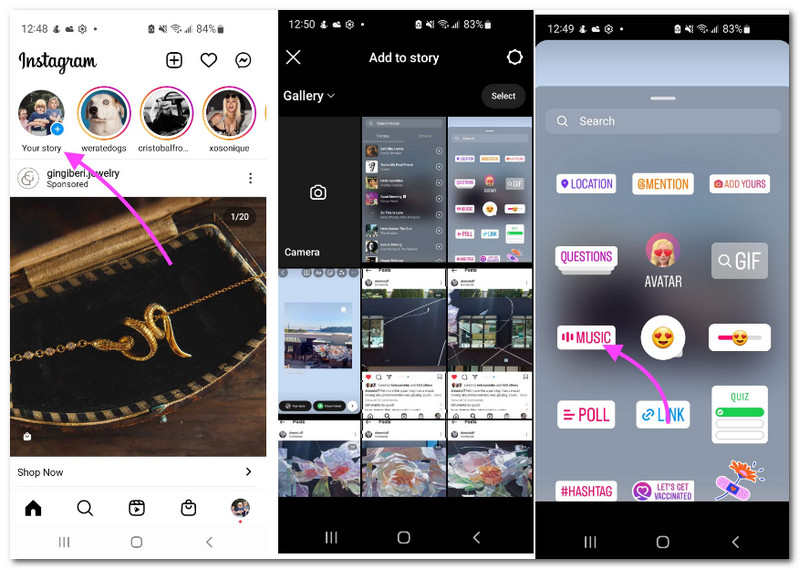 4.
Finally, choose a song from the For You library or use the Browse search bar to find a certain song.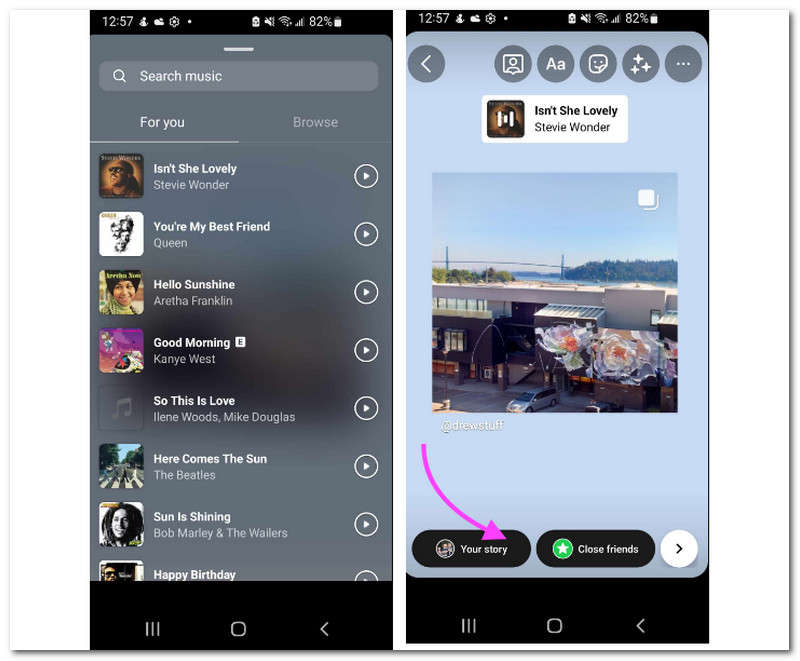 There you go; you will now have music on your Instagram story. May your followers be entertained by viewing your stories. However, we can also follow another procedure to add music to your stories without stickers.
How to Add Music to Instagram Story without Sticker
Another creative avenue for Instagram users is to include their favorite song tracks in their stories. The music enhances the tone of that story and makes your Instagram story more interesting and enticing. Consider your Instagram story as a mini-music video that you are creating. A mark is left on your Instagram story when you just add music, just like what we did on the first procedure, the music sticker. Therefore, look at the technique below if you want to add music to your Instagram story but not the sticker.
1.
Tap the Create button after opening the Instagram app on your device.
2.
Next, choose Story from the list of available options from the dropdown menu that opens. then continue with writing a tale.
3.
You can post a Picture or a Video from your phone's library or use Instagram's camera to take a brand-new one.
4.
You may now start modifying your Instagram story. There are two methods for doing this. You can start by tapping the Sticker symbol. This will open a menu where you may add GIFs, icons, filters, music, and other stickers to your Instagram story.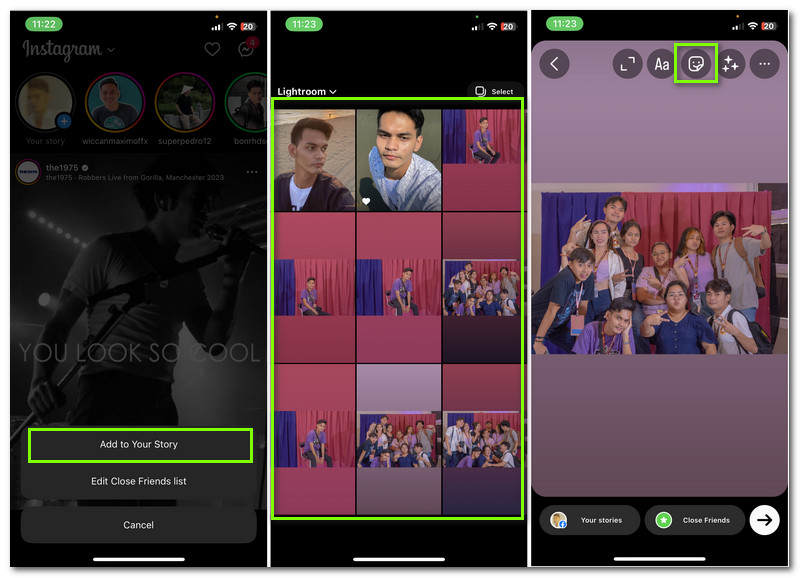 5.
Then, tap the Music sticker because you want to add music. After that, we need to Drag the album's image to the edge of the narrative frame after resizing it to make it disappear. Also, we can choose the X to add the music to your story without a sticker.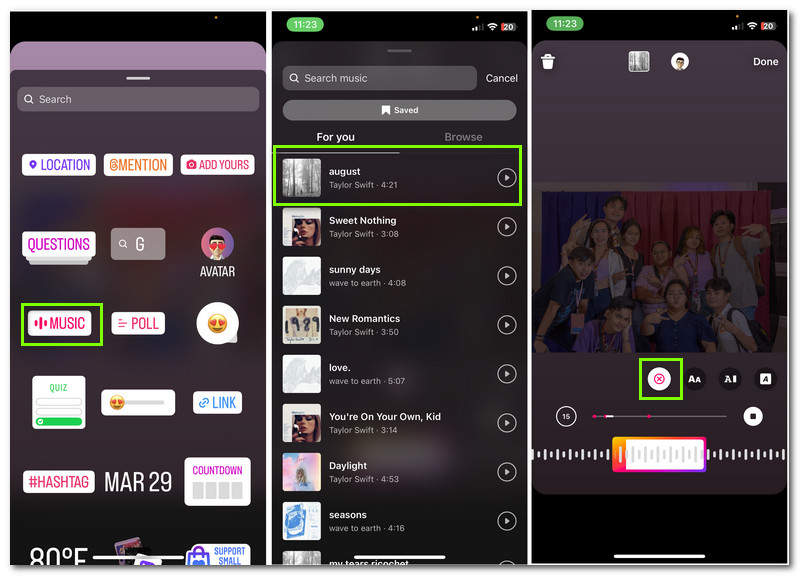 This will give the impression that the sticker is hidden behind your Instagram story. That is also an easy step, just like the first one. It is just that it has an additional few steps. If you want to post a long video on Instagram, check this post.
Part 2. How to Add Music to Instagram Post
How to Add Music to Instagram Post
1.
Upload a Photo on your feed by clicking the Add button, Then choose the photo you want to upload.
2.
After that, click the Music icon on the top of the pic, then choose the music you add to your post.
3.
After that, post your photo and see it with a sound.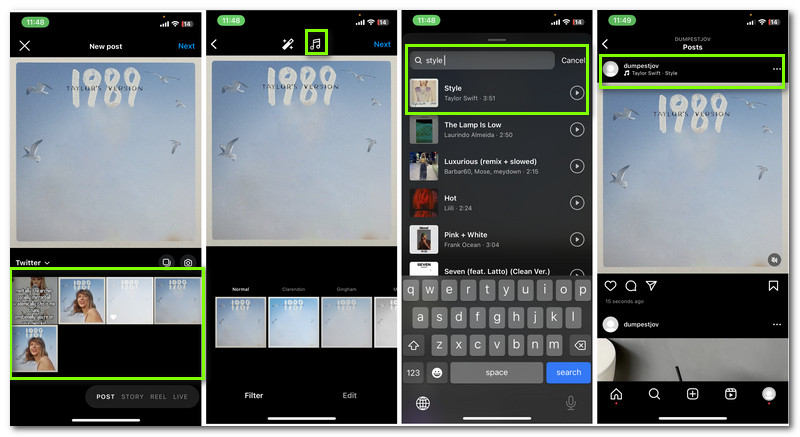 That is how easy it is to make. Make your posts more meaningful and entertaining by adding music.
How to Add Music to Instagram Reel
1.
Upload the videos or photos you want to upload by clicking the Add icon, then go to the Reels.
2.
After that, it will automatically allow you to add your music. You only need to Search for the music you want,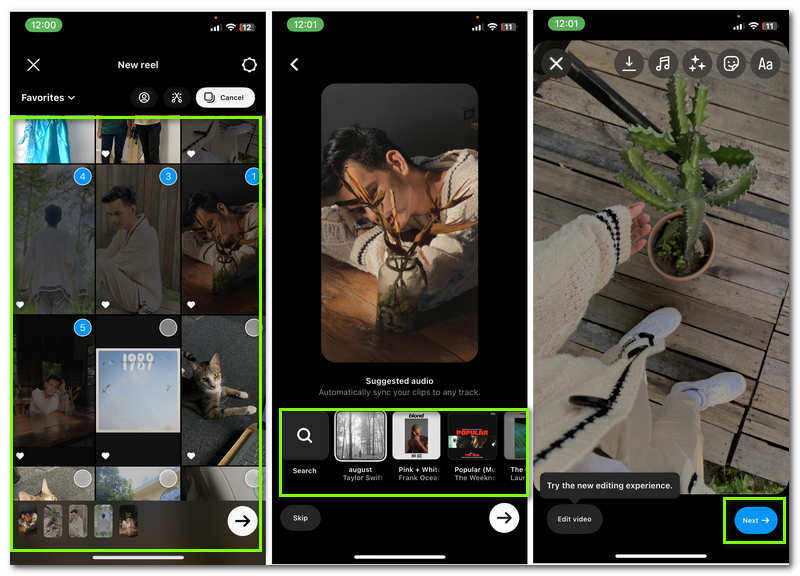 You need to follow that to make your reels more interesting and fun to watch.
Part 3. How to Add Your Music to Instagram
In the other situation, we can also add your personal music on Instagram. That is possible because we have AnyMP4 Screen Recorder. This tool can proceed us with a high-quality recording output. So, it will be crystal clear once we upload music on Instagram. Well, that will be possible because we have the tool. Let us see how we can use it.
1.
Start the Windows computer's Screen Recorder program. The primary interface's Audio Recorder option is available.

2.
To record the voice, press the System Sound and Microphone buttons. Now, you must enable Microphone Noise Cancellation and Microphone Enhancement if you want to eliminate background noise and improve voice quality.

3.
For recording to start, select REC on the right side. And it will display the hotkeys for you. You can also alter them.

4.
To end the recording, click the Red Square on the left. The audio you captured will then be shown. You can preview and edit the recorded audio in this window. Then, entering the start and end times will allow you to cut the audio.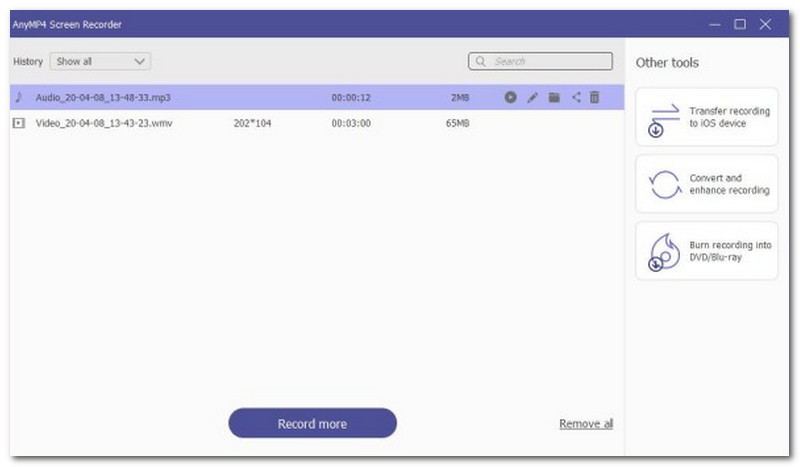 5.
Now, upload your video with the audio you have recorded on Instagram.
We can see that the audio recorder is very high-quality because of its amazing features. As long as you enable the noise cancellation, you will expect higher-quality audio than you can upload on your Instagram.
Part 4. Why Can't I Add Music To My Instagram Story?
An inventive and entertaining method to engage your audience on Instagram is by including music in your stories. However, there are many reasons why adding music to your Instagram story is not working or constrained. We'll go into more detail about these potential barriers in this section.
Restriction by Region
Regional limits is one of the main causes why users could find it difficult to include music in their Instagram stories. Due to licensing arrangements with record labels and music publishers, Instagram's music collection may not be accessible in all locations.
Account Restrictions
Your ability to add music to Instagram can also depend on the sort of account you have. Music consumption may be subject to varying limits or permits for business and creative accounts. If you have problems with a business or creator account, think about temporarily switching to a personal account to see if it fixes the issue. Some users have reported more success with personal accounts when adding music.
"Outdated
Older versions of the Instagram app may cause problems when adding music. Updates for apps frequently include new features and bug fixes, so utilizing an older version could have limited functionality. For that, we need to update your Instagram app frequently through the app store for your device (such as the App Store for iOS or Google Play Store for Android) to ensure you have access to all the newest features and updates. Once you've updated the app, check if the issue persists so we can ease the issues regarding Instagram music not showing all songs you want to use on your post.
Part 5. FAQs about How to Add Music to Instagram
Can you add music to Instagram posts?
You can add music to your Instagram stories and regular Instagram posts. However, the availability of music features can vary by region, so if you need help finding the music feature in your story or post-creation options, it might not be available in your area. To add music, simply create a new story or post, and when you use the sticker or feature that allows music, you can browse Instagram's music library and choose a track to accompany your content.
Are Instagram reels copyright-free music?
Instagram provides a library of licensed music you can use in your Reels. However, it's important to note that this music is not copyright-free. Instagram has secured licensing agreements with music labels and publishers to make these tracks available for users to enhance their content. While you can use these tracks in your Reels without worrying about copyright strikes, you should still be cautious when using copyrighted music that isn't part of Instagram's library, as it may lead to copyright issues.
Why does Instagram say no music is available?
Can I use 30 seconds of copyrighted music on Instagram?
No, using even a short clip, such as 30 seconds, of copyrighted music on Instagram without proper licensing or permission can still lead to copyright infringement issues. Instagram's content monitoring systems can detect copyrighted material, and your content may be flagged, removed, or subject to other penalties. To avoid copyright problems, consider using music from Instagram's licensed library or obtaining the necessary rights for the music you want to use.
How do I mute music on Instagram reels?
To mute music on an Instagram Reel, follow these steps. First, we need to open the Reel you want to mute. then, we need to Tap on the volume icon or slider on the left side of the screen to mute the audio. To unmute the audio, tap the volume icon or slider again to restore the sound. This feature allows you to customize your Reel's audio to match your creative vision, and you can toggle the sound on and off as needed.
Conclusion
In conclusion, adding music to your Instagram content can elevate your storytelling, captivate your audience, and make your posts and stories more memorable. While challenges like regional restrictions and copyright considerations may arise, understanding the nuances of music integration on Instagram empowers you to create engaging and harmonious content. In addition, we can also see that adding our music to your Instagram post is possible as long as we have AnyMP4 Screen Recorder for a higher quality output.
Did you find this helpful?
483 Votes
YES

Thanks for letting us know!
No

Thanks for letting us know!
AnyMP4 Screen Recorder
Capture every moment in desktop, browsers, programs and webcam.