From Novice to GIF Virtuoso: How to Use GIFs on Instagram
Social media platforms have become a canvas for self-expression and creativity. Instagram offers many features to engage and captivate your audience. One such feature is the ability to post GIFs, which adds an animated and dynamic touch to your content. This article will delve into elevating your Instagram game and stand out in the virtual realm. Does GIF work on Instagram? The answers await as you continue reading this article. Just read this article for a try, and let's get creative!

Part 1. How to Post a GIF on Instagram
How to post animated GIFs to Instagram?
A GIF post on Instagram is useful for bringing life to your profile and grabbing users' attention. Adhering to these easy instructions, you may easily incorporate animated material into your posts or articles. GIFs offer an appealing visual medium to improve your social media presence, whether you're trying to highlight a hilarious occasion or express an emotion. Here's a guide on how to share GIFs on Instagram without any hassle:
How to Upload and Post GIFs on Instagram Feed or Story
1.
To access Instagram, open the app and navigate to your Feed or Story.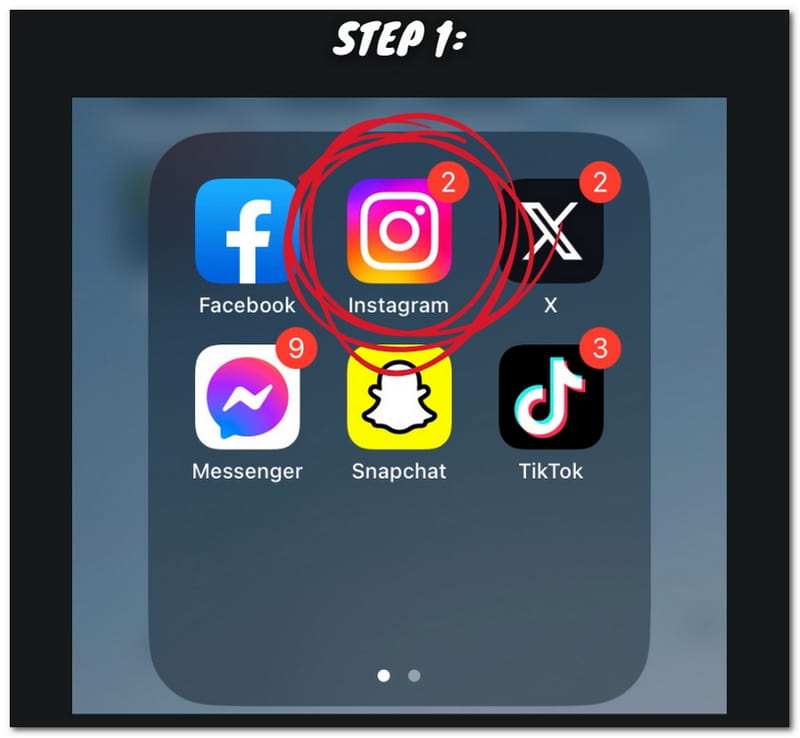 2.
For your Feed, tap the + Icon at the bottom center of the screen, and for your Story, simply tap your Profile Picture in the lower left corner or swipe right from the main feed and tap the + Icon at the upper left of your profile page.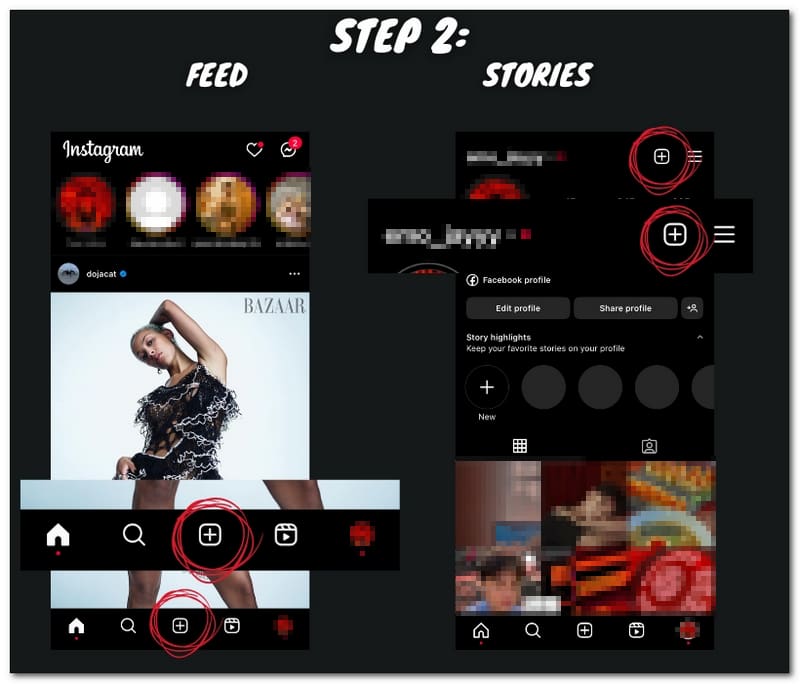 3.
Select your GIF and if you're sharing in your feed, pick Feed and designate a cover photo for your GIF. For Stories, access your gallery by Swiping Up from the camera view and selecting the GIF you want to use. Once chosen, your selected GIF will promptly appear on your screen. When you want to post a video on Instagram, just upload the video file, instead of GIF.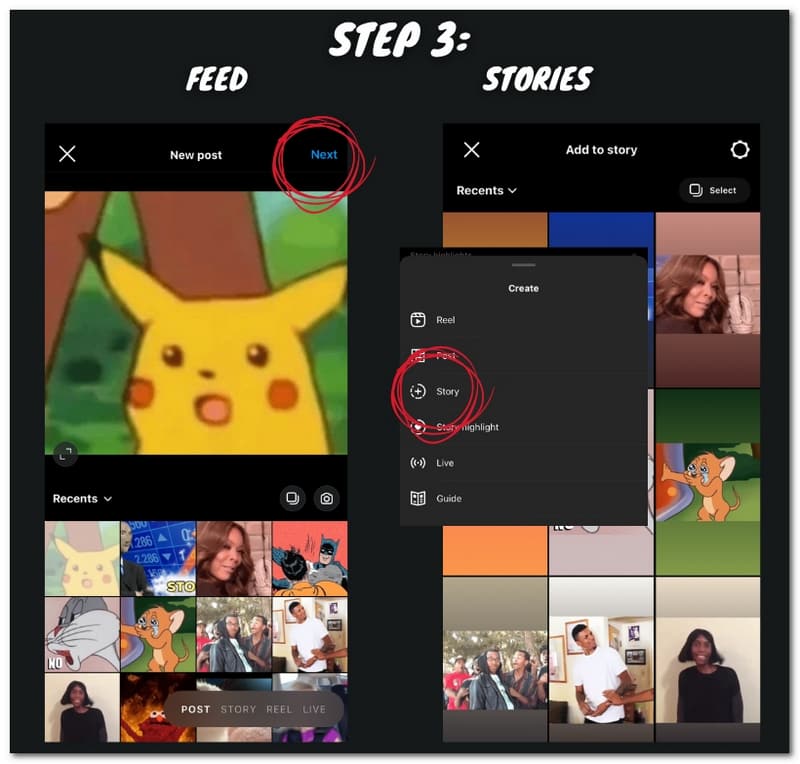 4.
Tap Share, for feed posts or Your Story, for stories to publish your GIF. For feed posts, your GIF will now appear on your profile grid. For stories, it will be visible to your followers for 24 hours.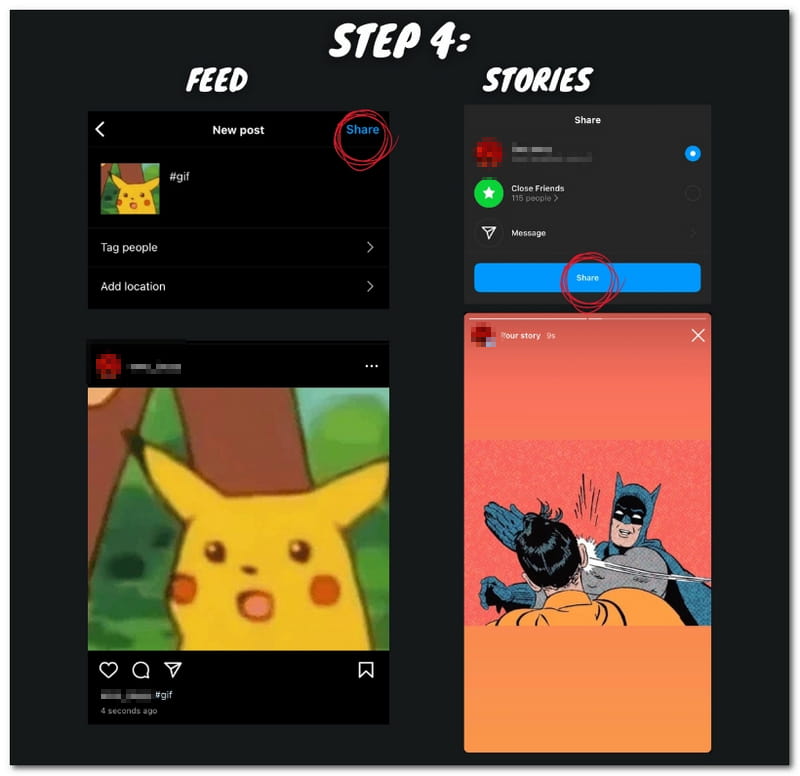 GIFs unquestionably give a fun and intriguing layer to Instagram interactions. When familiar with the application, incorporating GIFs smoothly into your posts and stories becomes a snap. By serving as a handy reminder, this method ensures that using GIFs in your Instagram Feed or Story always stays fun and simple.
How to Send a GIF in Instagram Direct Messages:
1.
Open your Instagram app on your mobile device.
2.
Tap the Message Icon in the top right corner of the main feed to access your direct messages.
3.
Select a conversation you want to reply to or start a new one by tapping the Pencil Icon in the top right corner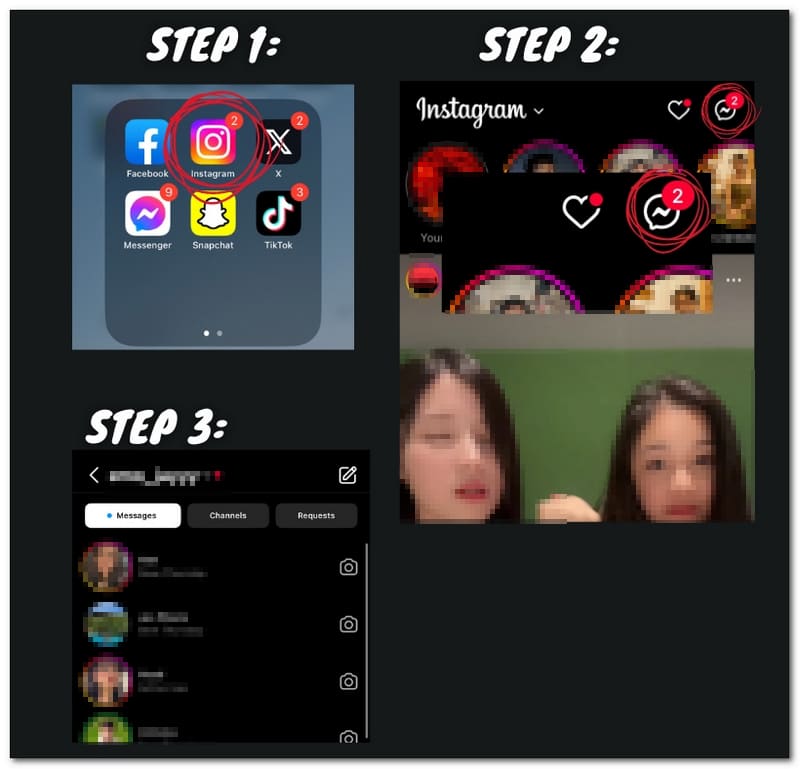 4.
In the message input field, tap the Sticky Note Icon, then locate and tap the GIF Icon in the lower right to search for and select a GIF. You can browse tons of GIFs in there or search for a particular keyword.
5.
Once you've found the perfect GIF, tap on it to select it.
If you delete messages on instagram, you should read this post to get Instagram messages recovery.
Sending GIFs through Instagram direct messages has become a popular trend, adding a playful dimension to conversations. As this practice gained momentum, it infused interactions with creativity and amusement. With GIFs effortlessly enhancing expressions, the feature has seamlessly woven fun and spontaneity into the fabric of Instagram conversations.
Instagram GIF Requirements
File Format
Instagram supports the .gif file type for GIFs. Before attempting to post your GIF, be sure it is stored with the .gif extension.
File Size
On Instagram, GIFs can have a maximum file size of about 15MB. It is crucial to stay under this size restriction to guarantee that your GIF can be posted without problems.
Dimension and Aspect
It is advised to follow Instagram's suggested sizes and aspect ratios for the best display:
1:1 aspect ratio for square posts
4:5 aspect ratio for portrait posts
Part 2. How to Comment/Reply GIFs on Instagram
If you are one of those people who ask how to comment on GIFs on Instagram? Then you'll be delighted to know it is now possible to comment or reply to GIFs on Instagram posts. Released only this year and now has been rolling over the world. Now, comments on static articles, carousels, and reels may contain GIFs. Overall, this minor but essential element gives Instagram a fun and creative feel and enables users to participate in many ways. In Instagram's most recent version, features are available on Android and iOS.
1.
To access Instagram, open the app on your mobile device.
2.
Go to the post where you wish to reply to the comment with GIFs.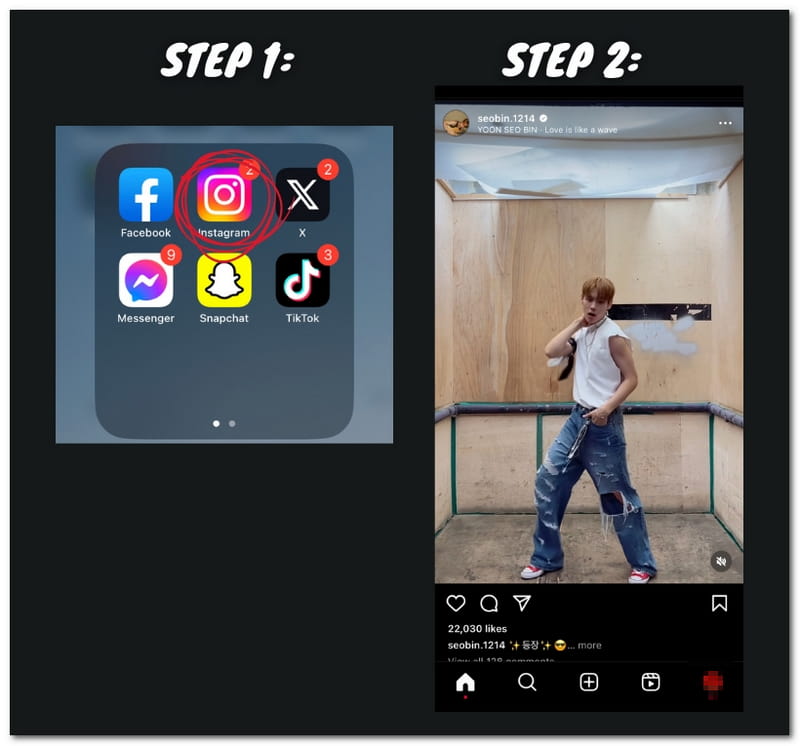 3.
The GIF icon is located on the right side of the message input field. Press it to open and access your GIF board.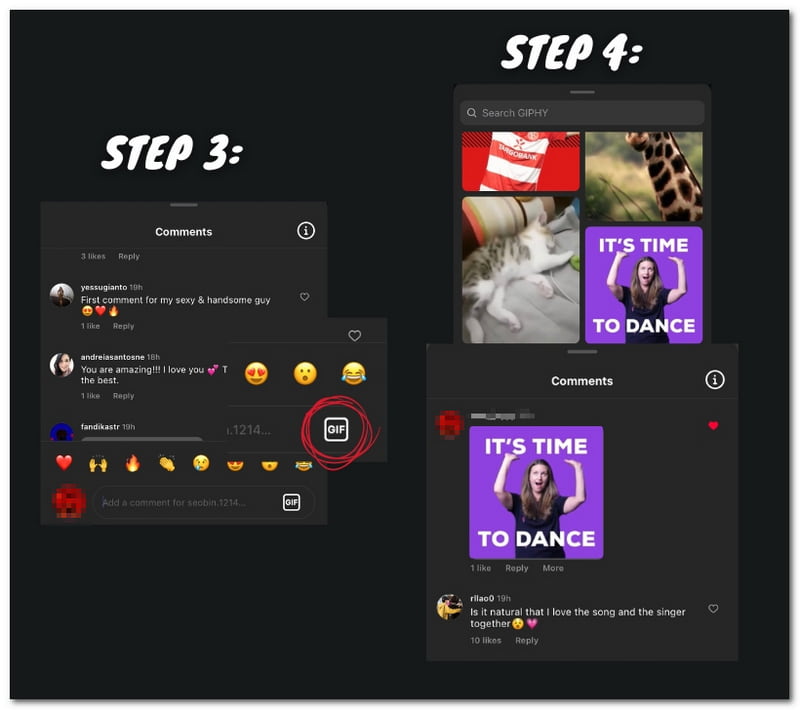 With the recent update, Instagram added GIFs to the comments region, enhancing users' ability to express themselves. This function has, however, mostly been used by a small proportion of users because it was previously restricted to a few geographical areas. With this modification, GIFs will likely be more widely available, which might broaden their application on the site.
Part 3. FAQs About How to Use GIFs on Instagram
Why are GIFs not working on Instagram?
GIFs may not be functioning on Instagram for some reason. First, the GIF file can be larger than the platform's size limit, which is around 15MB, resulting in an upload failure. Additionally, it could not appear correctly if the GIF's size or aspect ratio does not match Instagram's suggested ratios (for example, 1:1 for square posts). Last, brief GIF functionality outages might also be caused by technical problems with Instagram's servers or the app itself.
How to send GIFs on Instagram Direct?
To get started, open the Instagram app on your mobile device. Next, tap the Message Icon positioned in the top right corner of the main feed to access your direct messages. Select an existing conversation within the messages or initiate a new one by tapping the Pencil Icon in the upper right corner. In the message input field, tap the Sticky Note Icon and locate the GIF Icon in the lower right corner. By clicking on the GIF Icon, you can search for and select a GIF. The platform offers the option to explore different categories or search using specific terms. Once you've identified the ideal GIF, tap on it to select it, and you're all set to share a lively GIF within your direct message conversation.
How to search for GIFs on Instagram?
To add a GIF to your Instagram Stories or Direct Messages, locate the GIF button next to the message input field. Once found, use relevant keywords to search for the ideal GIF that complements your message or story. This quick and intuitive process enables you to effortlessly enhance your content with dynamic and expressive animations, engaging your audience in a visually captivating manner.
How to repost GIFs on Instagram?
Currently, reposting GIFs directly on Instagram is not a supported feature. While you can certainly post, share through direct messages, and even comment using GIFs, the platform doesn't provide a built-in function to repost them like you might with images or videos. They allow you to add an extra layer of dynamism and creativity to your interactions. Always stay updated with Instagram's evolving features and guidelines for potential changes to these capabilities.
How to download GIFs from Instagram?
Due to Instagram's platform restrictions and copyright issues, downloading GIFs from the platform might be difficult. GIFs can be recorded using external methods, though. GIFs should only be used for personal purposes, with appropriate attribution given where appropriate, to respect the creators' rights. Before downloading anything, carefully read Instagram's terms and conditions because their rules are subject to change.
How to add music to your GIFs on Instagram?
There isn't a native tool on Instagram right now that would let users directly add music to GIFs. Despite this, Instagram's Stories feature offers a clever solution. Combining music and GIFs with stories allows you to create a dynamic and aesthetically pleasing manner to draw in your audience. While the direct incorporation of music into GIFs is still a feature many people want to see, using the stories tool is a good way to incorporate both aspects into your material smoothly.
Conclusion
Learning how to publish animated GIFs on Instagram opens up opportunities for energizing your profile and engrossing your audience. Following these simple instructions will make incorporating animated material into your articles or stories simple. GIFs are an engaging visual tool that makes improving your social media presence simple, whether you're trying to highlight a funny occasion or express a strong emotion. Your Instagram experience gets more dynamic and engaging when you use GIFs, enabling you to engage with your audience on a new level.
Did you find this helpful?
491 Votes
YES

Thanks for letting us know!
No

Thanks for letting us know!
AnyMP4 Video Converter Ultimate
All-in-one video converter, editor, enhancer upscaled with AI.