How to Make Money on Instagram: From Liking to Earnings
Instagram has evolved beyond just a platform for sharing photos and stories with friends. It changed and elevated the profit-making industry when people and brand companies started using it as a platform to advertise and earn money simultaneously. Of course, making your profit-making journey a reality is not easy. Establishing your presence to earn cash on the platform will take a lot of dedication and responsibility, but what's success if not persevering, right?
If you're planning and asking how do you make money on Instagram, you're on the right page. This article reveals the secrets to a hassle-free process to earn money on Instagram. We'll guide you through the process listed and compiled in this article. Continue reading to start your monetizing process, from double-tapping to earning money.

Part 1. Can You Make Money on Instagram
You may wonder if it is possible to make money from your Instagram presence. The answer is a resounding yes. Instagram has evolved into more than just a photo-sharing app; it is also a powerful marketing and revenue-generating tool that many people and businesses use today. People like to say that modern problems require a modern solution, and Instagram's profit-making might not be a bad source of income. Just be sure to take note and follow Instagram guidelines to properly start your plan and avoid violations that can cause your account to get suspended.
How many Instagram followers to make money? If you have a large and engaged following on Instagram, you have the potential to make a lot of money from your account. But remember that there is no specific number of followers to make money on Instagram, but having tons of it benefits you since a lot will see your content. So, if you're looking for a way to monetize your social media presence, Instagram is a great option.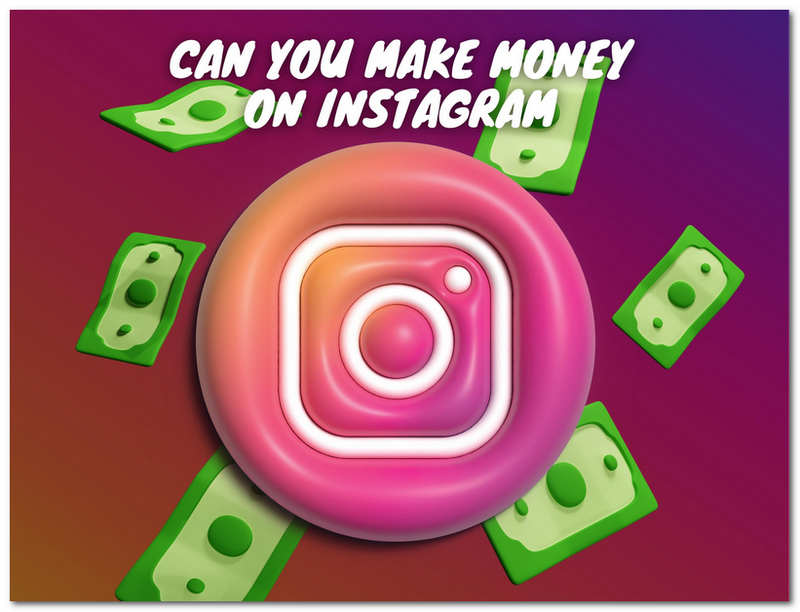 Part 2. 5 Ways to Make Money on Instagram
There are many ways to make money on Instagram, and in this article, we recognize three methods for unlocking Instagram wealth through followers, without followers, and without selling anything.
5 Ways to Earn With Followers
If you have an extensive Instagram following, you're in a great position to make money from your online presence. Here are five viable methods for earning money from your Instagram followers:
◆ Sponsored Post. It is one of the most popular ways to monetize your Instagram account. Businesses are keen to work with influencers who can help them promote their goods and services to a larger audience. As an influencer, you may work with businesses appropriate for your specialized market and earn money for promoting their goods in your content.
◆ Affiliate Marketing. Includes advertising goods or services and getting paid for every sale through your exclusive affiliate link. Find goods or services that complement your content and appeal to your audience. You will receive a portion of the profit generated by your recommendations if you include these products in your blogs or stories and your affiliate link.
◆ Sell Your Products or Merchandise. Instagram is a great medium for advertising if you have your goods, items, or services to offer. You may showcase your work and increase sales by linking your followers to your website or online store. The purchasing tools on Instagram make it simple for your followers to purchase from the app.
◆ Offer Online Workshops, Courses, and Services. Consider providing online seminars or classes and promoting your services to your followers. If you are an expert in a certain subject or possess a special skill set. Use interactive live sessions, webinars, or pre-recorded content to impart your knowledge. Offer subscribers access for a charge or access to only certain material.
◆ Become a Brand Ambassador or Brand Partner. Beyond sponsored postings, developing long-term collaborations with corporations or serving as a brand ambassador may be quite rewarding. These agreements frequently include continuous partnerships and a consistent flow of money. Look for businesses aligning with your beliefs and audience for more genuine collaborations.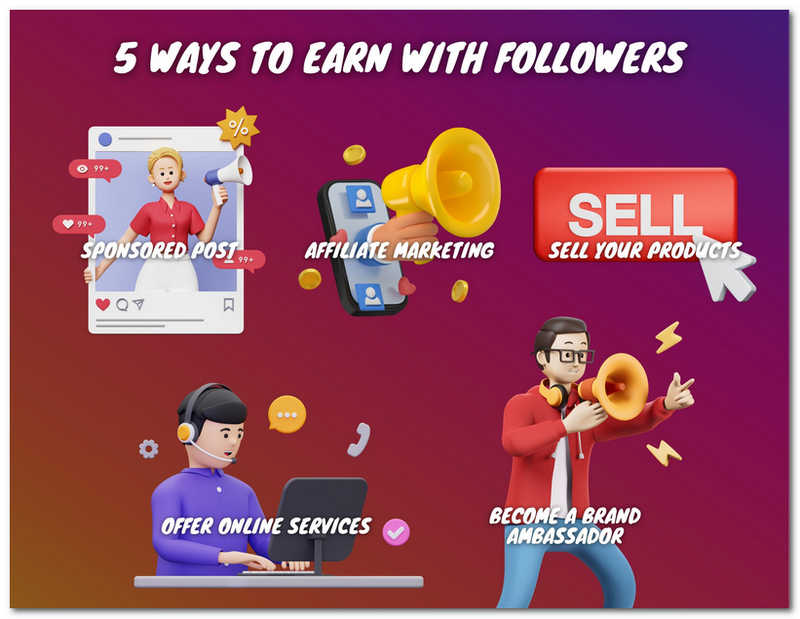 Remember that developing an effective Instagram revenue stream requires time and effort. Maintaining authenticity, being sincere in your interactions with your audience, and continually putting out top-notch material is essential. Your chances to make money from your Instagram presence will increase as your following increases. To optimize your income potential on Instagram, consider new opportunities and adjust to the changing social media scene.
5 Ways to Earn Without Followers
How to make money on Instagram without followers? You're fortunate! While having a sizable following might be helpful, it's not the only way to get wealthy on Instagram. Here are five original methods to monetize your Instagram account, even if you don't have a large following.
◆ Become an Instagram Freelancer. Offer your expertise and services as a freelance Instagram user. Content production, graphic design, caption writing, and social media administration are skills many brands and influencers need. Gigs may be found on websites like Fiverr or Upwork. Creating a portfolio of excellent work might be beneficial to draw in customers and make money.
◆ Participate in Affiliate Marketing. By advertising goods or services via your Instagram posts, you may make money through affiliate marketing. You only need a specialized audience and interesting material; a large following is unnecessary. Join affiliate networks relevant to your interests, then write engaging posts with affiliate links.
◆ Sell Digital Products. Create and market digital goods, including e-books, presets, printables, and online courses. Your Instagram account may be an effective strategy for promoting these goods. Use captivating descriptions, anecdotes, and highlights to advertise your digital products to followers and new consumers.
◆ Collaborate with Micro-Influencers. Even if you might not have a sizable fan base, you can still work with micro-influencers with a wider audience. To co-create content or market goods or services, collaborate with influencers in your field. You will still get paid for your gift even with fewer followers.
◆ Interact with Customers Directly. By inputting keywords on your search bar, look for someone who needs what you are selling/service. Commenting on their post connected with what you offer might get you a customer. Instagram photos demonstrate how you conduct customer service contacts; use polite and efficient communication for the best outcomes.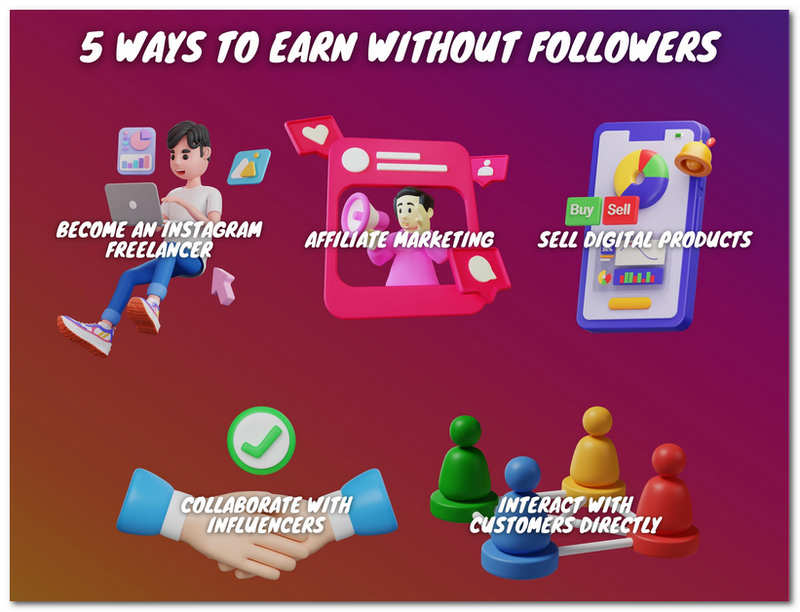 Don't give up if you don't have a large following; instead, concentrate on producing worthwhile material and investigating these other sources of money. You can make money on Instagram regardless of your follower numbers if you work hard and are creative.
5 Ways to Earn Without Selling Anything
While offering goods or services for sale is a typical way to make money on Instagram, there are other ways to make money that don't involve selling anything. Below are five strategies to monetize your Instagram account without selling anything.
◆ Post Sponsored Posts. Influencers are always in demand by brands to help them advertise their goods and services. If your audience is substantial and active, you may work with sponsors to provide sponsored content. These alliances may be lucrative since businesses will pay you to promote their products. To preserve authenticity, ensure the items align with your ideals and specialty.
◆ Become an Instagram Coach. You may impart your knowledge and work as an Instagram coach if you've mastered the art of Instagram growth and engagement. Create online classes or provide private tutoring to show people how to boost their Instagram game. Many people and companies are prepared to spend money on advice to improve their internet profile.
◆ Earn from Content. There are options to monetize your content on Instagram's IGTV and Reels. You may participate in Instagram's Partner Program, enabling you to make money from your videos' ad income. Increase your audience and your income by producing interesting, unique content.
◆ Drive Traffic to your Website/Blog. Instagram can potentially be a significant traffic-generating tool for websites and blogs. Share teaser material on your Instagram feed, stories, or IGTV, and invite followers to your website to view the complete article. Utilize advertising, affiliate marketing, or the sale of digital goods to monetize your website or blog.
◆ Instagram Live Stickers. Instagram just debuted Live Stickers, which lets users buy stickers while watching a live video. Your supporters may purchase these stickers to demonstrate support, and they can represent different amounts. Although you might not sell tangible goods, your audience can contribute money while you do live sessions.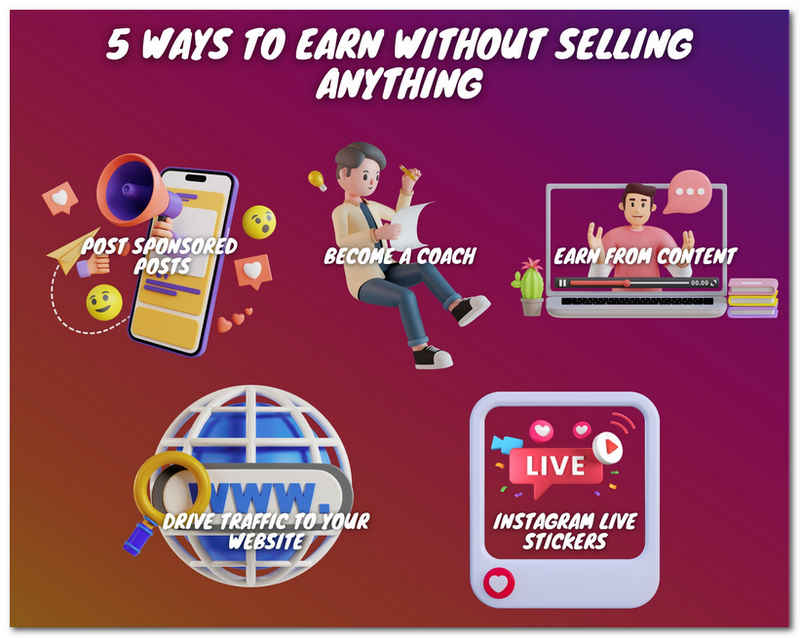 Without engaging in direct sales of goods or services, Instagram provides a variety of alternatives for earning money. Your Instagram presence may generate significant cash, whether it's through sponsored posts, coaching, content monetization, directing users to other platforms, or using live stickers. Pick the strategies that fit your interests and talents, and start earning money on Instagram while doing what you love.
Part 3. FAQs About How to Make Money on Instagram
How many instagram followers to make money?
Depending on your specialty, engagement level, and monetization method, you may need anywhere from a few hundred to a few million Instagram followers to start making money. Influencers may start making money through sponsored posts and affiliate marketing even if they have 10,000 highly engaged followers. However, many influencers aspire for 100,000 followers to make more money. The secret is to have a committed audience interested in your material and the goods or services you are trying to sell.
How much money does 1 million instagram views make?
Based on elements like your audience's geography, your content's target demographic, and your engagement rate, the revenue from 1 million Instagram views might vary greatly. You might average between $0.25 and $4 for every 1,000 views. However, these amounts can vary greatly. Remember that Instagram does not directly compensate authors for page views; money is often earned through sponsored posts, advertisements, or affiliate marketing.
How much money do 1k instagram followers make?
1,000 Instagram followers might bring in a range of earnings that are not entirely based on the number of followers. The degree of interaction, the target market, and the monetization strategies matter a lot. Influencers with a thousand followers may make a few hundred dollars monthly through sponsored content or affiliate marketing, while others may make less or more. Building a loyal and interested audience is essential to maximizing revenue.
How many views on instagram to make money?
Instagram does not only depend on views to generate revenue. Instead, it depends on how you want to monetize. If you use sponsored content, affiliate marketing, or other income-generating strategies wisely, you may start making money with many views. Your earning potential develops along with your following and interaction numbers.
Do Instagram users get paid?
Many Instagram users, especially influencers and content producers, may make money in various ways. Some popular strategies for monetizing video content on Instagram include sponsored posts, affiliate marketing, selling digital goods, promoting their companies, and signing up for the Partner Program. Instagram income demands commitment, a sound strategy, and frequently a sizable time and effort investment to create a following and monetize it successfully. Although not all Instagram users are wealthy, those who are frequently utilize the platform as a business or side gig.
Conclusion
Instagram profit is true with many ways to do it. It doesn't matter if you have tons of followers or a small amount, sell products on the platform, or just offer services. As long as you know how the Instagram algorithm works, the best time to post on instagram, and adhere to Instagram guidelines. You're on the right path and on your way to monetize.
With the appropriate plan and commitment, it's not just doable but also possible to make money on Instagram. You may transform your Instagram pastime into a successful source of revenue by developing a significant following, producing high-quality material, and exploring various monetization options. Watch this space for further advice and ideas on improving your Instagram revenue in upcoming posts.
Did you find this helpful?
476 Votes
YES

Thanks for letting us know!
No

Thanks for letting us know!
AnyMP4 Video Converter Ultimate
All-in-one video converter, editor, enhancer upscaled with AI.