How Do You Mute Someone on Instagram: Silence Made Simple
A customized and entertaining feed is crucial for a great online experience in the hectic world of social media. However, you get interrupted by unnecessary and sometimes labeled disturbing posts from someone in your feeds. We are in this generation of normalizing everything, and muting is one of them. You don't have to feel bad when you find some post disturbing or unhealthy to your peace.
Instagram offers the useful option of muting in response to this necessity. This article will explore the art of mastering complete peace on Instagram muting to ensure you can filter your material without destroying relationships. Keep your Instagram feed free from distractions. Muting is the solution! Read our guide to silence accounts and mute someone on Instagram to enjoy a quieter social media experience.

Part 1. What Does It Mean to Mute Someone on Instagram
Can I mute someone on Instagram? Instagram is one of the most used social media apps with features to create and share stunning pictures and connect with people you know personally with the same interests. Despite its creative and clean look interface, many people also get tired and sometimes get overwhelmed by the content they see online and might need some time to weigh it down or, as this article quoted, muting.
Yes, muting someone on Instagram is a great way to take a break from their posts and stories without unfollowing them. If you choose to mute someone, their posts and stories will no longer be visible in your feed. Nevertheless, you can still access their profile and send them messages.
The muting feature on Instagram has become increasingly popular in recent years, as users have become more aware of the negative effects that social media can have on their mental health. Muting accounts can help users to reduce their stress levels and to focus on the content that they find most enjoyable. It can also be helpful for users who want to take a break from social media altogether.
The muting feature has also been associated with the DND or Do not Disturb trend on other social media platforms. This trend involves users announcing that they are taking a break from social media and asking their followers to respect their privacy. Muting accounts can be a way for users to implement this trend on Instagram.
Overall, muting someone is temporary, and you can always unmute them anytime. Muting someone on Instagram can be a helpful way to manage your social media experience. If you feel overwhelmed by someone's posts or stories, muting them can give you a break.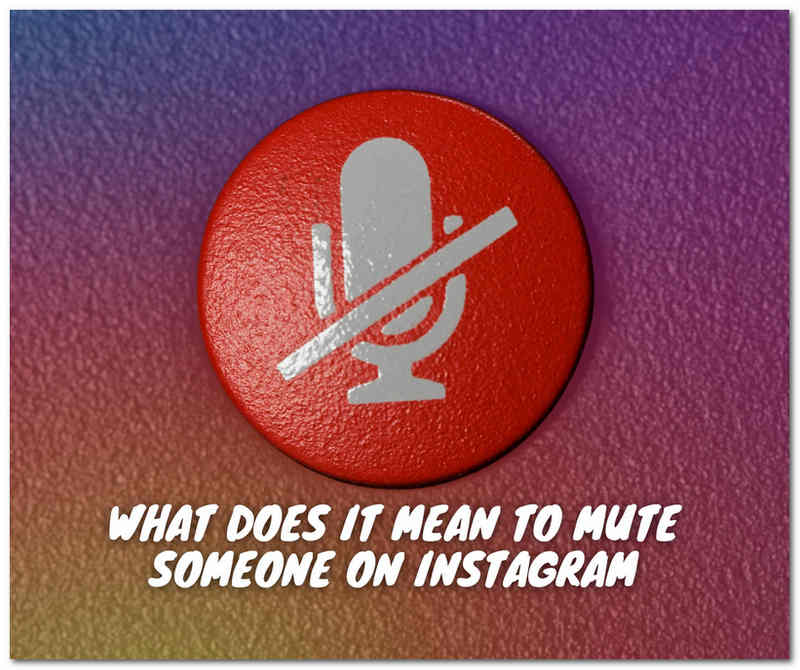 Part 2. How to Mute Someone on Instagram
Sometimes, the amount of material could make it necessary to take a brief digital break now and again. The mute option allows you to filter your feed without them knowing. In this article, we'll walk you through the straightforward process of muting someone on Instagram, allowing you to say goodbye to unpleasant posts and stories while preserving your sense of social balance.
1.
Locate the Content of the user you want to mute.
2.
Access the Options To open the settings menu, simply tap on the three dots located on the top-right corner of your chosen content (Post, Stories, Reel).
3.
Choose Mute To mute posts, stories or both from a user's profile, simply click on the three dots menu and choose the option to Mute.
4.
Mute Posts/Stories Mute a user to hide their posts and stories from your feed. Choose both to filter out more content.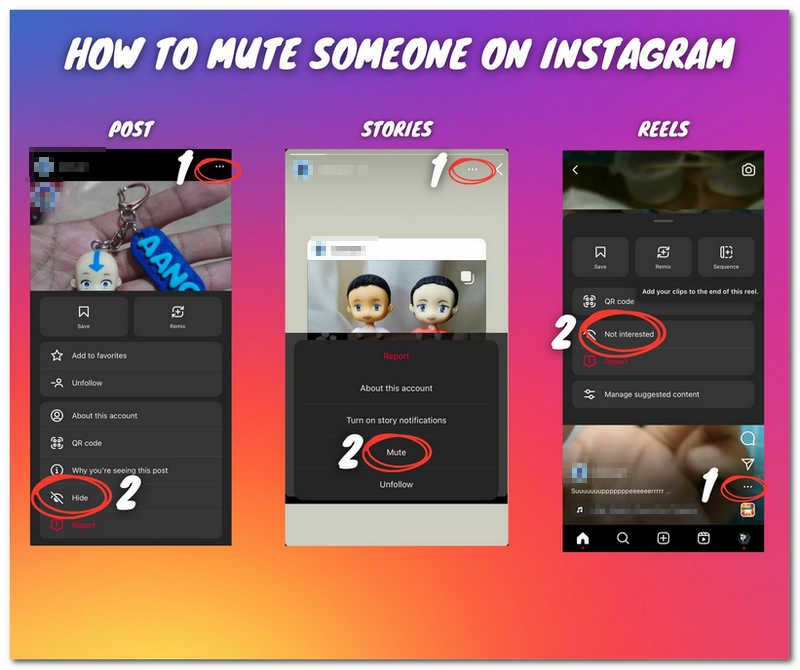 Muting offers the balance you desire, whether a friend's excessive posting or a user whose material is no longer relevant to you. Remember, you can always undo the muting with the same process. Curate your Instagram trip on your terms and bid farewell to undesired stuff without worrying about the social ramifications of unfollowing.
Part 3. What Happens When You Mute Someone on Instagram
Muting an Instagram account means you will no longer see their posts in your feed. You will also not be notified when they post new content. However, you can still see their posts on their profile page. Muting is a good way to take a break from someone's posts without unfollowing them completely. Here are some things to keep in mind when muting an account:
◆ You can still see the muted account's posts on their profile page.
◆ You will not be notified when the muted account posts new content.
◆ Muting an account does not affect your following count.
◆ You can mute multiple accounts at once.
◆ You can unmute an account at any time.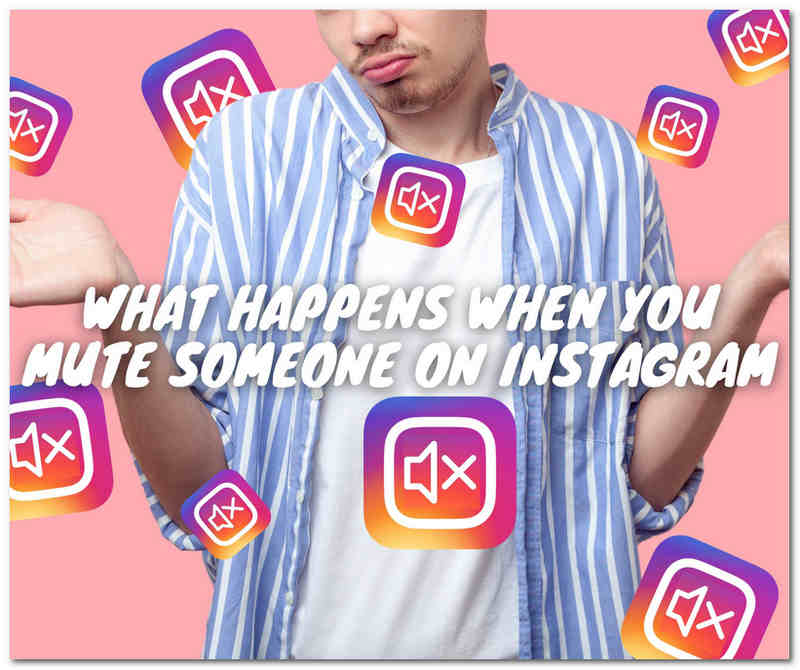 Part 4. How to Tell If Someone Muted You on Instagram
Instagram doesn't let users know someone muted them to prevent data privacy concerns. There is no other method to determine whether someone has muted you on their account. One thing you can do is observe your audience and look for all the signs we list below.
◆ If someone used to engage with your posts but now doesn't, they may have muted you. A sudden drop in engagement is a sign.
◆ If someone used to watch your stories regularly but has stopped, they may have muted them.
◆ Users may have been muted if previously active but have shown low interaction.
◆ If your direct messages used to get answers but now go unanswered, the user may have muted you.
◆ Followers may mute you if your content changes and no longer interests them. If you see a change in interactions after changing your posting style, it may signify a muted connection.
Although it's hard to know if someone has muted you on Instagram, these indications can provide important information about changes in online relationships. Remember that people may mute accounts for various reasons, such as to avoid material overload or out of personal taste. Instead, avoid taking it personally and concentrate on producing content that connects with your engaged audience.
Part 5. Why Can't I Mute Someone on Instagram
Sometimes, muting as it was pronounced didn't operate as well as it should have. Similar things will happen for a variety of causes. The possible reasons why you can't mute someone on Instagram are listed below.
Private Accounts
You can't mute a private account on Instagram. You must send them a follow-up request to see their posts and stories.
Technical Issues
Apps can have bugs that prevent them from working properly. If you can't mute someone, try again later. If the problem persists, log out of Instagram, clear the cache, and log back in.
Connectivity Issues
It is important to check your internet connection is stable before muting someone on Instagram. Network issues may hinder your ability to do so.
Outdated App Version
Instagram updates improve user experience and fix issues. Older versions may not have features like muting. Check for updates in your app store.
Temporary Restrictions
Instagram limits accounts that violate community rules. To regain full access, wait for restrictions to be lifted.
Understanding the fundamental causes of problems you encounter while trying to mute someone on Instagram will help you navigate and possibly fix the problem. There are actions you may do to fix the issue and recover control over your feed customization, regardless of the cause, whether it's a private account, technical fault, connectivity issue, an out-of-date app version, or a temporary limitation. You may continue to have a customized Instagram experience by being aware and proactive.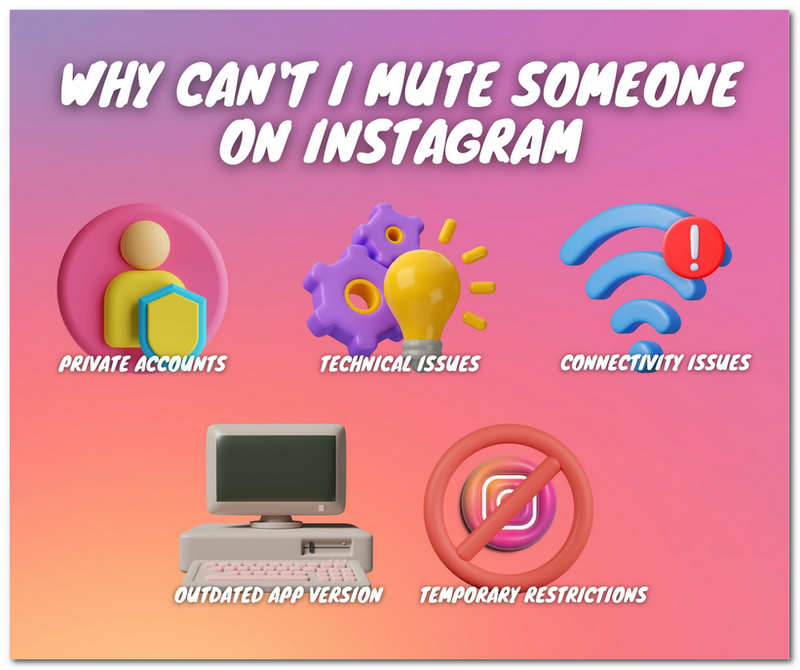 Part 6. FAQs About How to Mute Someone on Instagram
Does someone know if you mute them on instagram?
No, Instagram doesn't alert users when they've been muted. Muting someone is a covert action that lets you manage the stuff you see without alerting the muted person. Your interactions with their stories and posts are kept secret, and they won't be notified that you have muted them.
What is mute chat activity on instagram?
With Instagram's Direct Messages (DMs), you may mute alerts for a particular chat without leaving the conversation using the Mute Chat Activity option. You may still browse the conversation when you silence chat activity, but you won't get alerts when new messages are posted there. This can help to lessen notification saturation for talks that aren't as critical.
Can you mute someone on Instagram without them knowing?
Yes, you can mute someone privately on Instagram without informing them of your decision. When you mute someone's posts, articles, or chats, they get no alerts or notifications. The purpose of muting is to allow you to customize your feed subtly without interfering with your relationship with the muted individual.
Can I see who muted me on Instagram?
No, no tool on Instagram lets users see who has muted them. The platform respects the privacy of users who choose to mute others since muting is a private action. You won't be able to tell who muted your account.
Can you mute someone on Instagram but not unfollow them?
On Instagram, you may silence a user without unfollowing them. If you mute an account, their posts and articles will be removed from your feed. However, you will still be following their account. Maintaining relationships while curating the stuff you see on your feed is made possible by doing this.
What is the difference between restrict and mute on Instagram?
When you restrict someone on Instagram, only they can see the comments on your posts, pending your approval. Your direct messages to them will be delivered to a different inbox, and you won't be alerted when they send you messages. This function is frequently employed to control interactions with people who could be acting inappropriately.
By blocking someone's posts, stories, or alerts from your feed without unfollowing them on Instagram, you may mute them. It allows you to customize your browser experience without completely turning off the connection.
Conclusion
Our lives now revolve around social media, so being able to customize our experiences is crucial. Instagram's emphasis on user control best exemplifies its ability to silence content. With the knowledge you've received from this thorough manual, you're prepared to delete accounts, personalize your feed, and promote a constructive online environment. Accept the power of muting and enter a world where you can control every aspect of your social media experience.
Did you find this helpful?
395 Votes
YES

Thanks for letting us know!
No

Thanks for letting us know!
AnyMP4 Video Converter Ultimate
All-in-one video converter, editor, enhancer upscaled with AI.