How to Fix Instagram Forgoting Password
Keeping track of passwords for multiple online platforms can be difficult in the current digital era. Instagram, a well-known social media network that links millions of people worldwide, is one such platform. This article covers strategies to restore access, strengthen security, and answer commonly asked concerns as it digs into the widespread problem of Instagram password recovery. So continue reading.

Part 1. I Forgot My Instagram Password But I'm Logged In
Even when logged in, it is normal to forget your Instagram password. When things go south, and you don't know how to change your Instagram password, or you don't have other means of recovering your other password, then what would you do?
Why wait for that to happen when you can prevent such an event?
Aiseesoft iPhone Password Manager provides an easy precautionary measure. You can manage and retrieve passwords saved on your iPhone with this program, including those for your Instagram account. Find out how to easily recover your password and maintain constant account access. Below are the steps on how to use the app:
1.
Visit the official Aiseesoft iPhone Password Manager website to download and install the latest program onto your computer. Once the installation is complete, launch the tool.
2.
To access the accounts and passwords saved on your iPhone, connect them to your computer via a USB cable.
3.
After establishing the connection, locate and press the Start button in the top right corner to initiate the scanning process for your iPhone.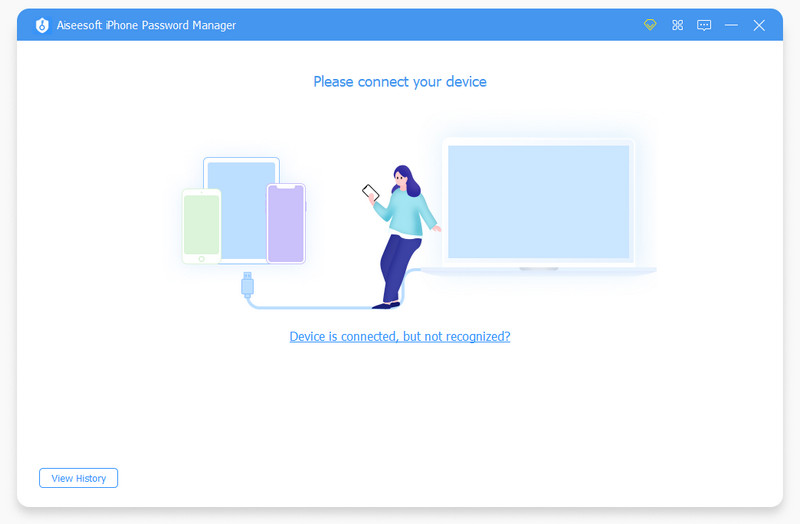 4.
During this process, you may be prompted to set an iTunes backup password to ensure the security of your backup data.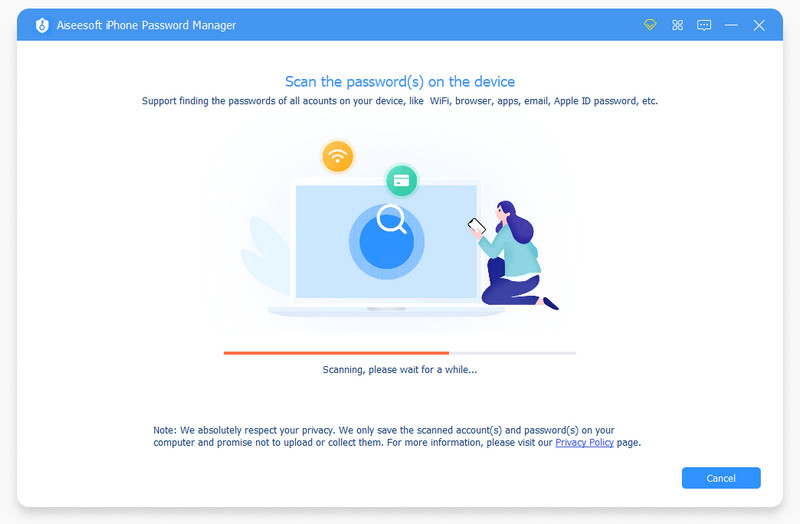 5.
Following the completion of the scan, you'll be presented with a comprehensive list of all your account information and passwords. This list will be organized into distinct categories for easy access, including WiFi Accounts, Web & Apps, Email Accounts, Apple ID, Screen Time, and Credit Cards. This makes it convenient to find any specific password you need.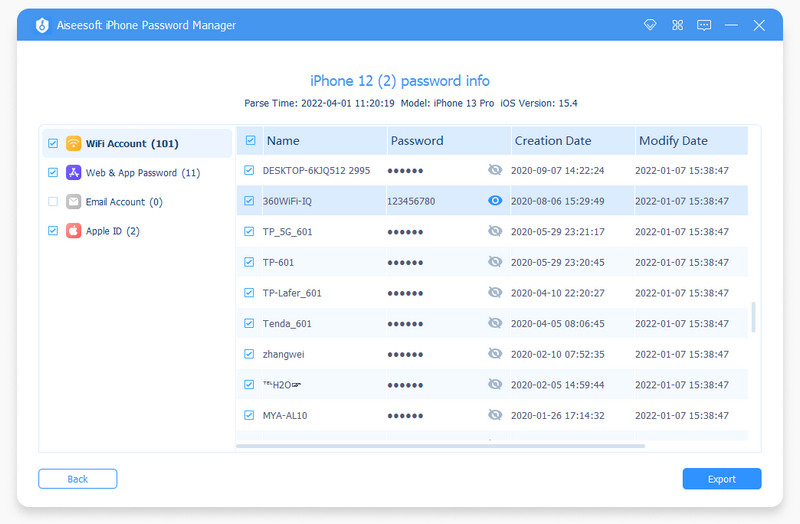 6.
Select and Export any password to cater to your requirements. You can also choose to export the entire password file for backup purposes. Following these straightforward steps, you can effortlessly access, manage, and export your passwords using Aiseesoft iPhone Password Manager.
It's very rare these days to discover an excellent, straightforward app. Aiseesoft iPhone Password Manager eliminates the need to memorize or generate an easy or weak password whenever you need to log in. Simply open the application to access and view your iPhone password. Truly easy to use and has been effective in helping you secure all your information.
Part 2. Forgot Instagram Password When I am Logged Out
Panic may set in if you discover that you can't reset your Instagram password and are locked out of your Instagram account because you forgot your password. There is no need to worry, though. We walk you through changing or resetting your Instagram password, trying other passwords, and taking back control of your account.
Method 1: Try The Password You Can Think
If you find yourself locked out of Instagram and struggling to reset your password, consider attempting to recall and input any of your previously used passwords. Sometimes, remembering a past password might provide access to your account. If this method proves unsuccessful, don't worry – there are still additional methods you can take to regain access to your Instagram account.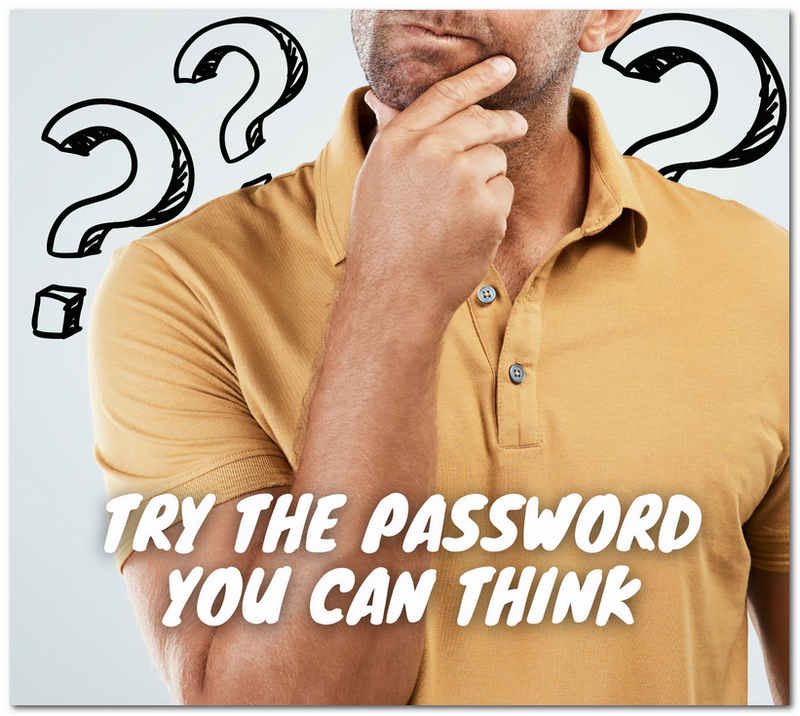 Method 2: Change/Reset Instagram Password
If your initial attempt to retrieve Instagram password requirements through Method 1 proves unsuccessful, the next action involves account restoration. This entails utilizing the recovery code sent to your email or phone number. By following the instructions in the recovery code email, you can effectively regain access to your account and ensure a seamless experience on the platform.
1.
Visit the login page, then click Forgot Password below the login field.
2.
Enter your Instagram username, email address, or phone number associated with your account. Click Next.
3.
Instagram will allow you to reset your password via email or phone number. Choose the one you can access and click Send Login Link if using email or Send Security Code if using a phone number.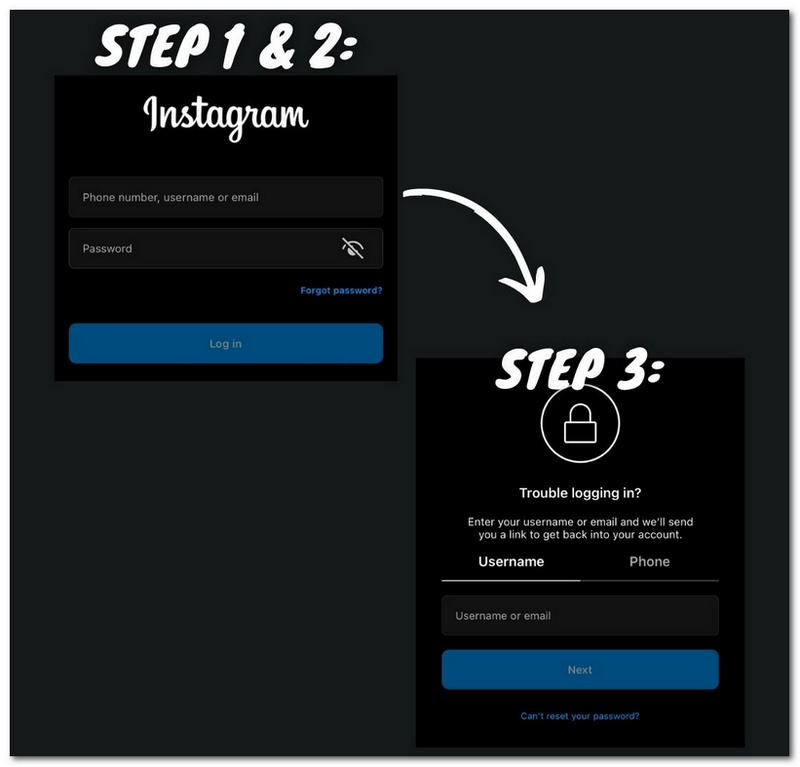 4.
Check your email or phone for the Recovery Message and copy the Code.
5.
Press the Link in the email or enter the security code from the text message. You'll be directed to a page to create a new password.
6.
Enter your New Password, confirm it, and Save the changes.
7.
Return to the Instagram login page and enter your username (or email/phone number) and newly created password. You should now have successfully recovered your account.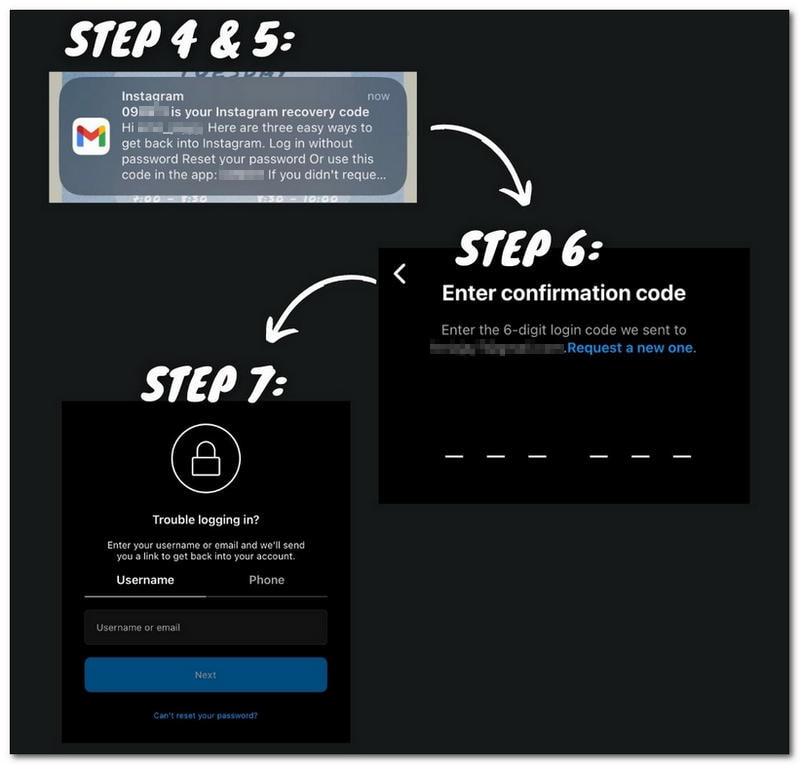 Part 3. Instagram Won't Let Me Change My Password
This issue might arise due to various factors, including technical glitches or security measures put in place by the platform. If you face this situation, rest assured that there are steps you can take to resolve it.
Firstly, ensure you're following the correct procedure to change your password. Double-check your entries and ensure your new password adheres to Instagram's requirements. If you still encounter difficulties, try logging out of your account and attempting to change the password from the login screen.
In some cases, the issue might be related to a temporary glitch. Clear your browser cache, cookies, and try a different browser. Alternatively, if you're using the Instagram app, consider uninstalling and reinstalling it.
If the problem persists, contact Instagram's support or help center. They can provide insights into the specific issue and offer tailored solutions. It's also recommended to update your app or browser to the latest version, as updates often come with bug fixes.
Part 4. FAQs About Password Recovery on Instagram
How to put a fingerprint password on Instagram?
There is no built-in option to utilize fingerprint authentication instead of a password on Instagram. For account access, Instagram typically uses conventional username and password combinations.
Are Instagram and Facebook passwords the same?
No, by default, Instagram and Facebook passwords are different. Although the same corporation owns both platforms, customers must set unique passwords for each account. It is not advisable for security reasons for certain individuals to use the same password for both accounts. For each platform, using a different, robust password is advisable to increase account security.
What are the Instagram password requirements?
Instagram password requirements are placed to protect user data and accounts. A minimum of six characters, comprising a combination of letters, numbers, and special characters, are often required for Instagram passwords. It's crucial to develop a special password that is difficult to guess, steering clear of well-known patterns or readily available personal information. Strong passwords are essential to prevent unwanted access and safeguard your account from potential breaches.
How to keep your Instagram password safe?
To protect your account from unwanted access and potential breaches, keeping your Instagram password secure is essential. Start with a strong, one-of-a-kind password by mixing capital and lowercase characters, numbers, and symbols. Add a layer of protection by enabling two-factor authentication (2FA), which requires a verification number and your password. By implementing these procedures, you may greatly increase the security of your Instagram password and account.
What to do if your Instagram password is compromised?
Act quickly to secure your account and personal information if your Instagram password has been compromised. Change your password as soon as possible. Review your account activity to look for any illegal additions or modifications.
What is two-factor authentication on Instagram?
By requiring a code from your phone and password, Instagram's two-factor authentication adds an extra layer of security to your account. This makes it harder for unauthorized users to access your account.
Conclusion
With the right strategies, you can regain control of your account again and resume sharing your moments with friends and followers. From the expert guidance Aiseesoft iPhone Password Manager provided to the step-by-step approach for password recovery, this article has illuminated various pathways to address the common issue of being locked out of your Instagram account. Remember, whether you're logged in or out, there are effective methods to retrieve or reset your password. The importance of maintaining a secure and robust password cannot be understated. By adhering to the best practices outlined here, such as setting up fingerprint password protection, understanding password requirements, and embracing two-factor authentication, you can ensure that your Instagram experience remains enjoyable and safeguarded.
Did you find this helpful?
490 Votes
YES

Thanks for letting us know!
No

Thanks for letting us know!
AnyMP4 Video Converter Ultimate
All-in-one video converter, editor, enhancer upscaled with AI.