How to Download Instagram Photo from Your Own and Others
It only makes sense that in the world of Instagram, where stunning pictures and artistic compositions flood our feeds, we would want to record these moments in more ways than just a simple double tapping. Instagram provides a wide range of visual delights, from candid selfies to breathtaking landscapes, and we frequently ask the internet how to download Instagram photos. The curious process of switching from the common double tap to admire a photo to the slightly more technical double click to download it is explored in this article. Transform your Instagram feed to appreciate it at any moment at your gallery, and start reading this article to learn more. Don't simply scroll. Save it instead!
Part 1. Can I Download Photos From Instagram
You can't just download every image you see in your feed, especially if it's not one of yours. But you can save images using methods Instagram doesn't support, including taking screenshots or using third-party software. Instagram's terms of service and community standards prohibit unauthorized downloading, copying, or distribution of content posted by other users without permission. This implies that even if you theoretically can download images from Instagram, you shouldn't use them for anything other than personal use.
Ask for Permission:
The best action is to send a direct message asking for permission from the user whose photo you wish to download. This demonstrates respect for their work and their authorial rights.
Utilize the Save Feature on Instagram:
Instagram users have the option to save posts to a private collection. Even though it isn't a download, you may access the photo within the app by doing this. Tap the bookmark symbol located underneath the post to use this feature.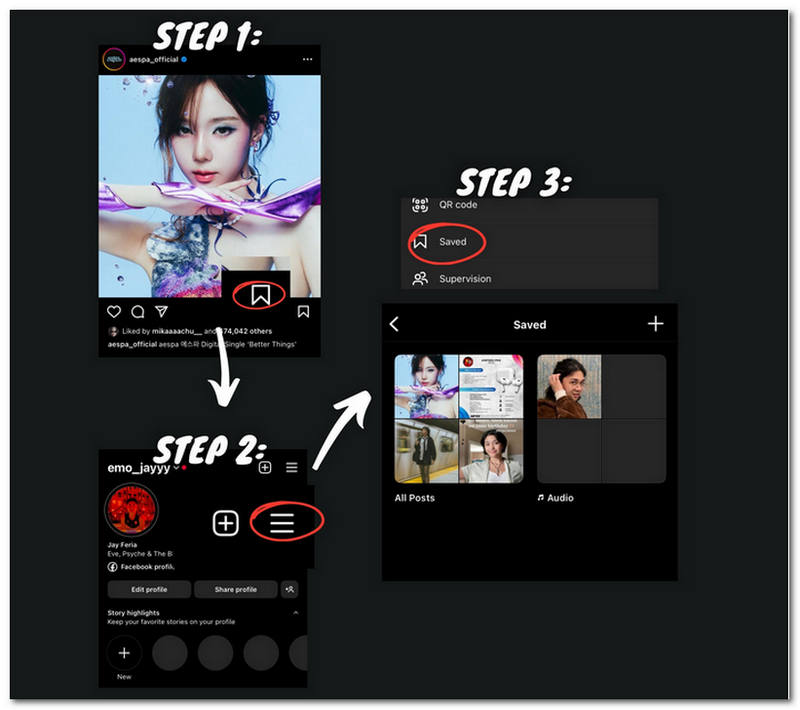 Screenshot:
Making a screenshot of the image is an additional choice. It's important to respect the creator's intention and copyright because this might decrease image quality.
Part 2. How to Download My Instagram Photos
Instagram allows users to download all their information, and this feature can be utilized to download full size Instagram photos. This tool allows users to retrieve their images, including high-resolution versions, and store them for personal use. It's a convenient way to retain a collection of your content while adhering to Instagram's policies and respecting the content's original intent.
1.
To access your Profile Page, simply click on the Triple Line Icon located at the upper right corner of your screen.
2.
Go to Your Activity, scroll to the bottom, and click Download Your Information.
3.
You can request a download of your information, in this case, photos. Then select Complete Copy. You can choose the date range, format, and such in requesting to download your information, then click Submit Request.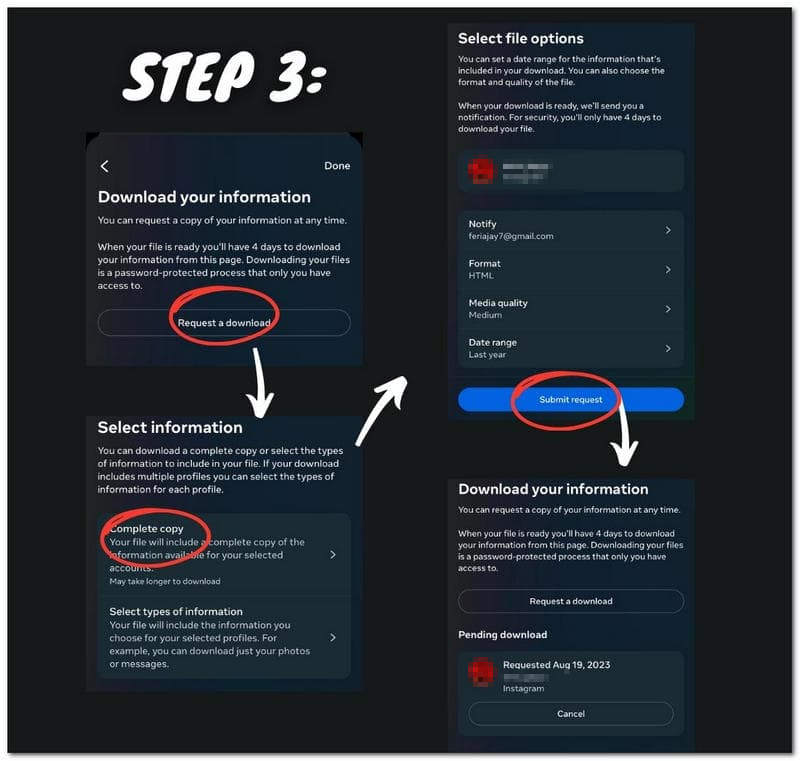 4.
Wait for the email about completing your request. This can take days, depending on the size of your information. When you finally receive the email, just click Download your information, or you can return to where you submitted a request. All your pending requests to download your information are displayed.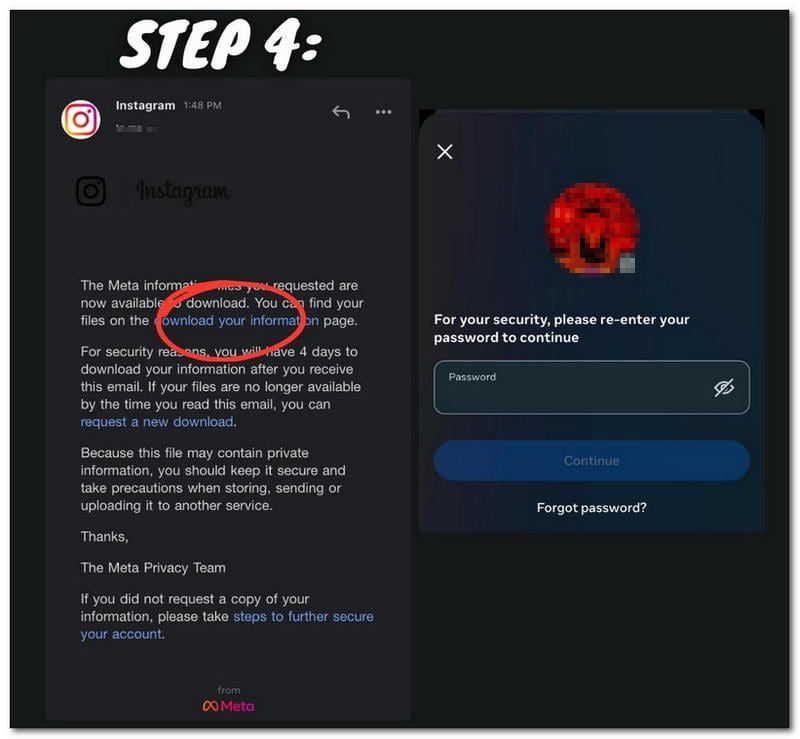 Overall, the pros of downloading your content from Instagram include preserving cherished memories for personal use and providing a convenient means to curate and maintain your digital collection. This practice aligns with Instagram's policies and respects the original purpose of your shared content.
However, one drawback is that locating the download feature might pose a challenge, particularly for users less acquainted with the intricacies of Instagram's interface.
Part 3. How to Download Instagram Photos From Other Users
Since Instagram doesn't have a save picture feature to prevent the usage of photographs without the owner's consent, downloading Instagram photos from other users may be somewhat difficult. You may still download your favorite photos using the techniques listed below:
Websites to Download Instagram Photos:
A few third-party programs or websites claim to make Instagram photo downloads easier. Use with caution since they can be against Instagram's terms of service and jeopardize the security of your account. These websites are the following: Inflact, SaveInsta, Snapinsta, Toolzu, and FastDL. Let us see how we can use one of them by following the steps below.
1.
Copy the link of your desired photo.
2.
Go to your chosen Website. Paste the link and click download image/photo.
3.
Wait for your photo to finish downloading.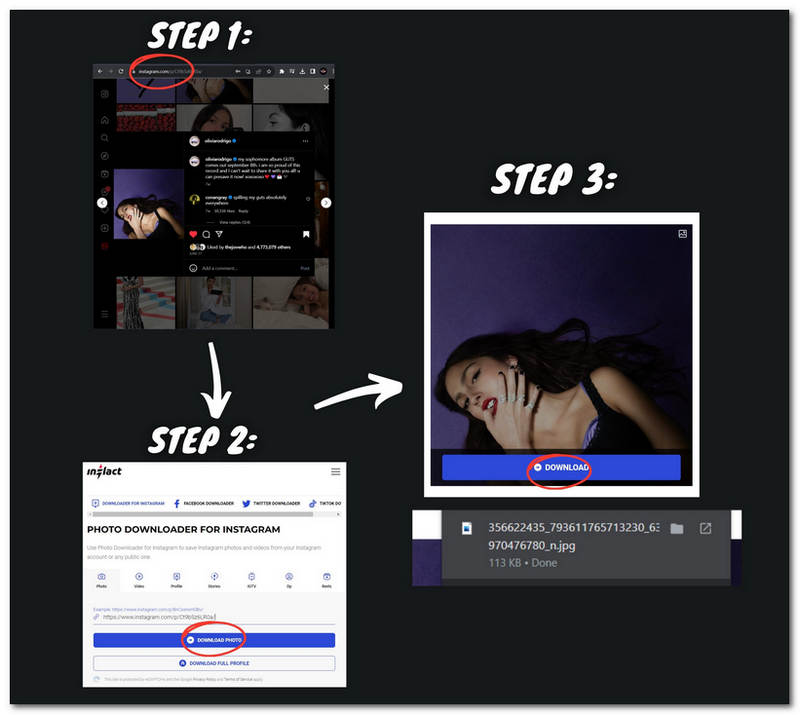 Overall, this makes it easier to store user-submitted photographs you like, allowing you to compile your library of motivational materials.
However, this behavior could not comply with Instagram's terms of service, which might impact your account. Additionally, storing images from unidentified sources may jeopardize the security of your account by exposing you to illegal or potentially malicious information.
Part 4. FAQs About How to Download Instagram Photos
Can you save photos from Instagram to a camera roll?
Yes, you may save Instagram images to the camera roll on your device. One method is to take a screenshot of the image as you examine it but bear in mind that the quality of the image may not be the best. As an alternative, third-party programs are marketed as making Instagram photo downloads easier, which may be found in several app stores. Use these applications cautiously since they can infringe on Instagram's terms of service or jeopardize your privacy.
Does someone know if you save their Instagram picture?
No, Instagram doesn't alert users when their images are saved. Saving a photo is a private activity that only impacts your collections, unlike features like likes or comments. Users who save photographs from other users' profiles can continue to do so in privacy because the saved image is still only accessible to you in your Saved collection.
Why can't I download pictures from Instagram?
Due to Instagram's emphasis on user privacy and copyright protection, downloading images straight from the service may be prohibited. Instagram gives creators of content choice over how their photographs are used and shared, frequently restricting direct image download capabilities.
How can I download HD photos from Instagram?
Obtaining high-quality images is a simple task with the help of third-party software. Please refer to the mentioned methods for a detailed guide and additional information.
How do I download Instagram photos as JPEGs?
Utilizing a web-based tool to acquire Instagram photos as JPEGs may seem convenient, but recognizing the potential risks associated with this approach is essential. Depending on such tools could expose you to security vulnerabilities and compromise your privacy. It's worth noting that employing web-based tools for this purpose contradicts Instagram's terms and policies, potentially leading to account suspension or legal consequences. To ensure a safe and respectful online presence, exploring alternative methods for downloading Instagram photos that align with the platform's guidelines is recommended.
What file format does Instagram use for images?
For picture files, Instagram mostly uses the JPEG format. It is appropriate for speedy sharing and posting on social networking sites like Instagram since it enables compression while keeping a respectable degree of visual detail. Although Instagram allows various file types for videos and other features, JPEG remains the preferred format for photographs owing to its flexibility and adaptability.
What is the instagram photo post size?
1080x1080 pixels is the suggested Instagram picture post size for square images. However, Instagram also supports different aspect ratios, including landscape (1080x566 suggested size) and portrait (1080x1350 recommended size). To ensure that your photographs appear their best and are suitable for desktop and mobile viewing, it is crucial to follow these dimensions for the platform's optimum image quality and presentation.
Conclusion
An easy method to keep memories alive and engage with the visual storytelling shared on the network is by downloading Instagram images. You can ensure that your collection of Instagram photographs continues to be an inspiration while keeping a good online profile by utilizing the platform's built-in capabilities, asking for permission, and being mindful of ethical implications. Remember that every image has a narrative, and by taking the download process carefully, you help foster a culture of innovation and respect in the online community. In addition to enabling you to create your collection, being aware of how to download Instagram images properly emphasizes the value of respecting content producers and the platform's conditions of use. May your clicks and taps continue to connect, inspire, and preserve the beauty of the visual stories shared on Instagram as we go through this world of digital pictures.
Did you find this helpful?
388 Votes
YES

Thanks for letting us know!
No

Thanks for letting us know!
AnyMP4 Video Converter Ultimate
All-in-one video converter, editor, enhancer upscaled with AI.