How to Repost Instagram Stories, Reel and Photos
Sharing content is a key component of connection and engagement. Reposting or sharing another user's post on your page is common on social media platforms like Instagram. However, reposting comes with responsibilities, such as properly crediting the original creator of the content and being aware of the platform's rules. When reposting content, it is important to credit the original creator. Some platforms, such as Instagram, require users to obtain permission from the original creator before reposting their content. Others, such as Twitter, allow users to repost content without permission as long as they credit the original creator.
This article will explore many ways of reposting on Instagram while upholding moral principles and honoring content ownership. Continue reading this article to find tips and proper ways of reposting on Instagram. Become part of a vibrant community by reposting and celebrating each other's creativity. Use our insights to ensure you're doing it the right way.

Part 1. How to Repost a Story on Instagram
Sometimes, the Stories of others can be quite interesting and catchy to the point we want them to share our own Stories. Although Instagram doesn't have that kind of feature yet, it doesn't mean you'll just go and repost someone's story without them knowing. Honoring getting permission before doing so is important to avoid conflicts with other users. Listed below are ways on what you can do to repost someone's story. (Before posting, get permission from the owner, and don't forget to mention him/her.)
1.
Take a Screenshot of the Story you want to repost. If it's a Video, you can save it through third-party tools.
2.
After saving it, tap on Your Profile.
3.
Create a new story by clicking the + icon at the top left corner.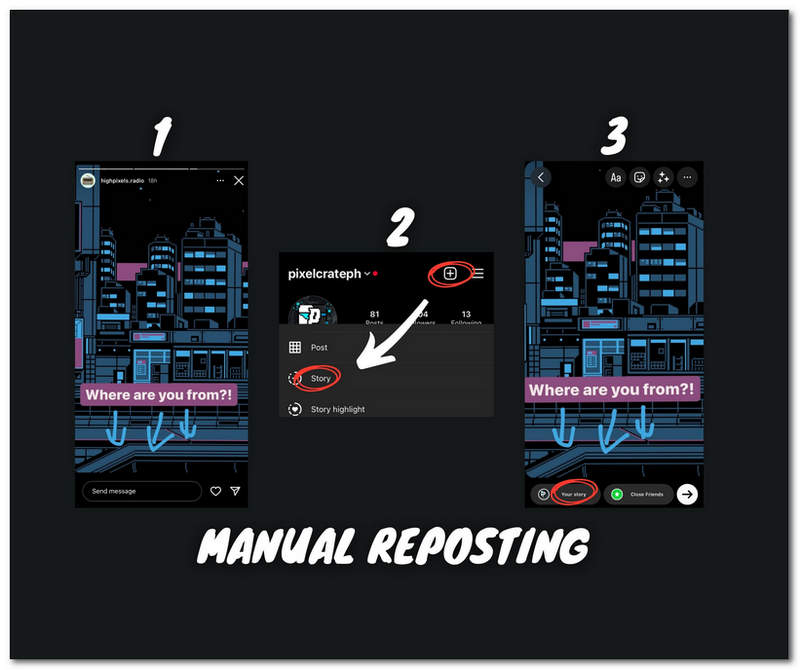 Reposting someone else's story without their permission may not always be appreciated. Therefore, it is a good idea to get their permission first. Additionally, if you republish a story, tag the original author to ensure due credit is given.
Part 2. How to Repost a Reel on Instagram
Reposting reels with quick, interesting videos on Instagram calls for a different strategy. Instagram won't let you repost Instagram Reels in your profile, as this will jeopardize the user and the terms of Instagram. However, there's a way to repost Reels on Instagram and share what you found interesting with your followers in a more proper way.
1.
Find the Instagram Reel you wanted to repost in your story.
2.
Click on it, then click the Paper Airplane.
3.
Click the Add to Story to share it on your story.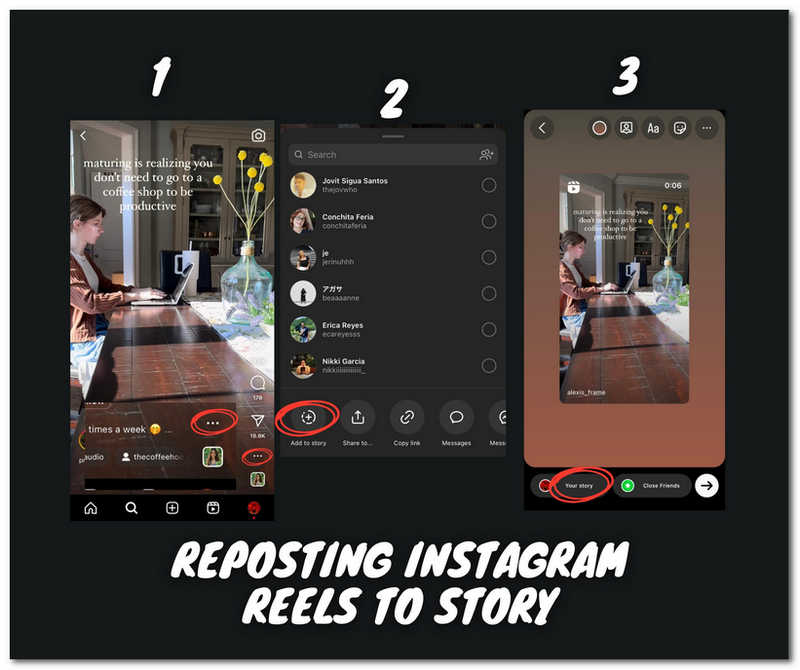 Using this method doesn't cross the Instagram terms and conditions, as this will be automatically credited to the owner of the Reels.
For more details of using Instagram Reels, you can check them here.
Part 3. How to Repost a Picture on Instagram
Instagram content consists primarily of images. Reposting images entails more than simply pressing a button. Unlike Twitter, now called X, reposting is just one tap. Instagram doesn't have that feature. However, you can still share it through other means Instagram-supported.
1.
Find the Picture and be sure to screenshot it.
2.
Tap the New Post icon in the lower center of your Instagram app. When given the choice of various material formats, select Post.
3.
Choose the Image you screenshot.
4.
Edit the image using the Instagram Tools before proceeding to Caption.
5.
Tag the owner in the photo and credit them on your caption. Then click Share to post.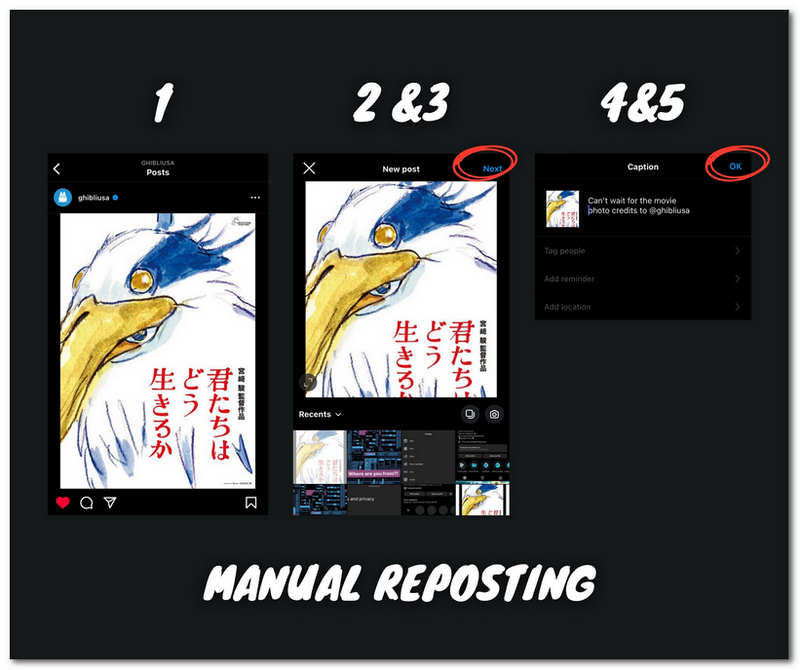 Manual Reposting when reposting pictures on Instagram will only work better if you already have permission to repost it from the owner. be sure to respect the owner's decision and honor the integrity of Instagram's terms and conditions to avoid conflict with the app and people.
Method 2: Reposting Instagram Picture to Story
1.
Find the picture you want to repost.
2.
Click on it, then click the Paper Airplane.
3.
Click the Add to Story to share it on your story.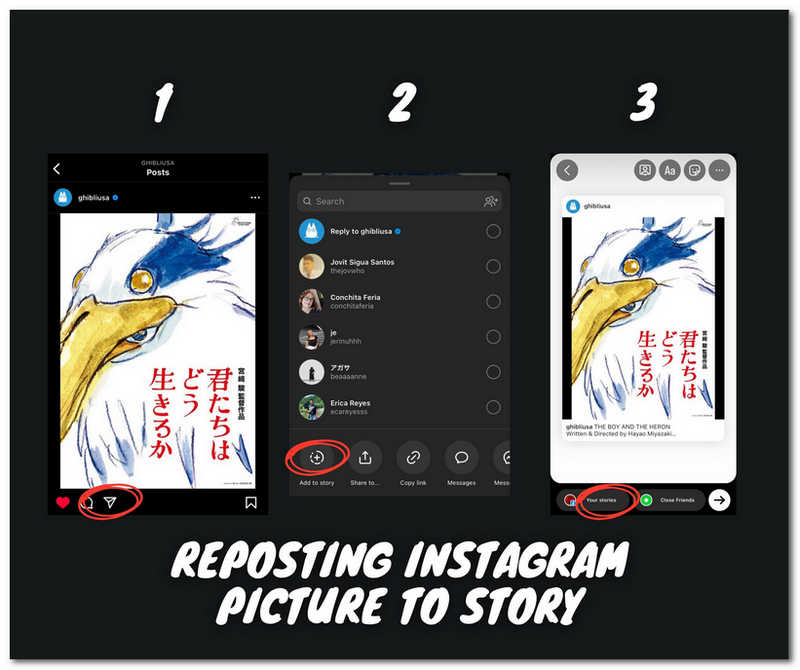 Before posting it, consulting and getting permission through a direct message is better to keep the peace and ensure the owner gives proper credit. Avoid reposting so much so that it won't overpower your original post on your feeds. Always practice the proper way of crediting someone and tagging.
Part 4. How to Allow Others to Repost Your Post on Instagram
We'll teach you how to allow reposting for your posts if you want people to share your material. This may be an effective tactic for boosting your audience and engagement, but it necessitates the creation of clear rules that readers can adhere to while repeating your material.
1.
Go to your Profile Page, then click on the three lines in your upper right corner.
2.
Click to Settings and Privacy
3.
Find and click Account Privacy. Be sure to turn it off to make your account public so that others can repost your post.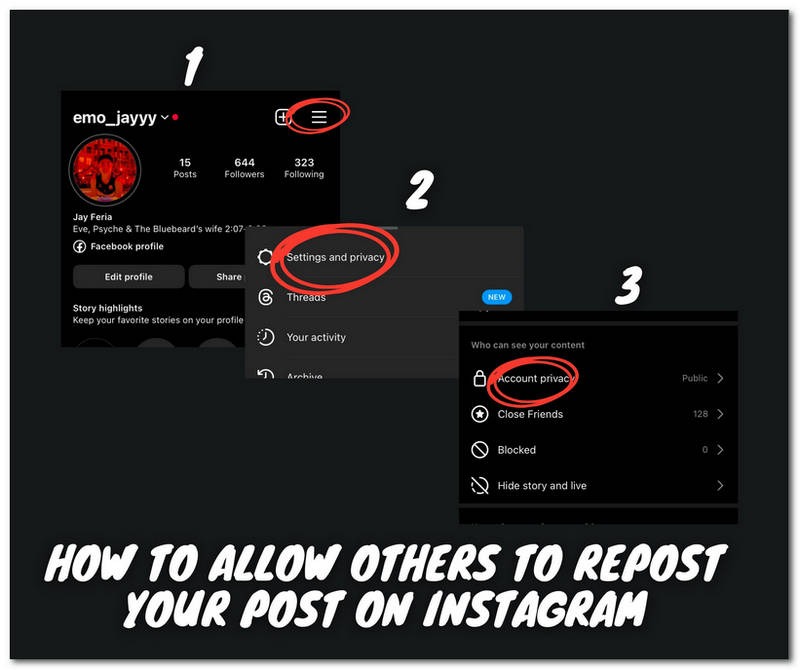 Only those you have approved as followers can view your posts if you have a private Instagram account. To make your content more visible and accessible to a wider audience, you can make your account public. This will allow anyone to view your posts, even if they are not following you. Sharing your content on public accounts can increase the likelihood of it being reposted and shared by other users, which can ultimately lead to higher engagement and broader reach.
Part 5. Why Can't I Repost on Instagram
It's typical to run across problems while reposting. Potential difficulties, including private accounts, disabled sharing, and app-related issues, will be troubleshooted in this area. Knowing how to deal with these difficulties will make the reposting process go more smoothly for you.
◆ You can't repost from private accounts until approved as a follower. Private accounts only share with approved followers.
◆ The user disabled resharing, so you can't repost their content.
◆ You can't repost deleted or unavailable content.
◆ Instagram may restrict reposting if you engage in certain activities, such as aggressive following/unfollowing, excessive liking, or inappropriate behavior.
◆ Technical glitches can cause sharing issues. Restart the app or device, or try a different reposting method.
◆ Instagram has strict copyright and content-sharing rules. If you repost content that violates these rules, Instagram may prevent you from doing so.
When reposting content on Instagram, it is important to respect copyright, privacy, and platform guidelines. This means getting permission from the original creator before reposting their content and giving them credit for their work. It also means being mindful of the privacy of others and not sharing content that could identify or embarrass them. Finally, it means following the rules of Instagram, such as not reposting copyrighted content without permission.
Part 6. FAQs About How to Repost on Instagram
How do I share someone else's post on Instagram with my feed?
If you want to share a post to your Instagram story, open the app and find the post you wish to share. Click on the paper airplane icon located beneath the post, and choose the option to add it to your story. The post will appear as a sticker on your story. You can customize the sticker by resizing, repositioning, and adding text or stickers. Once you're satisfied, tap your Story to share it.
Did Instagram get rid of sharing posts to stories?
The option to share posts to stories was still available on Instagram. Using this tool, you may share posts from your feed to your Instagram story. The functionality and interface of Instagram are often updated, so it's conceivable that modifications have been made since then. You should check the app's most recent version to ensure this functionality is offered.
How do you put a link in an Instagram story?
To put a link in your story, you must first select the content to post on your story. After selecting, you must click the sticky note on the upper part of the Instagram Story tools. The Icon is next to the text and shimmer tools icon. You can find the link sticker button and apply it to your content.
How do I share a story I was tagged in?
To share a story that someone tagged you in on Instagram, open the direct message (DM) from the user who tagged you. At the bottom of the message, you'll see the story thumbnail. Tap on it to open the story. Then, tap on add this to your Story to share the tagged story to your own story. You can customize it before sharing if you'd like, and then tap your Story to post it.
What is the new story repost function?
Instagram's official app did not have a built-in feature for directly reposting stories from other users to your own story. Unless you are tagged on the story, you can repost it. It's a good idea to check the most recent upgrades and Instagram announcements for any new additions because features and functionality on Instagram are subject to change.
Conclusion
Reposting on Instagram can be a great way to improve your online profile and benefit the Instagram community. When you repost content from other users, you expose your followers to interesting content. You're also building relationships with other creators and helping to promote their work.
Of course, it's important to repost ethically and respectfully. Always ask permission from the original poster before reposting their content, and give them credit by tagging them in your post and including a link to their profile. You should also respect the original poster's copyright and not use its content for commercial purposes.
Did you find this helpful?
477 Votes
YES

Thanks for letting us know!
No

Thanks for letting us know!
AnyMP4 Video Converter Ultimate
All-in-one video converter, editor, enhancer upscaled with AI.